When friends tell me they're amazed at how creatively I live my life, I am always flattered but baffled, as I'm a busy WAHM*, I don't sleep enough, and there's always a huge list of things I'd love to do but never manage to. But what am I doing right?
I made a list of creative things I do in my daily life that make me happy, and pared it down to 6 things that you can also do if you feel the need for some more creativity. You don't have to be a professional artist to be creative!
1. Mindfully add plants, lights, and other details to your home or workplace. Of course you will have to make a small effort to keep the plants healthy, but it's worth it! Plants clean the air for you and they make your surroundings literally more alive. Lighting sets the mood. (Notice the tiny Christmas lights I keep strung around my ceiling year-round!)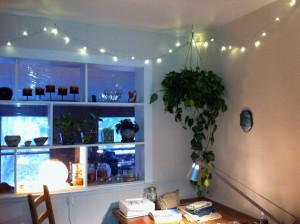 There are many small things you can do that add beauty to your life without too much effort. I painted a huge mandala on the ceiling of my bedroom—but for a less work-intensive version, just hang a beautiful poster on the ceiling! Hang wind chimes outside your door or window for gentle background music.
2. Cook food from scratch. (I realize this is something that takes lots of time, but if you can make the time, even some of the time, do it!)
Get some glass jars, fill them with assorted beans and grains from the bulk section of the grocery store, and line them in pretty rows in your pantry. (Then eat the food–this makes you learn to cook new things and saves you money too!)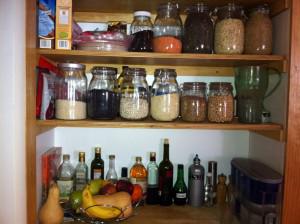 Get experimental with recipes. Here's a raw strawberry-lemon cake I made last summer. Arranging those mint leaves and strawberry halves around the border was very satisfying! It's the little things.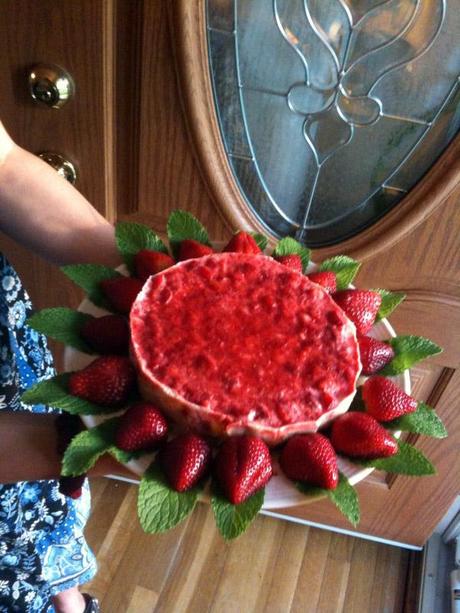 3. Have handmade things. Here is my cupboard full of pottery that I made myself.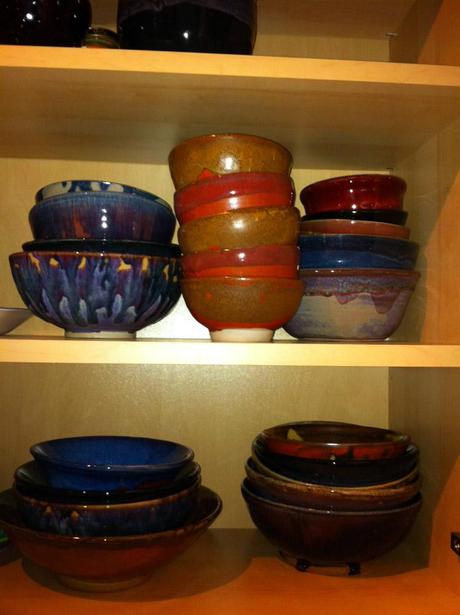 Of course you don't have to take it to this extreme–just making a point to acquire ONE handmade thing made by someone else will also give you pleasure! I believe that owning handmade items, even if you didn't make them yourself, connects you to the collective spirit of all the "makers" throughout humanity, and helps put you in the mindset to create. It sounds hokey, but think about it–it's inspiring!
My favorite mug, which I made!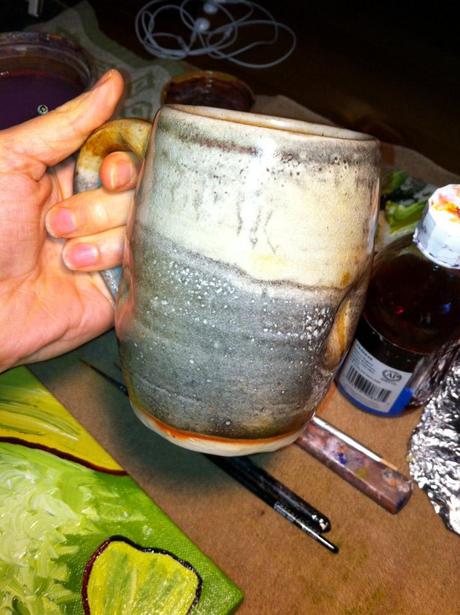 Which leads me to…
4. Make things yourself whenever you can, and delight in the details. This does not have to be anything artistic, crafty, or fancy. It can be stuff that is boring and practical, and fills a need you have anyway.
For example, instead of buying chemical-y cleaners, add a few drops of tea tree oil, or essential oils of lavender, orange, and lime to a bucket of water and do your mopping and dusting with that. It's environmentally smart and most importantly, makes your house smell wonderful. Make your own deodorant–this is easy, again cuts chemicals from your life, and is really fun! (I've gone through phases of making shampoo and body butters too.) Mix your own herbal teas!
5. Plant something in the dirt. Here's a fragrant rose from one of my rose bushes.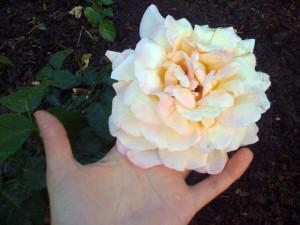 If you don't have the time or the place to grow anything outside, start with something simple like basil in a small pot on your window sill.
6. When all else fails, recharge your body and your spirit by taking a walk in nature. Why do I classify this as a creative action? Because it forces you into a change of scenery, and opens your eyes to a new way of looking. Check out this cool tree I never would have found if I hadn't gone for a walk!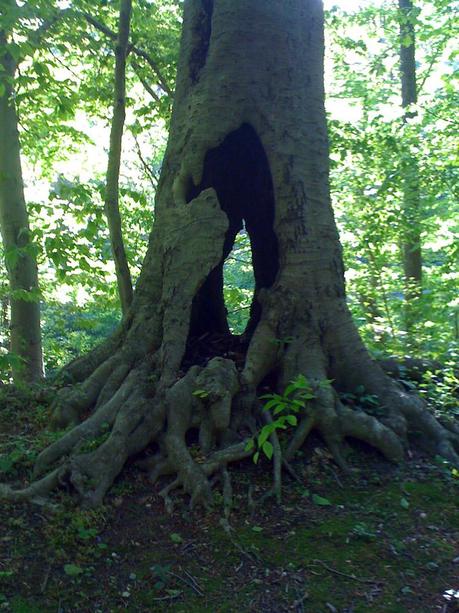 For me, creativity IS the cultivation of physical, mental and spiritual health–while, yes, you sometimes have to make a point to do it, it's not something separate from the rest of your life. What creative things do you do in your daily life? What do you delight in and where do you find beauty?
*Work At Home Mom!