Pinterest Marketing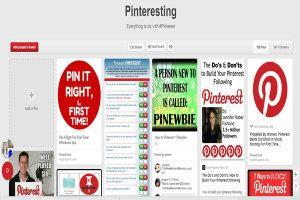 Have you been using Pinterest to market your blog or website? If you are marketing to women Pinterest is really a must! 80% of it's users are female. If you haven't been on Pinterest in a while you may be surprised by some recent changes there. Pinterest has added a news feed alongside the you and messages button on the top right hand corner of your account.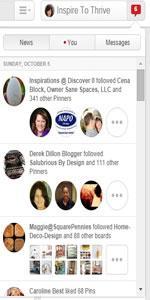 This news feeds helps you keep tabs of all your Facebook friends and those who you follow on Pinterest. This is great for
brands
. It's another way to keep your brand at the top of awareness with your followers. One thing to note: You will not see any secret boards here in the news feed.
(That's a good thing, right?)
Pinterest remains the 3rd largest social networking site after Facebook and Twitter. It is still one of the fastest growing social networking sites there is online since they began in 2009. If you are not using Pinterest Marketing by now, or have quit, you may want to reconsider it. Pinterest is considered to be the social site for shopping. So if you have something to sell Pinterest is the place to be!  Read more from the Business Insider on some of the latest Pinterest stats.
Becoming A Pinterest Marketing Whiz – Infographic

What Else is New At Pinterest?
Pinterest Privacy Policy – Starting October 19 Pinterest will roll out it's new privacy policy. Much of this policy will revolve around Pinterest Marketing and how information is gathered by Pinterest. Pinterest may suggest Pins or boards you might like. For example, if you've indicated that you're interested in cooking or visited recipe websites that has Pinterest features, they may suggest food-related Pins, boards, or people that they think you might like. They may also show you ads you might be interested in. (It's easy to convert your account over to a business account if you have a blog. Business type is Professional, blogger in your settings). 
Pinterest Analytics for Business – Pinterest has upgraded the analytics for businesses so businesses can better gauge their usage, stats and pins. Businesses can now see their daily views and impressions. They can also see their audience's engagement by the month. You will know which country your audiences come from, and which gender they are. You can tell if your Pinterest impressions are up or down from the previous 30 days. You can also see how your website's pin are performing. You will also know which are your top pins and how many repins they received. If you haven't
Pinterest Marketing & Advertising – Pinterest has been doing promoted posts for businesses, where businesses can pay to promote their pins. They are looking towards the future and giving Google and Bing a run for their money with search. Stay tuned!
Need a Pin It Button for Your Blog? Check out the Share Juice plugin for WordPress users. It's an easy way to have the pin it button hover over all of your images. It comes with other social sites buttons too!
How are you using Pinterest today? Has it driven traffic to your site?  What other tips would you add? 
Thanks to Siraj of  ProMarketerz for the infographic!