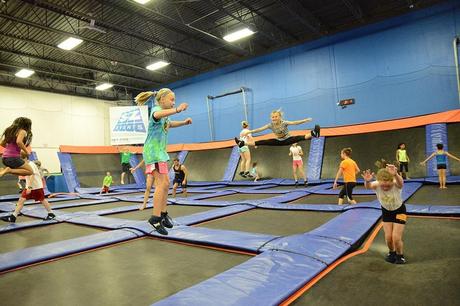 When it is time for a child's birthday party, many parents are eager to find a place other than their home to host it. That is completely understandable; after all, who wants to clean and scrub their own home only to have a dozen or more hyper kids tear through it for hours? Here is a list of five unique places to hold your child's birthday party that will cut down on stress and worry.
Jump Around at a Trampoline Park
What better way to celebrate a birthday than at a trampoline park? Not only are trampoline venues great for rainy days or cold weather, but they also allow kids to run and jump to their heart's content. These places usually offer birthday packages for young children that include a couple of hours in the jumping area, snacks, food, and cake. Plus, it is important for kids to get regular exercise.
Enjoy Pizza and Games
Pretty much every kid loves eating pizza and playing arcade games, right? Check your local town for pizza and arcade venues that allow you to host birthday parties. Most come with pizza and drinks included, as well as game tokens for each kid. An arcade is a great place for kids to get together, play games, and then sit down for food and cake.
Build at a Ceramics Studio
Local ceramics studios often offer birthday packages for kids. Parents can drop their kids off under the care of a professional employee who will guide the kids through painting their own personal ceramic piece to take home. Many offer private rooms and allow parents to bring in their own food, cake, and ice cream. Kids love to take home something that they get to make themselves! Not only that, crafts are great for the development of children.
Host a Bowling Party
Bowling is an activity that most ages can enjoy, even kids who have never picked up a ball before. Bowling alleys usually offer packages for birthday parties that include shoe rentals, food, cake, and drinks. Most provide a set amount of time for the party to bowl as many games as they please. For younger kids, bumper bowling is also an option.
Check Out the Gymnasiums
Many local gymnasiums offer times for birthday parties. Check with local gymnastic clubs, fitness clubs, and YMCA's to see what they offer. Some may provide food and beverages while others require the parent to bring in their own. However, giving kids the opportunity to run, jump, and play is always a great idea.
Tour the Local Zoo
Many local zoos are happy to arrange private tours for young kids. Not only will the children love to walk around and visit all of the exotic and native animals, but they will also get a bit of an education! Zoos usually have covered picnic areas that can accommodate large parties, as well.
You won't go wrong with these six ideas when it comes to a child's birthday party!