Coping with loneliness can be one of the biggest challenges when living abroad.  On average I get one email a week from an expat who is struggling with loneliness and asking if I can offer any advice.  Having lived abroad four times – first in S. Korea, then in Thailand (2 different cities), U.S.A. and now Germany (2 different cities) I have found a few different things that have worked well for me.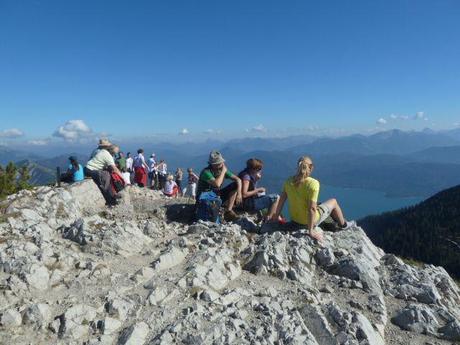 Joining a group or club may give you a different outlook on life.
1.  Join a Group/Club/Team
I'm a big fan of groups and clubs since they bring people together with common interests.  In Bangkok I belonged to a ruby team, even though I had never played before.   In S. Korea I joined a local gym.  In Munich I belong to two hiking clubs, a book club and a badminton group.    Being an active member of a group is a great way to not only meet people, but to see the same people on a regular basis, increasing your chance of developing meaning friendships when living abroad.
What if there is no group/club/team I'm interested in?
Create one through Meetup.com or Facebook Groups.  It just takes a few minutes and is free to do.  You can create a group for whatever you're interested in ranging from cultural events to sporting events to just meeting for coffee.  Chances are if you feel there is no group that meets your interests in your area you are not the only one.
Alternatively, you can join an online group, although I do think it's better to connect with people in your area if possible.  There are online book clubs and groups for almost every activity under the sun.  I'm a member of a couple of travel blogging groups and the fellow travel bloggers I have "met" through these groups have provided with me with a sense of connection, which has been especially helpful on days when I'm feeling particularly lonely.
2.  Connect with Other Expats Through Blogs
There's no shortage of expat blogs out there and by reading through a few blog posts it should become fairly clear to you whether you have anything in common with that person.  If you find that you relate to the blogger it may be worth contacting them to see if they're interested in meeting up.  I met my best friend in Munich this way and was grateful for her email.
3.  Make the First Move
Having lived in Calgary for the last 9 years I had gotten lazy without realizing it when it came to making friends as I had an established circle of friends.  After moving to Stuttgart when it soon became apparent that the invitations were not exactly rolling in, (i.e. nonexistent) I knew that I would have to make the first move, which was out of my comfort zone. I initiated a once a week lunch after German class with my fellow classmates, which was a nice opportunity to get to know them better.  I started extending invitations to people I had met through various events and before long was organizing day trips to explore the area with a couple of girls, who became close friends in the process.  I held a Christmas party that ended up having people from 6 different nationalities.  In Munich, whenever I find an interesting event I invite someone to attend with me.  It doesn't always work out and it's a flashback to dating.  Rejection sucks – even if it's a potential friend rejection.  But like dating, making new friends is a numbers game. The more invites you give out, the more that are likely to be accepted and the more you're likely to receive in return.
4.  Take a Class
Language classes are good for meeting other expats, not to mention incredibly useful for trying to learn a language, while exercise  classes are good for meeting locals.  I do both.  It's important to me that I have both expat and German friends.    Don't let the language scare you off of an exercise class.  I've done a variety of exercise classes in German and while I haven't understood every word, a lot of the communication is visual – do what the instructor is doing.  I've also found  my fellow classmates to be extremely helpful once they realize I don't understand everything.  Next up is a cooking class in German!  Yikes – stay tuned!
5. Set Goals for Yourself
I find that setting goals for myself is incredibly helpful when living abroad.  Some of my goals have included things like:  invite one new person a week to something (make the first move), sign up for a yoga class (in German), sign up for 1 expat event a week.  It sounds silly, but by setting goals for yourself it's a good check to see how proactive you're being to absolve your loneliness.  I've found when I'm feeling really lonely that I often haven't done anything about it recently, so this is a good kick in the pants.
6.  Don't Call Home Too Often
This might seem like strange advice, but I've observed that expats who spend a couple of hours a day talking with people from home are lonelier than people who spend less time connecting with people from home.  Don't get me wrong, I think it's extremely important to maintain those connections from home, but if you're spending 2 hours a day doing it, then you're not out meeting new people and making a life for yourself in your new country.  It's a fine balance.
What are your tips for coping with loneliness when living abroad?