Part 1: How to Plan and Prepare Your Website Update
You don't need us to tell you how important your website is for your business. A great website generates leads, delivers an engaging customer experience and is one of the most powerful tools at your disposal to support your business goals.
However, great websites require time and investment and as new technologies advance at an incredible pace, the look and functionality of your website can age quickly.
We understand the pressure to stay ahead of the curve and exceed the expectations of your customers can be immense, so we're running a six-part mini series here on the Discerning Digital blog to guide you through the thinking, planning and delivery of a website upgrade.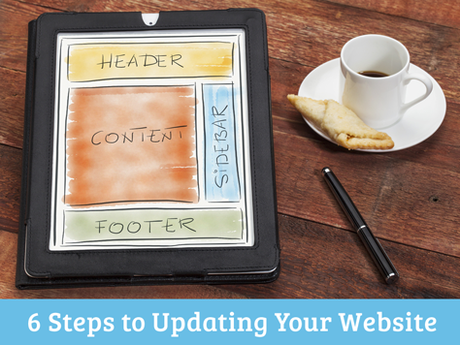 This week we're focusing on planning and preparation to get you started.
Define The Endgame
This is a crucial starting point; without defining why you are undertaking this work and what you want to achieve, how will you know if it is a success? You'll need to ask tough questions of stakeholders and get detailed answers.
A site refresh or redesign should be informed by your overall marketing or sales plan. How many leads are you expecting to generate, how many visitors will you need and how many sales do you want to achieve? A good trick is to ask yourself what success will look like in a year's time; do you want to generate a certain percentage of leads or want to sell directly through the site?
Once you've done that thinking, the next step is to consider what systems you might need to support these aims. Choosing a marketing software solution will help you automate processes and monitor and analyze results; however, be mindful when thinking about new systems. Consider how they need to integrate with your CRM, Salesforce, order processing, shipping and commerce systems and your customer support services. The last thing you want to do is invest in a new software solution, only to find it needs specialist technical help to work within your current setup.
Understand Your Customers
Apologies if we're stating the obvious here, but any website redesign or upgrade must be geared towards creating an experience your customers not only want, but love.
Embarking on a new website often highlights a range of wider questions for your business. Define what you want to say, to whom, when and why. If you haven't done so already, create buyer personas to give you a fictional profile of your ideal customer, composed of demographic information, as well as common goals and concerns.
Conduct some research by sending out questionnaires to your current customer base to get some data-driven insights. Call your customers and survey prospects for a balanced perspective. Building your personas based on these insights will tell you whether your site is delivering the right information and experience.
Grow Your Knowledge and Confidence
We've discovered there is commonly an expectation that the person or team responsible for updating the website knows how to make fundamental changes to the website, however it's entirely possible this same team or person has never been professionally trained in such a complex project.
If this sounds familiar, identify any training needs and trade information with people in your business or industry that have been through similar experiences. You may even want to join an industry body or professional group and consider collaborating with a mentor who can help.
Fitting in training and the overall project management of a new website as well as your day job can be a tall order, so explore what resource you can gather from across the business, or what external suppliers or partners can help you plan and deliver your website.
Communication
Assuming you are the project owner, you will be expected to steer the ship and provide clear guidance to a range of people and personality types, from project start to finish.
Identify your stakeholders early on, the people you will need to lead or deliver the work and the people who will need to be kept informed of important milestones. Think about holding regular meetings and updates to keep the project on track and communicate regularly and clearly.
In our experience, it is best to over-prepare but over-complicating or poorly communicating your goals could impede your progress so try to find a balance between detailed and inclusive. We would go so far as to suggest that a massive 50% of your planning and preparation should be reserved for how you communicate your plan to the people you need to make it happen.
In our next post, we'll be making some practical suggestions for tools and processes to help you.
Next Week
We hope you found this post useful for considering how to approach what is a very important project with common pitfalls across all types of business. Next week we'll be looking at what's practically involved in a website upgrade and arming you with the information you'll need, so check back then for part two.
Have you planned a complex website update? What were your challenges?