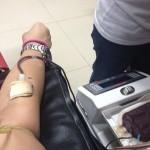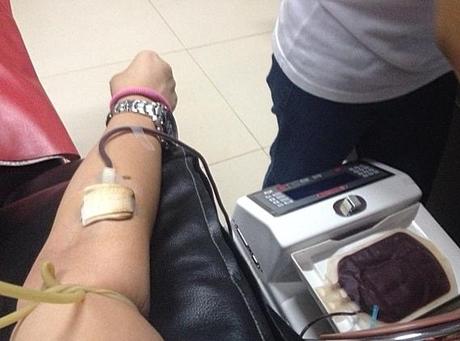 1. BLOOD DONATION IMPROVES OVERALL HEALTH.
Did you know that donating blood improves our bodies' overall cardiovascular health? An increased iron level in the blood increases chances of heart disease--and excess iron is even linked to an increased cancer risk--so regular blood donation helps people reduce the amount of iron in the blood. Chances of a heart attack or stroke happening is reduced significantly. Hemochromatosis, a condition that causes excess iron to be stored in body tissues, is usually a hereditary disease. It can be managed through frequent blood donations to help regulate blood iron levels.
2. BLOODLETTING ENCOURAGES PRODUCTION OF NEW BLOOD CELLS.
The human body is an amazing product of nature, for the body is capable of immediately replenishing lost blood. The bone marrow begins production of new (baby?) cells within 48 hours of blood donation and ends production after a month or two, or when all red blood cells lost have been completely replaced. With new blood cells in your body, you can expect your body to be healthier and working more efficiently.
3. BLOOD DONATION BURNS CALORIES.
This is my favorite reason, TBH. Simply donating one unit of blood (equivalent to 450 ml) burns
650 calories.
If I could donate everyday, I would.
4. DONORS RECEIVE FREE HEALTH SCREENING.
Interested blood donors must go through the blood bank's health screening and mini blood test before being able to give up 450 ml of blood. In the Philippine Red Cross' case, an hemoglobin level test, a blood type and blood pressure check, and a quick body checkup are important parts of the health screening. Blood will also be tested for major diseases such as Hepatitis and HIV.
5. BLOOD DONORS ARE PRIORITIZED.
Hopefully this will never happen to you, but if you ever find yourself needing precious blood, you can receive it faster than a regular patient in-need. Every blood unit (450 ml) corresponds to a blood processing fee, as well, so you can receive blood at a better price.
6. BLOOD SAVES LIVES.
Office is open on weekdays from 8am to 5pm for blood donations.
Blood bank is open 24/7.
Visit the Philippine Red Cross' Facebook Page for more information.