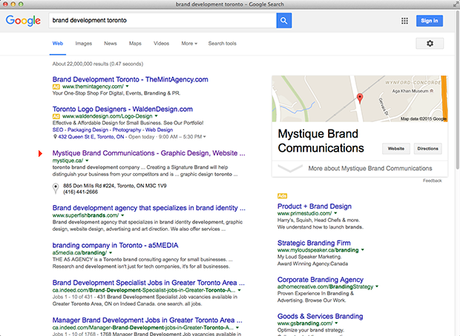 What is SEO?
Search Engine Optimization, or simply SEO, is the process of optimizing your website and online channels to help you acquire traffic through organic or natural search results on a search engine or directory. Research shows that Google is still the favourite search engine and accounts for over 78% share of all search engine visits received from Canadians (Dec 2015).
Here are 6 very good reasons why you need to invest in SEO.
1. Search engines drive traffic
Eighty-one percent of shoppers conduct online research before they make a purchase. Sixty percent begin by using a search engine to find the products they want. And 61 percent will read product reviews before making any purchase.
Let's face it...Google has replaced the Yellow Pages. And if your website isn't found in the search results your prospect is going to your competitors website.
2. SEO delivers high ROI
Marketing professionals find that companies using inbound marketing (SEO, PPC, and Social Media) enjoy 61% lower cost per lead than organizations that predominately leverage outbound marketing. And while PPC is good for immediate success, SEO has the lowest acquisition cost over time.
3. SEO is not going away.
SEO continues to evolve. As algorithms change and become more targeted your techniques will also need to evolve. Companies that understand this will be best positioned to keep high rankings that attract business.
4. Your competitors are optimizing their sites for the search engines.
As we mentioned in the first point... your top competitors are optimizing their website for the search engines. So if your site isn't being found for keyword phrases that drive business, you're leaving money on the table. Developing an SEO strategy is key to long-term success.
5. SEO works on cellphones
Mobile searching has increased exponentially with the use of smartphones and tablets. With the latest search algorithms, Google tracks mobile-friendly sites and can find a website locally (meaning wherever that smartphone is situated at the time of the search), which could result in more sales and traffic.
6. SEO can position your business as an authority
And a funny thing happens when you come across as an authority... you can charge more money for your services. That's right! Developing a SEO strategy can help position you as an industry leader... which results in more traffic from the search engines. Not only will your content speak to these readers, but they'll trust you. So when it's time to jump in and buy your service or your product, they'll come calling.
Grow your business with SEO
The more visibility your small/medium business has online, the better your business will do. SEO is a cost effective way to drive more leads. Of course you'll need to engage the traffic when it comes. But growing your business starts by increasing your online exposure.
If you need help attracting traffic, Mystique can help. Not only can we drive targeted traffic to your site but we can also leverage that traffic and convert it into business.

Frank Beecham
Mystique Brand Communications