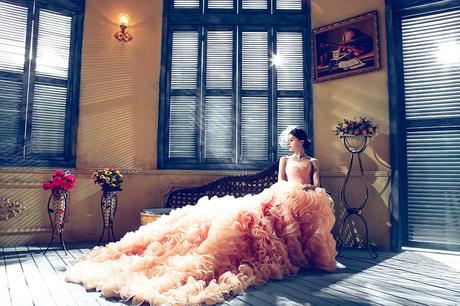 Dresses are pieces of clothing which require minimum effort in terms of matching, mixing and pairing. They are not just easy to carry but also a perfect fit for special occasions. Wearing a dress not only makes you feel special but also emphasizes the importance of the occasion.
A pair of jeans and a casual crop top may be the best choice for a casual housewarming party but you cannot wear it to to the marriage or reception party of your best friend. Here is where dresses and gowns step in. A Cinderella-style gown would serve the purpose well here.
Moreover, women wear to love dresses. The occasion is just an excuse. Keeping that in mind, here we bring you top 6 gorgeous dresses every woman loves to wear –
THE SHIRT DRESS – The best dress for a girl having a traveling schedule. Available in many fabrics like denim, cotton and even synthetic fibers, the shirt dress is comfortable, easy to wear and casual. You can pair it easily with sneakers or sandals and look good with even minimal to no makeup on. If your dress is full-sleeved, you can roll the sleeves up and look relaxed and funky. Even sleeveless shirt dresses are quite popular and look attractive. The shirt dress can even be worn to the beach or weekend wine parties and get a break from your office routine of wearing tucked in shirts with denim.
MAXI DRESS – Perfect for movie dates and casual parties, maxi dresses are timeless classics. A must-have for every girl, the dress goes quite well with high heels. Maxi dresses are generally made of synthetic stuff and enhance the curves, making the overall look quite attractive and appealing. Plain black or red maxi dresses were quite popular till sometime ago. Even floral print and multicolored ones have carved a niche for themselves. Covering the legs completely, maxi dresses are sometimes a nice alternative for denim.
CORSET DRESS – Corset dresses were quite popular in the 90s and of late have regained their position and popularity in the fashion world. Young girls and teenagers seem to prefer these stylish wear more than middle aged-women. A corset dress not only looks appealing but also defines the curves very elegantly and makes you look physically fit. Corset tops too are quite popular, a red or white corset top paired with a black denim makes you look stunning with little to no effort at all. A corset dress, on the other hand, requires a nice pair of heels and some accessories to bring the style diva out of you!
MIDI DRESS – Off shoulder midi dresses look trendy. Even if you are a bit curvy, a midi dress won't disappoint you. Midi dresses made of natural fabrics are comfortable to wear and skin friendly too. Popular even more amongst middle-aged women, midi dresses rock equally with heels as well as flats. With the fall approaching, you better add a few to your wardrobe. Perfect choices for parties and family gatherings, floral printed midi dresses don't drown you and are fit for you even if you are petite.
BULLET SILHOUETTE DRESS – Originated in the 1940s, a bullet silhouette dress is a vintage option. It is quite classy and has a royal touch to it. A staple wear for the women of the 1940s, fashion designers have worked on this framework a lot and molded it according to the present style demands of the women. Available in many designs, variations, and colors ranging from pink to grey, the dress is a standard choice of the members of the royal families across the globe. Wearing a bullet bra underneath can uplift the look even further.
FLOOR LENGTH GOWN – Floor length gowns are known for the royalness that they bring along. A perfect option for marriage and reception parties, floor-length gowns are often grand and voluminous. You can have it in spaghetti style sweetheart neck or a V- Neck style. A mermaid style gown with an outer covering of lace also looks quite different. Many girls also opt for Boho style loose fitting floor length gowns paired with high heels and some accessories. Split style chiffon floor-length gowns look attractive and present you with an opportunity to show off your fine toned legs. Gowns having laced sleeves or long sleeves with deep V Necks are great choices for formal parties. You can go for a heavy makeup look with dresses as they are generally plain and can accommodate more accessories without making you look gaudy, loud or extra.
So, these were just some of the dress ideas that we covered. Many other popular options like a wrap dress, an off-duty denim dress or a sheath dress are also great choices and must-haves. Whatever the occasion, a dress can make you look stylish and elegant with the right set of accessories. Having one of each kind would literally be a dream come true for ladies who love to get dolled up!
Author Bio:
Sara O Brown is a working mom, lives with her dentist husband and her adorable dog, Casper. She is passionate about traveling and cooking. A great fan of gym apparel.