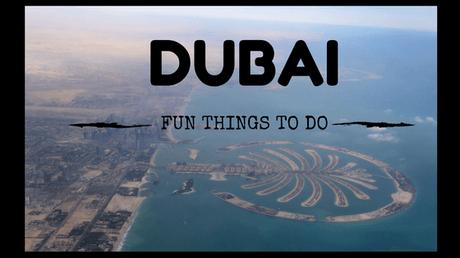 The UAE was just a desert not long ago. Or so was it perceived as one. It did not attract business or tourists. Things are not the same anymore. It is now one of the most developed, modern and sophisticated countries of the world with Dubai being its main tourist hub. The thing about Dubai is that it never usually is part of bucket lists but is a favorite among travelers nevertheless. This is mostly because the city is very tourist friendly and offers plenty of fun activities to do. Let's take a look at some of these activities.
Burj Khalifa needs little introduction. It has been featured in numerous movies, articles, TV shows and programs. Standing so majestically in Downtown Dubai, the building has many records to its credit. It is not only the tallest man-made structure in the world but also boasts the world's highest nightclub, the highest observation deck, highest restaurant, highest swimming pool and highest elevator. Viewing Dubai from the observation deck and having dinner so high up is a phenomenal experience.
2. Palm Islands
Together the three gorgeous islands Palm Jumeirah, Deira Island and Palm Jebel Ali are called the Palm Islands. The Palm Jumeirah is the most popular spot for honeymooners. As the name suggests, the island is in the shape of a palm leaf. The scenic island is a great place to enjoy nature and simply relax.
3. The Dubai Mall
You travel to Dubai and leave out visiting the Dubai Mall? Impossible. The Mall has the honor of being the world's largest mall in terms of area and the most visited mall in the world. Housed within are over thousand retail shops, cafes, an ice rink, cinema and an aquarium. An entire day can be dedicated to exploring the Dubai Mall.
4. The Wild Wadi Water Park
This is where one can unleash their inner child and enjoy to the fullest. From surfing, swimming, water rides to waterfalls, the park offers endless fun. Within the park are some really good restaurants to ensure you keep your energy level up to the mark.
5. Jumeirah Beach
Dubai is home to some beautiful white sandy beaches. Among all the beaches, the Jumeirah beach remains to be the most popular one. Near to the beach are some great hotels and shopping centers. Not only can you relax at the beach but also enjoy the fancy hotels nearby. Windsurfing, boat rides, water skiing and sailing are some of the most common and fun activities to do here.
6. Zabeel Park
Who does not enjoy a nice stroll in a park with lush and natural surroundings? The Zabeel Park gives you just that. It is easily accessible through the metro. You can have all sorts of fun here including skateboarding, ice skating, enjoying live music, picnicking, boating and golfing. Visitors love the fact that there is a Wi-Fi facility all over the park. Everyone loves the Zabeel Park!
6 Fun things to do in Dubai was last modified: by