If you're new here, you may want to subscribe to my RSS feed. Thanks for visiting!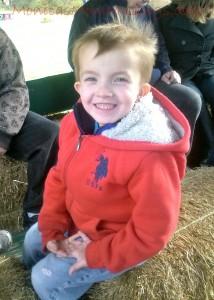 My one and only son turns 6 today.  It's hard to believe, 6 years ago we excitedly and nervously anticipated his arrival and here we are today celebrating one amazing little boy.  He has grown so much in the last year too.
Looking back on the post I wrote for him last year I wanted to see how much has changed.  So now I'm going to write 6 new and fun facts about my newly turned 6 year old.
While all of those things in the birthday post from last year still hold true there is so much more to my little man now.  So you should really check out these 6 new fun facts about my son.  He is one kid who will not disappoint.  I mean look at that sweet sweet smile there, you know that has got to be one really cool kid!
6 Fun Facts About My 6 Year Old
He has recently gotten obsessed with joke telling.  He's not really good at it.  His punch line is always along the same lines.  So it's, "Why did the lollypop cross the road?  Because it wanted to get crushed!"  "Why did the cookie cross the road?  Because it wanted to get crushed!"  And then he gets this huge grin on his face and laughs hysterically as if he just told the funniest joke ever, which makes us all laugh because his reaction is just priceless.
Not only is he enjoying telling jokes, but he's also enjoying receiving jokes.  Knock knock jokes, or anything.  He really gets the whole idea behind the telling of a joke.  Sometimes I wonder if he actually gets the punchline or he's just laughing because he thinks he's supposed to, but it's so much fun.
He doesn't want anyone's help with anything anymore.  Brushing his teeth, cutting his food, washing himself, whatever it is he wants to do it himself.  He's pretty good at it, but we do have to work on the globs of toothpaste left in the sink and well quite frankly all over the bathroom.  I'm not entirely sure what he does when he goes in there to brush his teeth, but many times it looks like he got into a fight with the tube of toothpaste and my bathroom lost.
He makes up his mind about something and he just does it.  This is a huge part of why school has been such a huge success for him this year too.
Sports are really beginning to interest him.  Ever since he took a week long wrestling clinic he has been showing an interest in trying out other sports.  Including my all time favorite, baseball.  Hopefully in the spring he still holds that interest and we can get him into T-ball.
He is very curious.  Always wants to know how things work.  Even goes so far as to take everything apart to figure it out.  Of course he isn't always so good about putting it back together.  But hopefully that will come with time.
So that's it, my 6 year old in a nut shell.  He is such a bright part of my day.  I'm so happy he is a party of our lives and I love celebrating with him.  The best early birthday present I've ever gotten.
Won't you wish my boy a happy 6th birthday?