For every one of you who crave a stylish kitchen and want to update the kitchen as per the ongoing trends, I have brought the best tips and guidelines. By following these tips, you can surely make your kitchen the best part of the house and decorate it better than all other spaces.
Besides spending a large amount of money on the renovation, here is the easiest way you can decorate your kitchen. Have a look:
Open shelves
When talking about the decoration of your house, everyone requires a space that looks wide; you can apply this concept to your kitchen as well. You can open the walls and convert them into shelves. You can store all your stuff in them, from the stoves to the crockery, this way you can store everything and creatively display the best pieces. You can keep it all white; it will look more than perfect.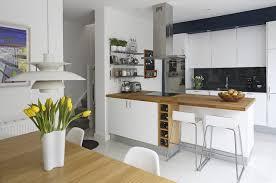 Mixing and matching
One fun way to make everything look stylish and chic is to mix and match. You cannot buy all the kitchen accessories from a single store, and the accessories never look alike so you can mix and match different pieces and then keep them together. This implies to all the kitchen pieces, from the dishes and crockery to the furniture, whether it is small or big. You can even use different sort of chairs and mix and match them; it will look creative and amazing at the same time.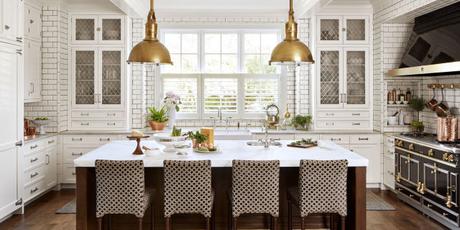 Fun with patterns
Let's play with patterns; this is another way you can make your kitchen look all stylish and up to the mark. You can use colorful curtains with some funky pattern; it will add that essential pop of color to your space. Mix and matching is fun, at the same time, choosing and using patterns is also more than fun.
Hang the pots
You need to fulfill the utility, and then you need an excellent décor, try hanging around different pots around the breakfast bar. The hanging pots and pans will make your kitchen stylish and edgy. After all, a kitchen is not complete without pots, stoves and pans so consider this a must.
Warm wood
The wooden look is always trending so use lots of wood in your kitchen to make it look stylish. You can have the wooden shelves or try the wood flooring. You can also have a wooden roof; it will make the kitchen look ten times more expensive than it actually is.
The rustic look
Last but not the least, go for the rustic look. You can have the chairs that are manufactured using steel or iron and all those things that accompany rustic look. This is again one of the best ways to make the kitchen look stylish. Consider adding the rustic pieces for the decoration; it is the last thing that you need.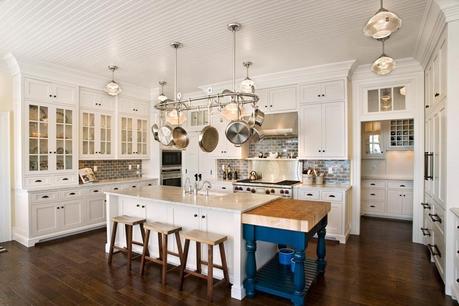 All these simple six steps will help in decorating the kitchen in a modern way. Have a good day!
Author Bio:
Julie Austin is a blogger who loves to write about home improvement. She is sociable and kind and loves to decorate almost everything! In her free time, she enjoys the sunset with her friends at the seashore. Read her posts at www.nurserygliderz.com