Simple, short, clean cut have dominated in recent years. This year, however, men wanted to do away with overly worked looks that require no hair out of place. Men have been experimenting with different hairstyles and hair products. Many of them are eager to learn how to style their hair different ways. They want hairstyles for men that require minimal effort but yields maximum impact.
Hairstyles for men reached new levels and are getting more and more creative. Short hairstyles are no exception. This year, we're expecting to see less conventional hairstyles. Although longer hair is making a comeback, short hairstyles are still going strong this year.
A trip to the barber shop is all you need to make this year your most stylish yet. Here's a roundup of 6 of the most popular hairstyles for men in 2018. Some of these trends are continuing from last year; while the others are fresh, new hairstyles.
Textured slick back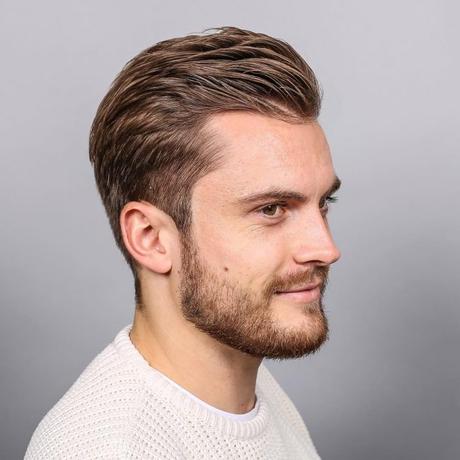 Image Source: http://stylemann.com
Men's slicked back hair is notable for its clean and tidy appearance. It is simple, clean, and professional-looking. It is as classic a look as you can get. Slicked back hairstyle is an easy way to make anyone look stylish.
This classic hairstyle rose in popularity in the 1950s with Elvis Presley's debut. Every woman was swooning over him. Men were suddenly spending hours styling their hair and trying to re-create his look. The combed-back look has served as a go-to hairstyle ever since.
Although this hairstyle has been around for ages, its classic legacy still remains popular today. In fact, the slicked back hairstyle is still very in right now. However, the look has changed throughout the years. Modern variations include adding volume on top and plenty of texture. You want to loosen things up a little. Use a minimal amount of product and comb your fingers through your hair to create a stylishly contemporary version of this look.
Bleached hair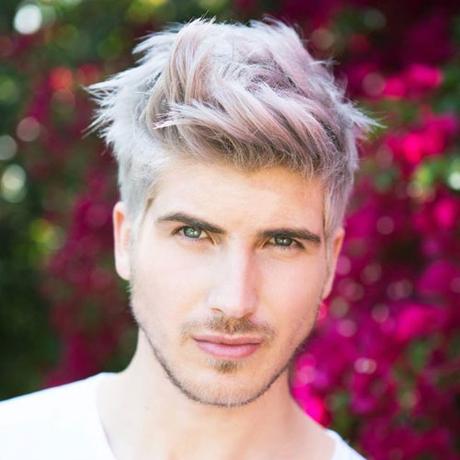 Image Source: https://www.menshairstylestoday.com
The 90s saw a resurgence of men bleach blonde males. Today, more and more men have been dyeing their hair to change up their looks and style. Platinum blonde, copper blonde, and bleach blonde hair for men has become a popular trend this year. Surprisingly, even celebrities like Adam Levine, Ryan Gosling, and David Beckham joined the ranks of dudes with bleached hair.
Bleached hair is a tough one to rock. If you're pale, it will make your skin tone look washed out. Also, it can highlight acne and blemishes. Don't bleach if you have acne scars.
Textured crop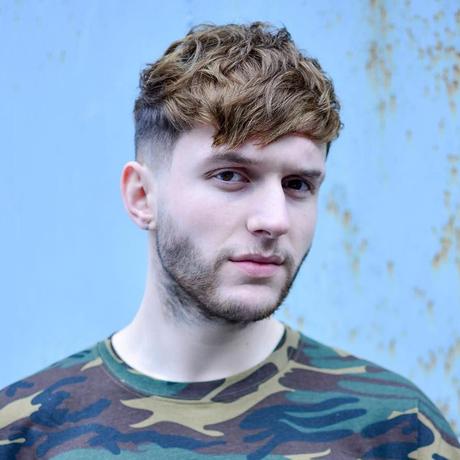 Image Source: https://www.pinterest.ph
With the weather starting to warm, many of you are probably looking for hairstyles for men that will keep you cool during the sweltering summer months. In this case, you may want to consider the textured crop.
This hairstyle adds volume to fine hair, lightens up thick hair, and even shows off curls of waves. It works for all hair types. This almost messy style is cool, modern, and easy to style; thus, making it the perfect hairstyle for a season that is full of sun and socializing.
High quiff with low fade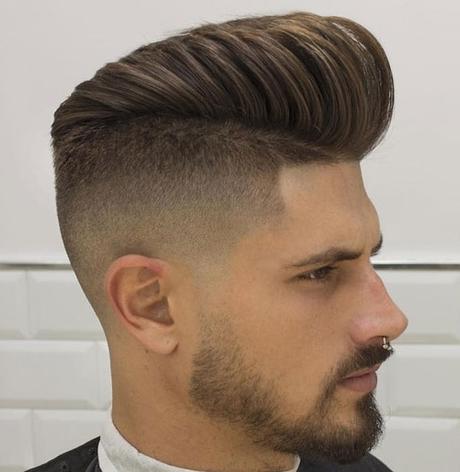 Image Source: https://atozhairstyles.com
The quiff hairstyle requires short hair on the sides and longer on the top. It is typically styled with some height and volume, and finished with a combed over or messy brushed texture. This hairstyle works well for many different hair types and face shapes. The voluminous top visually elongates your face, making it a great option for men with round face.
The quiff has become one of the most popular hairstyles for men over the last few years. It offers a fashionable style that is both versatile and stylish.
The modern quiff looks messy and sleek all at once. The hair is extremely spiked on top, giving it a whole lot of edge and a little bit of punk rock. Keep the hair on the side and back short for a sleek, smart finish.
There is something so sexy and badass about this look. This is definitely for the daring guys out there.
Bro flow hairstyles for men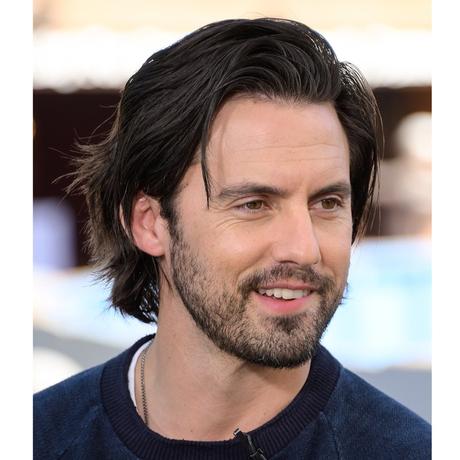 Image Source: https://www.gq.com
Long hair has been making a steady comeback in recent years. The Bro Flow is one of the coolest hairstyles for men in 2018, and is injecting a new kind of attitude into men's hair. It has been popping up on heads everywhere. Some of the world's most stylish men are rocking it.
The bro flow is perfect for stylish men who like to stand out. The cut projects plenty of confidence, thanks to its length and shape.
Despite projecting a carefree and relaxed vibe, the bro flow can make a great business hairstyle. The key is to keep the length a little on the shorter side. Blowdry your hair and style your strands by combing them back neatly. This way, you can pull off the casual look while still looking professional and polished.
Man bun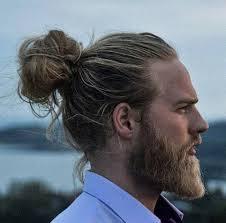 Image Source: http://www.manbunhairstyle.net/
A few years ago, we all thought that the man bun was just a fad and will be forgotten in the next year. We were wrong. The fact that we're still seeing a lot of men sporting this hairstyle is a testament to its staying power. It shows no signs of slowing down for 2018.
If you have long hair or you're planning to grow your hair out, this style may be the right choice for you. This is one of those hairstyles for men that work particularly well for guys who have a rebel spirit inside them.
The man bun shows a sense of fashion while giving off a laid back attitude. It's cool and easy to style, so you don't have to spend a lot of time getting ready in the morning. For a rugged, lumberjack look, you can pair a man bun with a full beard.