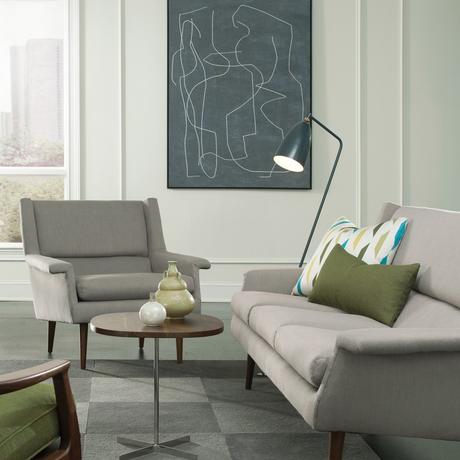 Based on the original sofa designed by Milo Baughman in 1959, the Darren Three-Seater Sofa and Lounge Chair are timeless furnishings that feature high seat backs and undeniably midcentury modern silhouettes. Featuring updated enhancements by Guy Hill—current Design Director for Thayer Coggin—the Darren Sofa and Lounge Chair exude comfort while maintaining crisp, modern lines. The Darren furnishings include fiber seats with double needle rounded front seams. Maintaining Milo Baughman's original comfort detail, this sofa and chair include a lumbar support made of foam and fiber. The frames are made from kiln-dried American maple wood that is joined at the corners with double dowels for added strength and stability, and rests on solid walnut legs that are handcrafted in New York.
Thayer Coggin founded his eponymous furniture company in 1953. With a commitment to modern, classic design, the company has created some of the most celebrated furniture designs in the world. Milo Baughman, Design Director for Thayer Coggin from 1953 until his death in 2003, designed furniture that set the brand apart from other furniture companies. Where many brands thought that Baughman's work was too radical, Thayer Coggin saw his passion, vision for modern furniture, and gave him the opportunity to design for the brand. Baughman's work for the Thayer Coggin brand remains some of the most revered in modern furniture design, and is sought after by modern design collectors and midcentury modern enthusiasts alike. Thayer Coggin's children grew up with a close connection to the design and manufacturing process, and Coggin's daughter Royale Wiggin effectively took over the company upon her father's death in 2003.
The family-run business maintains the same values sixty years after its founding, focusing on completing furnishings the right way and never taking shortcuts. Many factory workers have worked for the company for over thirty years, and feel that the small factory is an extension of the Coggin family. Every made-to-order home furnishing is handcrafted in the company's High Point, North Carolina factory and adopts the same bench-made production model that Coggin established when he opened the company. The Thayer Coggin brand remains true to its original mission of designing and producing sophisticated, timeless furniture with a dedication to exquisite craftsmanship and design that ranges transitional, modern, and contemporary styles. Through thoughtful design and incredible attention to detail, Thayer Coggin endures as a preeminent luxury furniture design company.