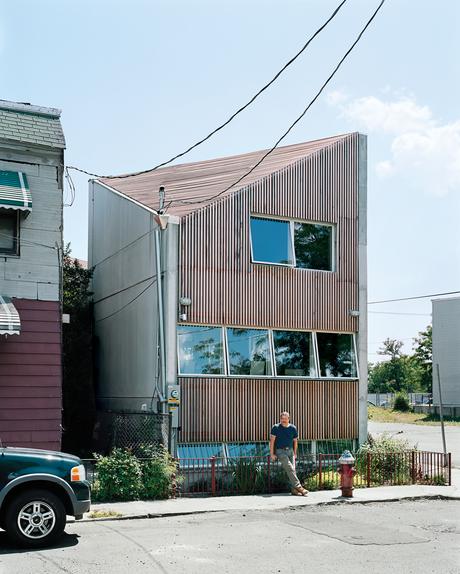 In urban planning, infill is the utilization of land within an already built-up area. Often this means new construction between existing buildings, usually on the sites of derelict lots. In Jersey City, Denis Carpenter turned a 1,300-square-foot lot sandwiched between a row house and a public basketball court into a modern home that riffs on the traditional houses around it in its scale and design. 
Photo by Samantha Contis.
At Dwell on Design Los Angeles 2015, three innovative architects—Apurva Pande, AIA, of CHA:col; Jeanine Centuori, principal and founder of UrbanRock Design and director of the Architecture of Civic Engagement (ACE) Center at Woodbury University; and Nathaniel Funk, of Vancouver-based Shape Architecture—will share their perspectives on the topic in the AIA Continuing Education panel Urban Infill and Small Spaces. Through current and recently-completed projects, these architects will demonstrate their solutions for maximizing living space in urban infill projects, and how preservation and sustainability can go hand in hand.