When visiting the best food city in America, you have to save your scratch for indulging in tasty bites! So, what's a budget-minded visitor to do for a good time? Follow those in the know! This insider's guide to what Portlander's do for a good time will give you a few year-round options to fill the time between meals.
1. The Swifts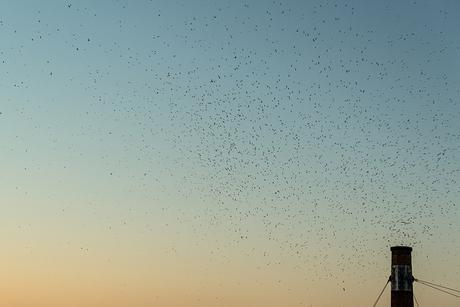 Photo by Chase Elliott Clark
Every fall, about an hour before sunset, Portlandians plop their butts in the grass of Chapman Elementary School, or nearby Wallace Park, to watch the fall migration of Vaux's Swifts swirl overhead then pour into the school's chimney, like a genie back into the bottle. On any given September night, you may be surrounded by thousands of locals, with thousands more visitors soaring above you. Things to bring: a four-pack of tall beer cans from Portland's Hopworks Urban Brewery, sandwiches from Ken's Artisan Bakery, just down the street, and a towel or Pendleton-made blanket to sit on.
2. PDX Adult Soap Box Derby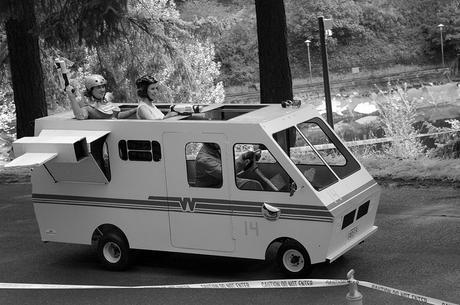 Photo by lamoix
Portland's Mt. Tabor is plenty cool on its own: a dormant volcano dotted with reservoirs, this hill (it's more hill than mountain) is crisscrossed with hiking trails and paved roads. But on a very special day in August (it changes, but it's the 20th in 2016), one of these roads is off limits. Ever wondered what a giant steampunk R2-D2 might look like, barreling down the road, with crazy-haired a human being inside? How about a miniature Scooby-Doo Mystery Mobile? And what if they were actually racing? Well, you're likely to see this and more at the PDX Adult Soap Box Derby! Plus, local vendors will be hawking gourmet ciders and beers, and, if you're lucky, there'll be hot dogs, too. The vendors and racecars change every year, but this event is always free—and it's always awesome!
3. The Big Float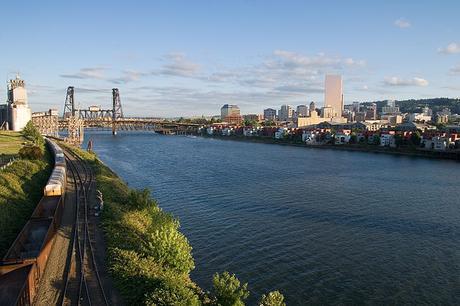 Photo by StuSeeger
This thing costs ten bones, but it's an excellent way to beat the July heat. And it's for a good cause—encouraging preservation of Portland's main waterway. Portlanders and their friends hit the waves in anything that floats, drifting under a couple of impressive bridges on innertubes, paddleboats, kayaks, and rafts. Drifters beach themselves at Tom McCall Park for the next phase of the ride: live music and Portland's famous food carts. If you don't feel like paying the dues and signing the waiver, there is plenty of space to watch from the sidelines. Then head over to the park to join in the revelry!
4. The Portland Aerial Tram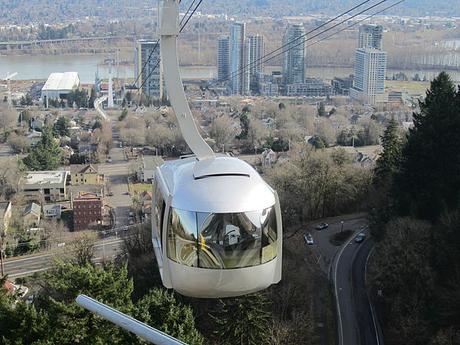 Photo by Another Believer
Portland's Aerial Tram connects the waterfront, and Portland's new Tilikum commuter bridge, to "The Hill"—the home of Oregon Health and Science University (OHSU) and the Veteran's Affairs Hospital. It costs $4.50 each to ride up, and the views it provides are unbeatable. You will see Portland in an entirely different way, and it will be breathtaking. But here's a super insider tip: It's only $4.50 to ride up. If you're short on funds, or just want to be frugal, get someone to drive you to the top, or take the bus, then ride down for free. (And, if you get at all queasy in tight, rocking spaces, hold onto your lunch when the tram shifts angles at the support tower towards the bottom—it's a jarringly good time!)
5. Peacock Lane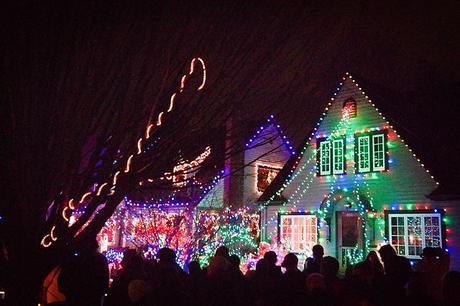 Every December, this tiny Avenue ramps up for the holidays in a big way. Every resident on this strip, between Stark and Belmont, goes all out, decorating their houses, lawns, and fences in a tapestry of lights and Christmas decorations. Every. Single. House. It's mesmerizing. It's also a bit of a traffic jam—fortunately, the police usually show up to provide assistance with traffic control. And there are plenty of sign to tell you where to go and how to get out. When you're done, cruise a few blocks east on Belmont or Stark. Go equal distances down either street and you'll come to a couple of Portland's favorite watering holes. The Horse Brass, on Belmont, is an Irish pub featuring all of the traditional food and drink, plus taps reserved for the Northwest's over-hopped contributions to beer. On Stark, you'll find the Belmont Station (it used to be on Belmont), which exclusively offers over-hopped Northwest ales—on 20-plus taps. No food at this one, but there's a food cart out back, and you can peruse the attached bottle shop as you sip your libation.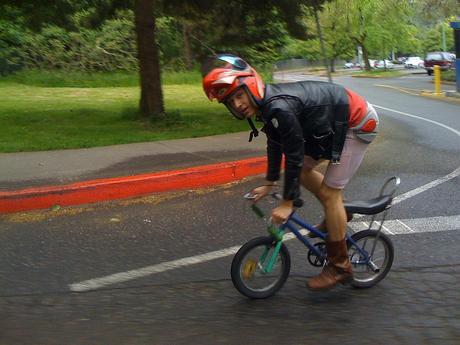 Photo by Sam Beebe
This event takes place every Sunday, all year round, though we recommend the dryer, warmer months—but snow days are good, too! Like the soapbox derby, this event features eccentric Portlanders racing down steep hills. But, unlike the Derby, they reach breakneck speeds. And often on tiny kids' bikes (check out the People's Bike Library of Portland—the big pile of bikes on West Burnside—for an idea of what these things look like in the daylight). Riders start gathering at the bike pile around 8:30, then get going around 11, usually making two or three runs, so join them for a ride up the MAX, find a safe vantage point, and get ready for the action!
Of course, this is by no means an exhaustive list of things to do in PDX—it's only a taste! Stay tuned for more fun ideas from Frugal Portland!