Solihull Moors 1-1 Gateshead
National League
Saturday 25th November 2017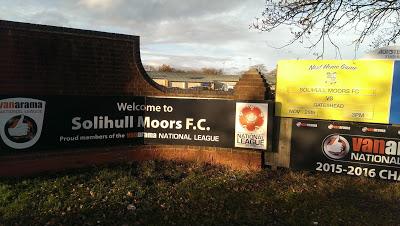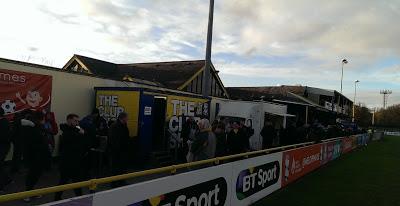 Solihull
is a town in the West Midlands, historically part of Warwickshire, found eight miles south-east of Birmingham.  (Population almost 210,000).
Solihull's name derives from the position of its parish church, St Alphege, on a 'soily' hill and its motto is
Urbs in Rure
(Town in Country). "Silhillians" live in one of the most affluent areas outside London, named as the best place to live in the UK in November 2013, by the uSwitch Quality of Life Index.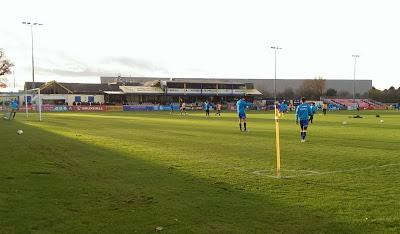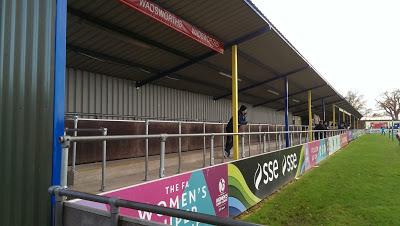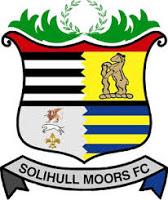 Solihull Moors FC
was founded in 2007 by the merger of Moor Green and Solihull Borough.
Moor Green F.C formed in 1901 and originated from the Hall Green area of south Birmingham, before moving to Solihull. Neighbours Solihull Borough date back to 1953, originally playing at Widney Lane in Solihull under the name Lincoln FC, before changing their name in 1969.
Following an arson attack at Moor Green's Moorlands Ground in 2005, the two clubs once again ground shared, having done so in 1989 when Solihull Borough were forced to sell Widney Lane due to financial problems.  In January 2007, the two clubs applied to the FA to merge, which was confirmed on the 30th March 2007. Solihull Moors were officially formed on the 1st June that year and took Moor Green's place in the Conference North. In 2015-16 the club won promotion as National League North champions and also lifted the Birmingham Senior Cup.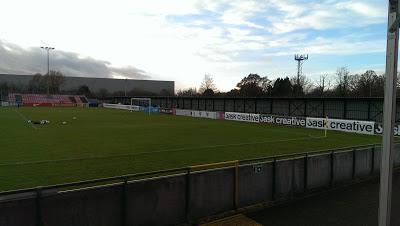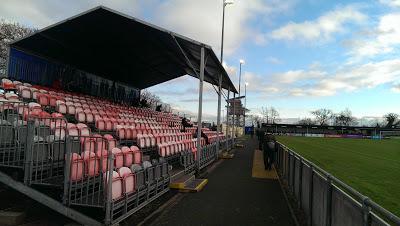 Damson Park
Automated Technology Group Stadium
Damson Parkway, Solihull, B91 2PP
Capacity
3,050 (770 seats)
Current National League grounds visited 22/24
The Main Stand has seats in front of the Social Club and changing room building, with an added shelf above which is used by club officials and sponsors. This side also has the team dugouts, clubshop and an additional section of open seating.
There is full width cover behind both goals, with the Damson Lane End split with half seats and terracing, while the DrainTech End has seven steps of terracing.
The far side of the ground is open, with clear views of the nearby Birmingham Airport Conning Towers behind it. At one side a small partially covered temporary seated stand has been added.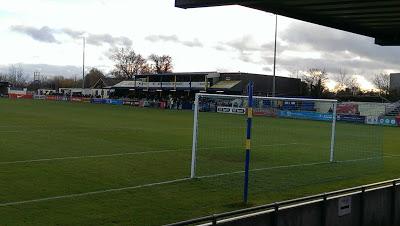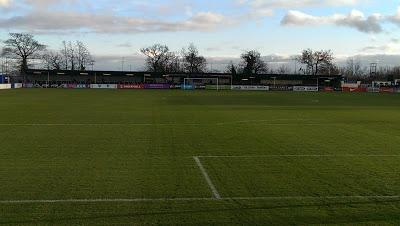 Solihull Moors(24th) v Gateshead(13th)
National League matchday 22
Weather:sunny and cold
Att.534 (107 away)
Gateshead had to settle for a point, following the dismissal of Russell Penn after two yellow card offences late in the first half.  Jordan Burrows had fired The Tynesiders ahead from the penalty spot in the 13th minute, after Darren Carter fouled JJ O'Donnell in the box, and they had chances to extend their lead before half time.
Solihull were on top in the second half and made the extra man advantage count, with Wes Atkinson heading in a Courtney Richards cross on 66 minutes.
The shared points means the Heed failed to make it three away wins on the bounce, while it's now six matches without a win for the Moors.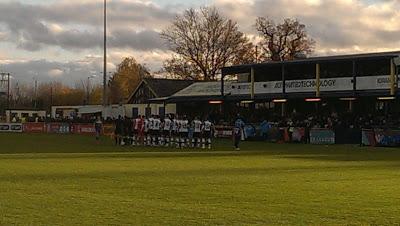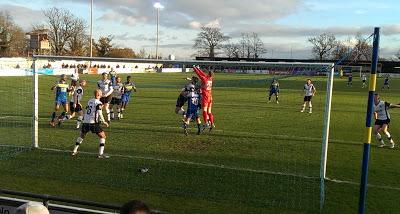 Matchday Stats
SMFC 1(Atkinson 66)
GFC 1(Burrow 13pen)
Top Bloke - Wes Atkinson (Solihull Moors)
Entertainment 6/10
Spondoolicks
Admission £15
Programme £3
Pin badge £3
Coffee £1.20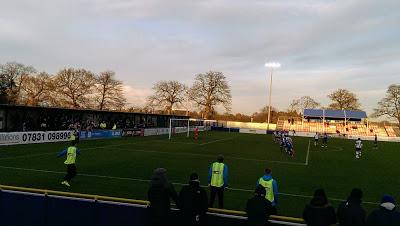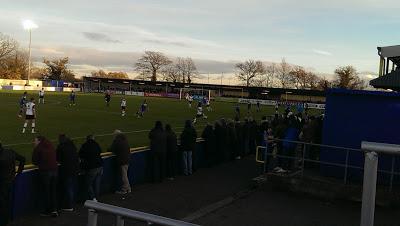 #HeedHopper
0735 Cross Country train to Birmingham New Street arr.1027
Return to Newcastle on the 1830 arr.2145
It's been a long time since I was last in Birmingham, so before heading out to Solihull, I spent a few hours in the four pubs I needed to complete
the Brum 'Spoons.
I then caught the 1240 train, but stopped off in Acocks Green for a pint first, before eventually arriving in Solihull at 1.35. The ground is a bit of a hike from the town centre, so after a drink in The White Swan I caught the x12 bus service at 2.15. Around our way if a bus is prefixed with an X, it means "express" and has less frequent stops, but this service went all around the doors, taking a good 20 minutes, but at least I got to see how nice Solihull is.
After the match I bumped into York based Keith Arthur (100FgC Squad#194) at the bus stop, so we had time for a catch up and a pint in the Post Office Vaults before we headed back north. A canny day out with the only fly in the ointment being a certain tribe of citizenry, who later boarded my train home gleeing with delight over a very rare win for their club.