Sutton United 1-1 Gateshead
National League
Saturday 9th September 2017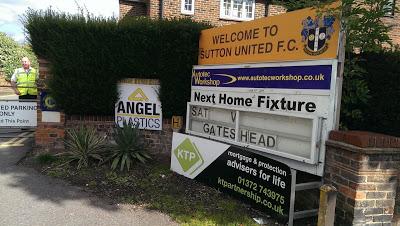 The town and London Borough of
Sutton
lies on the lower slopes of the North Downs, a ridge of chalk hills which stretch from Farnham in Surrey to Dover in Kent. Sutton is located 10 miles from Charing Cross and became part of Greater London in 1965.
(Population: over 41,000)
Birthplace of author Quentin Crisp, actress Penelope Keith, and amongst its many former residents are playwright Noel Coward, former
Goon
Sir Harry Secombe, broadcaster and botanist David Bellamy, Formula 1 racing driver James Hunt, Olympic rower James Cracknell, singers Katie Melua and Joan Armatrading.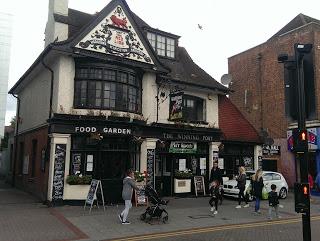 The Rolling Stones played several early gig at the Red Lion pub (now the Winning Post) on Sutton High Street. It was here that music guru Giorgio Gomelsky spotted the band and signed them up for a residency at the Crawdaddy Club in Richmond, which set them on their first steps to stardom.It was also at the Red Lion boozer that Charlie Watts and Bill Wyman became permanent members of the band on the 23rd January 1963.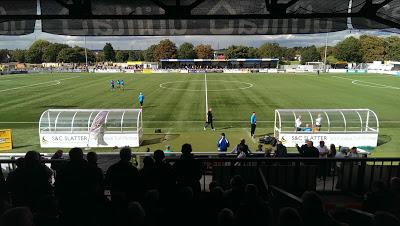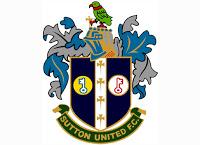 The club was founded in March 1898 following the merger of Sutton Guild Rovers F.C. and Sutton Association F.C. They played in local leagues and joined the Southern Suburban League, which they won before the First World War.
Athenian League 1921-1963 -  champions 1927-28, 1945-46, 1957-58
Isthmian League 1963-1986, 1991-1999, 2000-2004 and 2008-2011
League champions five times in 1966-67, 1984-85, 1985-86, 1998-99, 2010-11
Conference/National League 1986-1991, 1999-2000, 2004-2008(South) 2011-2016(South)
National South champions 2015-16 after losing out twice in the play-offs in 2013 and 2014.
Cup honours include the Anglo-Italian Cup in 1979, Athenian League Cup and the Isthmian League Cup both on four occasions and Surrey Senior Cup winners 15 times.
You can't mention
Sutton United
without remembering their giant killing FA Cup act in 1989, when the amber and chocolate shirts defeat Coventry City 2-1 at Gander Green Lane. The Sky Blues had won the cup just two seasons earlier and a sell-out 8,000 crowd as well as the Match of the Day cameras were present to see this famous victory.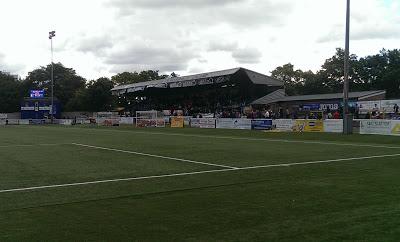 The Borough Sports Ground
Gander Green Lane,
Sutton,
Surrey,
SM1 2EY
Current National League grounds visited 20/24
Capacity 5,013
Record Attendance 14,00 v Leeds United -  FA Cup 4th Round, 24th January 1970.
The ground was first used in the late 19th century, but the U's first played at Gander Green Lane in 1912, when the ground was
known as the Sutton Adult School Ground. The club had played at various venues before finally settling at their true home after the First World War.
The main stand which was opened in 1951, has a covered single tier of 765 seats, with a mix of blue and red seats. The team dugouts are at the front of this stand, with terracing at each side The terracing continues to both goals and the opposite side, each end having a covered enclosure. He terracing is set back from the perimeter fence, because the ground once had an athletics track surrounding the pitch.
The artificial 3G playing surface was installed in 2015 and prior to this season the ground has been renamed the Knights Community Stadium, in a corporate sponsorship deal.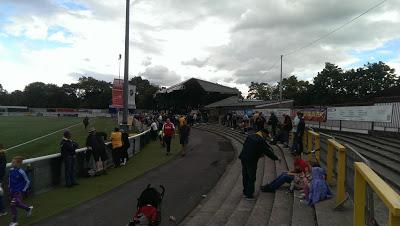 Sutton United(4th) v Gateshead(11th)
National League Matchday 9
Ko.3pm
Weather: four seasons in one day
Att.1,805
Two first half spot-kicks saw the U's and the Heed share the points. Danny Johnson put the Tynesiders ahead after being tripped by Louis John in the fifteen minute, before Simon Walton did likewise, equalising after Craig Dundas had been tripped by Theo Vassell. The woodwork was struck three times in the first half with Sutton twice going close to taking the lead.
A half time rain storm with thunderbolts of lightning meant the second half was delayed for 15 minutes, well you wouldn't expect professional footballers to play in heavy rain would you? The delay made the game a bit lacklustre, until the later stages when it was backs against the wall for the Gateshead defence. Sutton should have clinched it, with substitute Tommy Wright missing a golden chance, while Craig Eastmond was denied by a world class save from Dan Hanford in the dying minutes.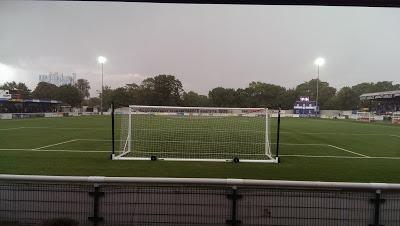 Matchday Stats
SUFC 1(Walton 28pen)
GFC 1(Johnson 15pen)
Top Bloke - Dan Hanford (Gateshead)
Entertainment 6/10
Spondoolicks
Admission/programme/ team sheet free with press pass. Special thanks to Tony Dolbeu. Otherwise its
Admission £15 and programme £2.50
Pin badge £4
Coffee £1.50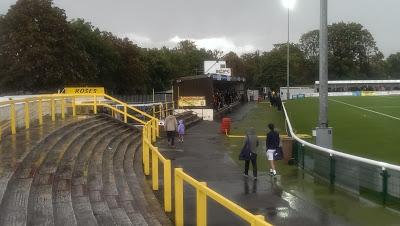 #HeedHopper
0559 Virgin East Coast train to London King's Cross arriving at 0904, returning on the 1900, back at 21.50.
Whenever I'm down in that their London, I always make the most my time by doing as much as possible. Yesterday I had two matches and at least five pubs to visit, with all the logistics planned for my morning match at Chelsea Academy and the trip to Sutton in the afternoon, with some Wetherspoon pubs in between. The first part in the morning went off like a tee, getting to Surbiton for my connection train to Cobham & Stoke Dabernon with time to spare for a drink in The Coronation Hall. You can read how this might have been a wasting journey to Cobham for my first match
here.
I headed back to Surbiton after the game to find a packed station, due to major delays at Waterloo. I decided to catch the first train available and get off at New Malden, where I had a swift pint in The Watchman JDW, before jumping on the 231 bus to Sutton. As I arrived in the center of town, I didn't have time to call for a drink at The Moon On The Hill, instead I just went to The Grapes before heading up to the ground to collect my press pass. After the match I intended to stop off in Wimbledon for a drink, but it was here where the real travel chaos was. Because of a signal failure no trains could get out of the station towards central London, so myself and my few fellow Heed fans were stuck, with one of the lads booked on the 1830 from Euston to Carlisle.
After almost an hour the first train finally departed the station at 1820, heading directly to Waterloo. This meant I had to navigate my way through the tube to Kings Cross, so after running through stations, pushing people out of my way(folk must have thought the police were on my tail) and jumping on and off trains, I finally arrived at platform 6 for the 1900 to Newcastle with six minutes to spare, soaked to the skin, dripping with sweat and relieved to be on my way home.
Matchday web album (15 pictures)