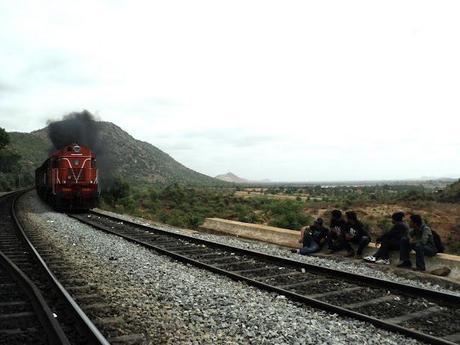 Place:
Makalidurga – Railway trek.
Distance:
70 x 2 = 140kms.
Directions:
Bengaluru – Yelahanka – Doddaballapur - Makalidurga .
Particiapants:
Deepak (Deepu) > Karthik (Nr) > Kushal (Kaushi) > Datta (Dattu) > Ashok (Ashokey 350) > Karthik (Sp).
Bikes:
Zeus > Discover > Pulsar 150.
Previous visit:
VaniVilas Sagar Dam & Chitradurga Fort.
Facebook page:
MakalidurgaAlbum

.
IN LESS THAN 50 WORDS:
This was one terrific trek which drained the life out us totally. It had elements of danger & fun well balanced. As far my knowledge goes only a few had reached the temple at the top. And yeah an extremely under-rated trek, it surely is as good as Skandagiri trust me!!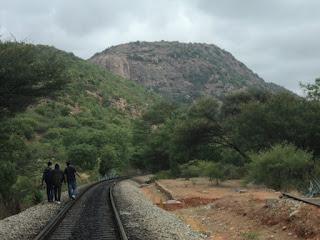 INTRO & PLAN:
Well the last time we trekked was 2.5 years back – Kabbaladurga trek, where i barely survived. After that we didn't really do much of hardcore trekking. Then I stumbled upon this place, actually very long back itself. Makalidurga not only being a climb but a railway trek got us all excited and decided to get it under our belt.
ASSEMBLE:
Yeah I was up at 05:00 hrs, it was Dad's birthday. Wished him, had a cup of coffee, did a few push-ups and left my house at 06:00 hrs. Oh yeah, just before I left I grabbed a 1litre water bottle. Trust me, I didn't have faintest idea how important it meant. The assembling was scheduled at 3 places, first at Nayandahalli, then it was Mahalakshmi layout and finally at Sankey tank. After all 6 had assembled we departed Bengaluru.
TIME: 07:15 hrs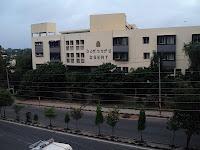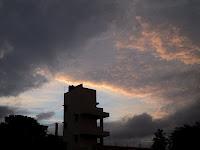 RIDE 1: (Bengaluru – Doddbalapura – Makalidurga)
Well this was 60-65kms stretch. We did stretch at a slow pace, with only one stop. We rode slow through the city, once we got out of the city we continued again at a slow pace to reach Doddbalapura. After which the roads turned real good, so we cruised along at a decent pace to reach the Makalidurga Railway station.
TIME: 09:30 hrs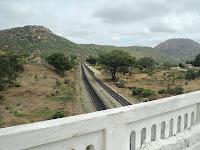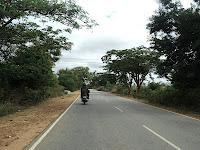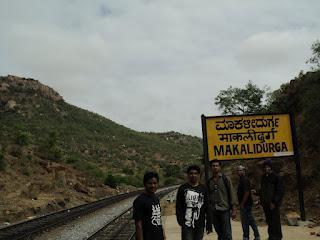 MAKALIDURGA TREK:
Alright there are two ways to reach the foot of the hills
i) Ride our bikes 1.5-2kms further to the foot of the hills. OR
ii) Park our bikes at the railway station & walk 3kms on the railway track to reach the foot hills.
Yeah, we chose the obvious one!
Parked our bikes at the station, called out the station master 7 requested him to look after our bikes. Then the trek started as we departed platform of Makalidurga.
3 Km Walk: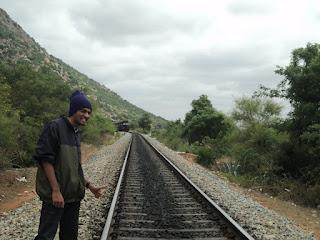 Yeah the trek started of with lot of talks and jokes. We walked on the track, jumped around here & there. Then we sat on some bund talking about school days and incidents worth recollecting. It was not long before we spotted the first train, only a few minutes latter the second one zoomed past us.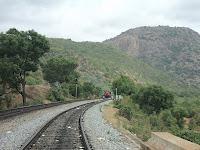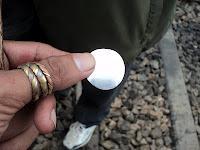 Then for the 3rd & 4thtrain we kept coins on the track and took them back as souvenirs. Finally we covered the 3km on the track and reached the foothills. As the sun was up, we did finish half the bottle at foothills only. We had no clue what the other half meant.
TIME: 10:30 hrs
Initial Stretch: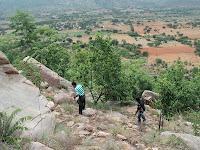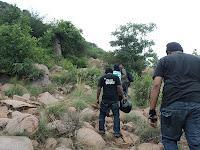 The initial stretch was pretty easy. The terrain was very similar to Skandagiri with a lot of grass & boulders. We took sufficient breaks & kept ascending at a good pace. After about 30 mins we encountered steep boulders, which we climbed carefully one after the other. I had a helmet in my hand and a tool-box, water bottle and lots of other things in my bag which began draining the energy out of me.
TIME: 11:00 hrs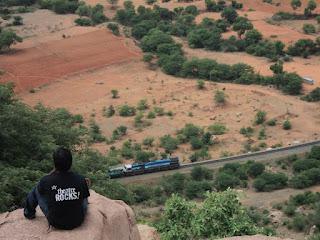 3 Point Contact: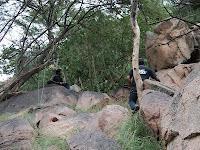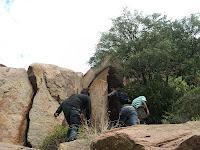 Trust me we were kinda lost right from the beginning ha-ha. The plan was simple, keep climbing up, until we reach the fort at the top. Alright, so… the number of breaks increased and we were getting dehydrated and fast. (Me being the worst due to the luggage)
As we took shelter below a small canopy of thorn filled bushes, Kaushi & Nr decided to head back as the steepness had started to become maddening. So the 4 us decided to continue further.
The boulders at a few places were literally 90 deg steep & climbing them was a real challenge. Check out the snaps, I'm sure you'd wonder how mental we are :P ha-ha!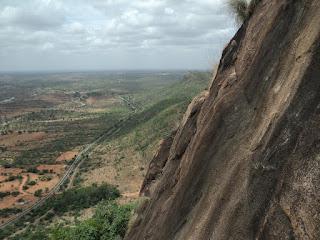 Last Stretch:
The steepness did decrease but not much. We were so dehydrated that we finished off the water. My shirt was drenched in sweat and I do not know why, but I refused to give my bag for others to carry. Deepu being the most experienced led the way until we reached a place where we had to sit down almost collapsing. After a short nap, we continued further to finally spot the fort walls. We looked for a breakthrough and reached the top :)
TIME: 12:00 hrs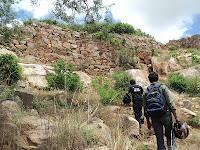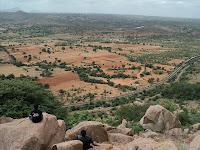 The Flying Fortress: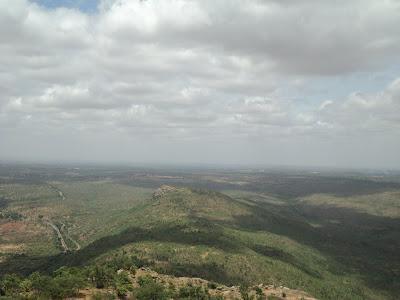 Whew!! Reaching the top was a huge relief. The cool rushing at my face, as sweat kept running down the same is something I recollect very clearly. We spotted a few ruins on the top such as granaries and other storage places.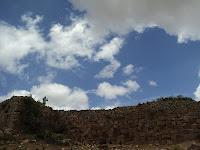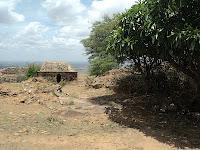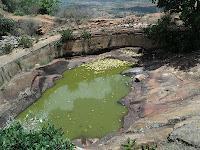 We also spotted a small pond, into which I badly wanted to jump into. Thankfully I was stopped by the others as it had dirty water. Finally we spotted the Nandi temple at the top which marked the end of the trek. We being the only ones at the top, we walked like zombies one after the other extremely dehydrated to reach the temple.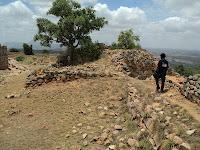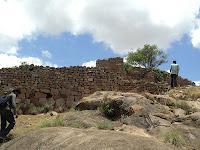 Nandi
Temple
: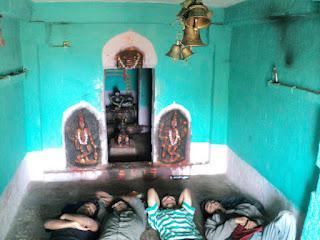 Once we reached the temple, we literally stormed the place hoping to find water. But unfortunately we didn't find any. The inside of the temple was damn cool and pleasant. We did a Pooja by ourselves, and slept off knowing that was the only way we could re-instore our energies.
TIME: 12:15 hrs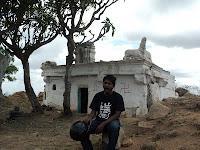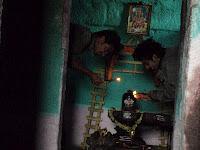 After about 45mins of deep sleep, we woke up yawned... I didn't even realize where I was ha-ha!! But yeah water levels were still down. Just before we left the temple, I spotted a small packet of tea powder, put it in my pocket. Wearing back our shoes, we decided to head back down.
TIME: 13:00 hrs
Descension: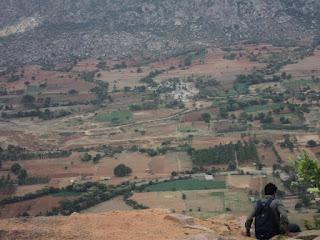 Deepu lead the way down again. And Dattu & Ashok were pretty okay after the rest. As we descended we took a totally new route, which had us lost right from the beginning. The sun being right on top of us made matters worse. After a few mins of trek down, we were caught in a place which had steep boulders again. We sat on them & descended carefully.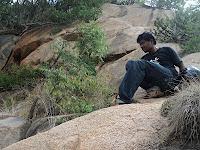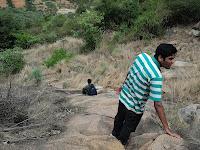 After 30mins we were back on grass & boulder terrain. Then I found 1 halls in pocket ha-ha :P. We broke into 4 pieces and ate, that wasn't it. I ate the raw tea powder as well. Trust me... never eat it raw unless you don't have any other choice. 

As we rested all we could see is huge trees and thorn filled bushes in front of us. The word "route" was kicked totally out of the dictionary that day.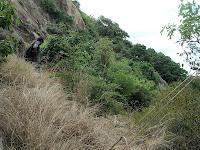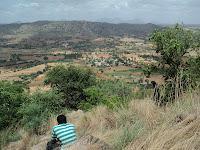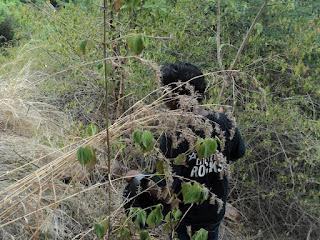 Crawling through the thorny bushes, jumping about the boulders and trees we made it out of that stretch to spot the railway track at some distance. Whew, well we just walked straight through the thorny plants without giving a damn about the bruises being caused on our faces, hands & knees. Finally we reached back the railway track.

TIME: 14:00 hrs




Last Stretch: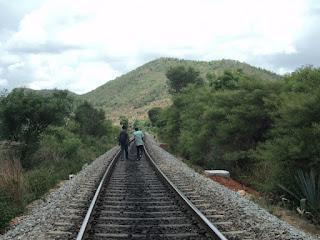 We had ended up about 0.5-1km further, so we had a total of 3.5-4 kms to walk back. We walked back on the track like zombies, head down, and arms hanging so dead from our shoulders. After about an hour we reached back the station. These 60 mins had to be the toughest walk of my life. We washed our faces at the station and went to a bakery near-by and drank a lot of fluids.
TIME: 15:15 hrs
RIDE 2: (Makalidurga – Dhaba)
Well having said tata to Maklidurga, we rode at a decent pace to reach dhaba on the highway. We ate decent meal, not to heavy and decided to head back as it was becoming cloudy. We didn't want to miss riding in the rain.
TIME: 16:30 hrs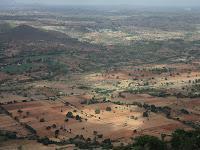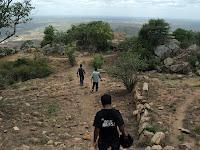 RIDE 3: (Rain Ride - Heavy)
As we left the Dhaba we prayed that it would rain. As we reached the airport road, the clouds burst open and down came the rains. We enjoyed riding thoroughly till Bangalore where we split our ways. After I reached the ORR with Kaushi behind me, the clouds burst open big time and the road was filled with rain water. But we didn't stop continued at a decent pace, smiling at the all the other 2 wheelers who were taking shelter. Dropped of Kushal at Nayandhalli signal and reached back our bakery.
TIME: 18:30 hrs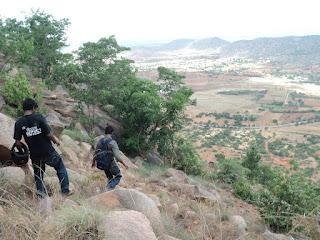 EXTRA'S:
Ha-ha that wasn't it. It was Arun's farewell to IIT Madras, so went out had an excellent dinner. Trust me there I was in the hotel holding a glass of cold water in my hand, staring at it, realising how important it was under given circumstances. After a nice heavy meal we went back home.
TIME: 22:00 hrs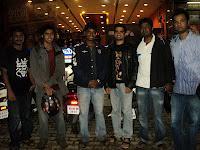 CONCLUSIONS:
"Well this had to one of my best treks till date along with Skandagiri, Kabbaladurga& Pearl valley. The level of dehydration we went through is something which only could be felt, hard to describe. So a word of advice for people going after reading this article, take a lot water, snacks, and first aid kit."
Until next time Cia \m/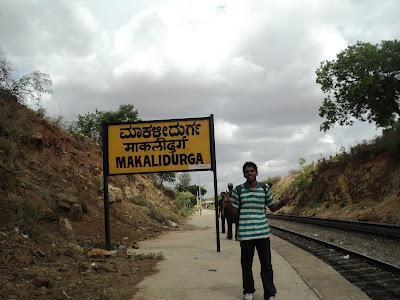 PICASA ALBUM:
MAPS:
View Larger Map