Crossgates Primrose 1-3 Lochgelly Albert
East Region - South Division
Saturday 13th May 2017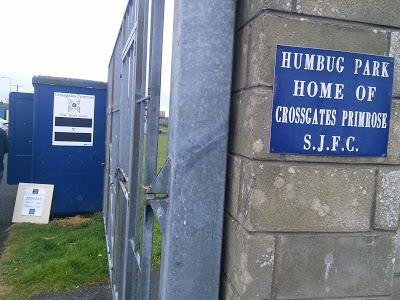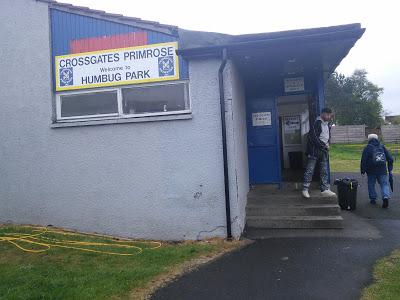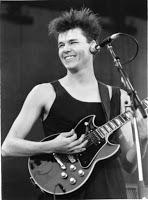 Crossgates
is a former mining village in Fife, two miles east of Dunfermline. It takes its name from the crossroads at the crossing point of the Dunfermline to Kirkcaldy road and the old Great North Road from Inverkeithing to Perth.
Guitar legend Stuart Adamson grew up in the village. The former Skids and Big Country man was born in Manchester, but his Scottish parents moved the family back home to Scotland and settled in Crossgates when he was just a wee toddler.
Crossgates Primrose Juniors FC
were formed in 1926.
The Rose folded for the first time in 1960 before reforming in 1983.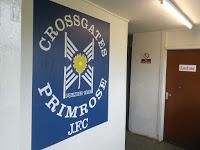 The club resigned from the league in November 2015 due to a lack of committee members, but following the foundation of a new board returned at the start of this season. Scottish legendary midfielder Jim Baxter began his career at the club before signing for Raith Rovers in a £200 deal in 1957.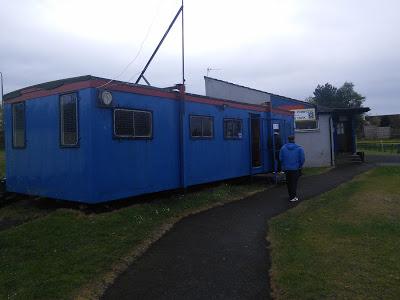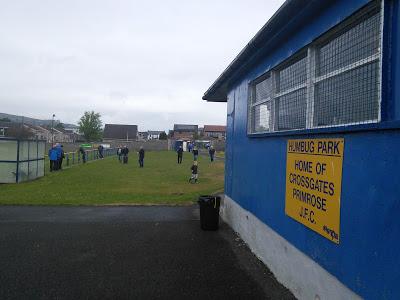 Humbug Park
Inverkeithing Road,
Crossgates,
KY4 8AT
Scottish grounds visited 86
Scottish Juniors grounds visited 36
Record attendance 7,600 v Auchinleck Talbot (Scottish Junior Cup 6th round 1952–53)
Capacity 7,500
The ground takes its name from a disused pit at the former Cuttlehill Colliery where it's now located, and hosted greyhound racing between 1937 and 1953. The pitch is railed off with a bus shelter style dugout on each side. The changing rooms and cafe cabin are on one side along from the paying entrance.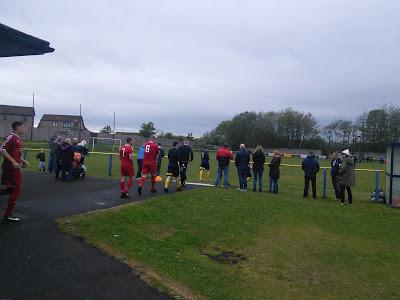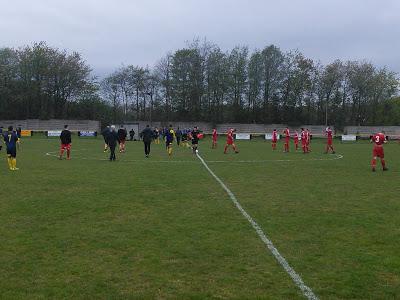 Crossgates Primrose(12th) v Lochgelly Albert(4th)
McBookie.com South Division Matchday 26/25
Kick off.2.30pm
Att.66hc
The Rose finished off their season with a local derby defeat to Lochgelly Albert. The visitors struck first with a lovely chest and volley from Lewis Elder, his effort from the right hand side of the box gave his side a 16th minute lead. The hosts made a poor start to the game, but drew level when Andy McDonald fired home on 39 minutes, before a curled free kick from Craig Paterson in the last minute of the half restored the one goal advantage.
The game was well balanced in the second period, but it was Lochgelly who wrapped it up, when a long throw from the 'keeper set up a quick break which was finished by Steve Brown to claim the three points for The Albert.   
CPJFC 1(McDonald 39)
LAFC 3(Elder 16 Paterson 45 Brown 80)
Top Bloke - Lewis Elder(Lochgelly Albert)
Entertainment 6/10
Spondoolicks
Admission £5
Programme:none
Coffee £1
Tea £1
Pies (for James and Mark) £1 each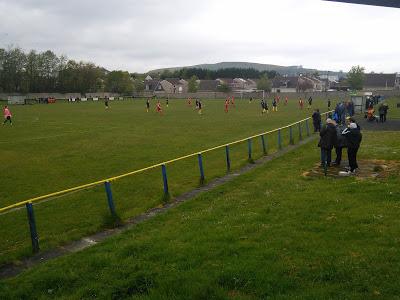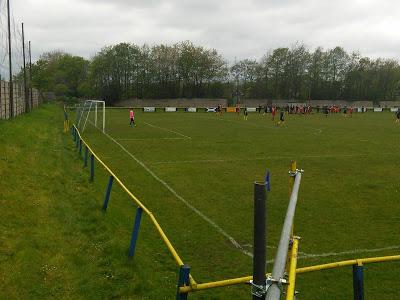 #HeedHopper
0842 East Coast Virgin train, arriving at 1024
1900 return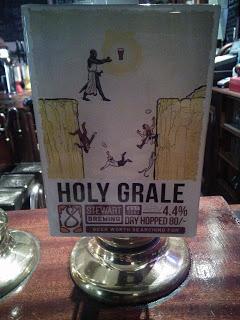 It was good to see some Scottish Junior action again, this being my first since I finished 'On the Trail of the Scottish Holy Grail' back in October. I met up with two of the co-stars of the book; Mark Wilkins who had caught the overnight bus from London to Edinburgh and James Little, who picked the both of us up at Waverley, to drive us over to Fife.
We arrived in Dunfermline at 12.20, calling for drinks at The Guildhall & Linen Exchange (new 'Spoons tick) The Canmore and The Commercial Inn, before the short drive to Crossgates.
After rounding off a great day with a few more bevvies back in Edinburgh, I fell asleep on the train and for the first ever time missed my stop at Newcastle, waking up just as it crossed the King Eddy bridge. This means I had to get off at Durham and double back, so I got home an hour later than planned, although I can't complain too much as it could have been a hell of a lot worse.
My book on Scottish Junior football is still(and always will be) available from the Amazon book store and can be found

HERE. - (The ideal present for Fathers Day
)