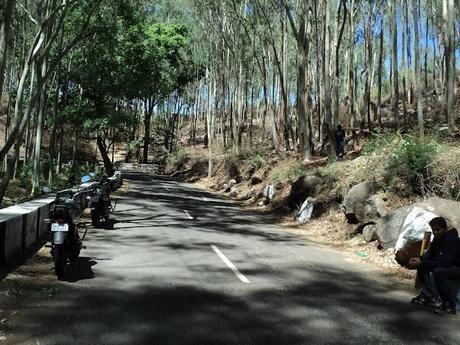 Place:
Yelagiri (Elagiri).
Distance:
160 x 2 = 320kms.
Directions:
Bengaluru – Hosur – Krishnagiri - Yelagiri.
Particiapants:
Vineeth(Red monster) > Madhu(Barca k.) > Karthik (Sp).
Bikes:
CB Unicorn > Pulsar 150.
Previous visit:
BRhills – Smooth Ride.
Facebook Page:
YelagiriAlbum

.
IN LESS THAN 50 WORDS:
This was another excellent but tiring ride to the hill station of Yelagiri. The hot sun & huge highway made the ride tiring, but the awesome ascension of the hill in the cool weather neutralized it all.
INTRO & PLAN:
Well this was one hill station we had let go for long. So we had to get it under our belt, so decided to cover it on 7thJune'12. After a stream of texts the only people confirmed were Vineeth & Madhu.
TIME: 22:00 (6/6/2012)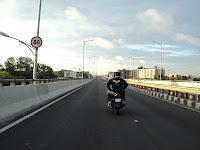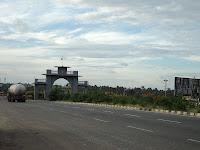 ASSEMBLE:
Yeah I was up at 04:00, had some coffee, did a few push-ups & was all set to ride. Once they arrived at my place, we departed Bengaluru.
TIME: 05:45 hrs.
RIDE 1: (Bengaluru – Hosur – Krishnagiri)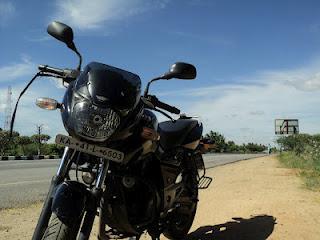 This was a 100kms stretch. 6-lane, butter-smooth NH-7 made riding a bliss. We got out of the city in the early hours & then we cruised along the next 100kms to reach Krishnagiri for some breakfast.
TIME: 08:00 hrs.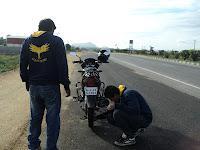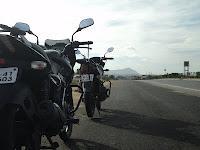 RIDE 2: (Krishnagiri – Yelagiri)
This 2nd stretch was for about 60-70kms. After about 30-45mins heavy breakfast followed by a smashing tea, we were all set for the next stretch. This stretch was again on a wide highway. As the sun was directly above us, we felt real dizzy on this stretch. After 45mins of riding, we got the first glimpse of the hill. We took a right deviation from the highway and continuing further we reached the foot of this mighty hillock.
TIME: 10:00 hrs.
RIDE 3: (Ascension of Yelagiri)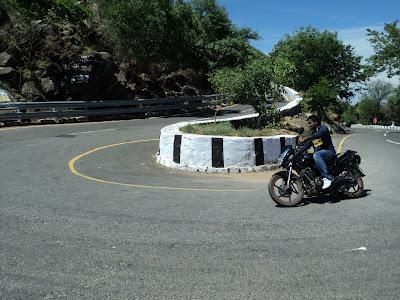 This stretch was for roughly about 15-20kms. But yeah this had to be the best part of this entire trip. 14 hair-pin curves to lead us to the top at 1410 feet made us really pumped up. We ascended the hill with great joy, negotiating each curve to perfection. The last stretch to the top was simply brilliant. Nilgiri trees all along, allowing only a few sun's rays to hit the road. Also the cool breeze scented with eucalyptus aroma made it heavenly and we did stop at a few places to enjoy the surroundings.
TIME: 10:45 hrs.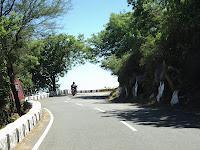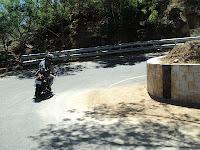 YELAGIRI: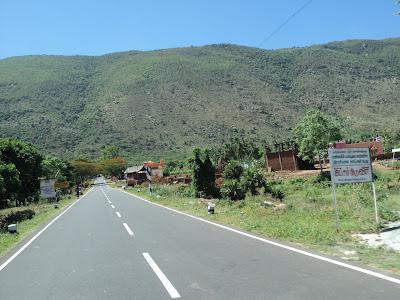 Alright Yelagiri is a small hill station, some of the important places to visit are:
i) Punganoor artificial lake:
Well this is the most popular landmark of this hill station. Boat ride is the famous attraction of this place. The park around the place is ideal for loafin (I mean strolling) ha-ha!!
ii) Jalagamparai falls:
This falls is created by the river Attaru at a village Jadaiyanoor. It is about 30kms from the main place and only worth visiting when it's full.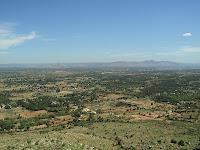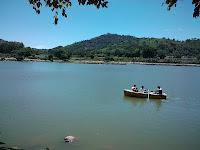 iii) Swamimalai:
This is the highest peak & a favorite trekking spot. It is an easy trek I've heard which goes upto 3kms.
iv) Telescopic house:
This is situated on the way to the top. One can get a good view of the town below.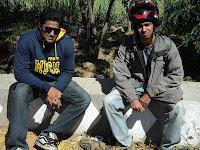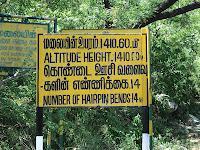 But yeah we visited only the park & lake sat there for some time, and left when the place was stormed by families. We rode back to the Nilgiri place, sat among the trees chilled out for about 30-45mins and decided to leave Yelagiri.
TIME: 11:45 hrs.
RIDE 4: (Yelagiri – Krishnagiri – Bengaluru)
This was good 160-170kms stretch, with lots of breaks of course. Initially we descended the hill with our engines switched off; it is always a joy to descend a hill with engines switched off. Then we rode back to reach the Vellorehighway, after which started the pain. It was a gruelling, dizzy ride from then on.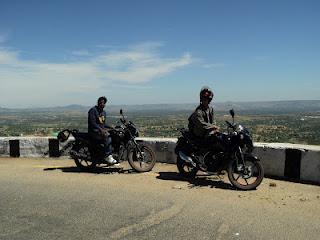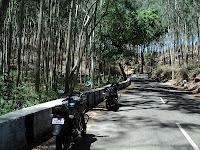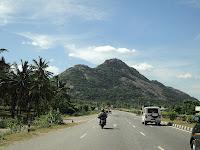 With the sun directly up the next 50kms was covered at a slow pace to reach Krishnagiri.

Once we reached Krishnagiri, we pulled over near a water tap on the highway, washed our faces and drank a little water and rode back to Bengaluru with sufficient breaks taken.

TIME: 15:15 hrs.

CONCLUSION:

'Trust me it might have been a short 300-350kms ride, but the energy which was drained out was something else. The ride back was one of the most difficult ones I've done till date, even though it was on a 6-lane smooth highway. But it was indeed a nice experience and riding under the tough conditions only made us better in our future runs, cheers!!"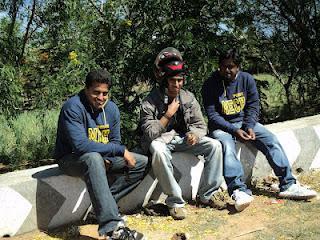 Until next time Cia \m/
PICASA ALBUM:
MAPS:
View Larger Map