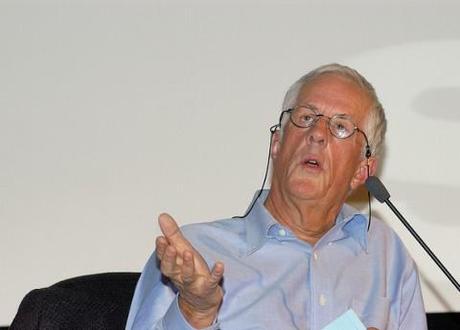 Michael Apted in 2005. Photo credit: Sheffield doc/fest http://flic.kr/p/5HRrU
The background
What began in 1964 as a one-off World in Action documentary entitled 7 Up has become one of the longest-running documentary series of all time, returning to our screens as 56 Up.
Inspired by the Jesuit maxim 'Give me the child until he is seven and I will give you the man,' Michael Apted's much-loved documentary series charts the lives of seven working-class and seven upper-class children every seven years. The Guardian said that the series is "a social history of this country." Giving a window into how their lives are changing and developing, Apted's most recent installment follows 13 of the original line-up that have "become like a family," according to The Daily Mail.
In 56 Up, viewers will be able to see how the lives of familiar faces such as Sue, Neil, Tony and Bruce have progressed since they were last on our screens in 2005. The first installment of the three-episode series aired on Monday 14 May, and it will continue on 21 May.
Like old friends
The critics have insisted that the power of the series comes from the way the viewers have grown up with the subjects. The Mirror said that "it's hard not to look on this group as your canaries in the coal mine of life and compare their circumstances to your own," whilst The Independent said that "if you've grown up with these characters over the series' nearly 50-year run you will know all too well how steadily the years can reel you in." The Guardian argued that the series works on a sense of familiarity: "It is actually a bit like having real friends, but friends you see only every seven years," and that the intervals between shows creates something "regularly spaced but looking on to something that's always moving and changing." The Independent suggested that the rich history of the show affects its authenticity: "If there is a problem with the series now, though, it's that the accretion of past history has made it increasingly difficult to get a deeper sense of how these people feel."
Too few women
The press has been keen to point out that the original formula of the show, which was meant to reflect British society, under-represents women. The Guardian comment that "It's not perfect. There's that lack of women – just four out of 13. And what probably looked like a very broad cross-section of society in 1964 now looks rather narrow." However, Apted's later works include strong female characters.
63 Up?
The question over the future of the momentous series has occupied the press. The Telegraph said that "over the next seven years, mortality is likely to become an important issue in both Apted's life and the lives of his subjects." Celia Walden wrote that "for Apted, this is a project that should be taken as far as it can go. It'll be the longest longitudinal study that's ever been done and it will live forever." The Daily Mail quoted the show's producer, Claire Lewis: "When we lose somebody it'll make the others think very hard about doing it again … I don't know what effect that would have on us and on them. It's very hard watching yourself grow old on screen."