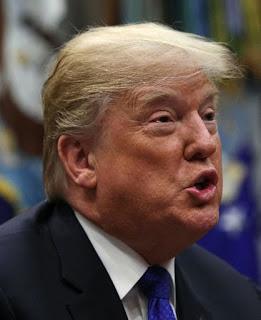 (Photo of Trump is from The Telegraph.)
Trump invited a couple of dozen Congress members to the White House for "negotiations" on immigration. Then he invited the press in for 55 minutes. His purpose was to show how he had brought Democrats and Republicans together in a promise to negotiate the issue. That was not what took place.
I watched that 55 minute hot mess, and I did not see any of the members of Congress willing to seriously negotiate. The Democrats stuck to their desire for a clean DACA bill (and no support for a wall). The Republicans insisted that any DACA bill would have to include many other anti-immigrant parts to be acceptable (and strangely, they didn't insist on the wall either).
The only person in the room who seemed willing to change his position was Donald Trump, and he did that several times in the 55 minutes -- agreeing with both Republicans and Democrats. By the end, I didn't understand where Trump stood on the issue, and I don't think anyone else did either.
The only thing that was clear was that he still wants to build a border wall. But that seems to be only because he made it an issue in the campaign and his supporters are demanding he do that. Even there though, he seems to be trying to find a way to weasel out of it. During the news conference, he said the wall doesn't have to cover the entire border, but only parts of it, and said he could build what was needed much cheaper than the $18 billion he has asked Congress for to build it.
The truth is that the news conference exposed Trump for what he is -- an incompetent who really has no agenda. He even said as much by telling everyone that he trusted Congress and would sign whatever they sent him on immigration (even if he disagreed with it).
This really shouldn't surprise us. The health bill he wanted Republicans to pass so he could sign did not deliver on any of his campaign promises about health care. And the tax bill which he did sign didn't do what he promised it would do (deliver most benefits to the middle class). Trump likes to make promises, but he doesn't have a clue as to how to accomplish what he has promised. He is nothing more than a rubber stamp for Republican wishes -- an empty vessel who will sign whatever the GOP puts in front of him.
He's incompetent, and the congressional Republicans have finally figured that out -- and they are taking full advantage of it.