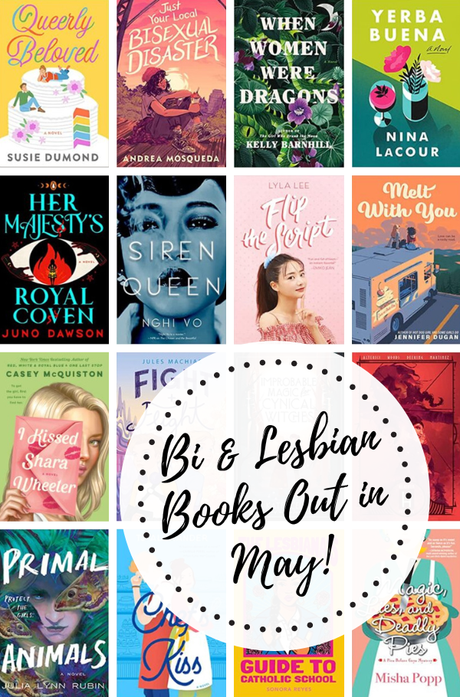 Would you believe that more than 54 sapphic books come out this month? It's true! Unfortunately, it's not always easy to find out which books have queer representation, or what kind of representation they have. So here's a big list of bi and lesbian books out this month, sorted by genre. I've highlighted a few of the books I'm most interested in, using publishers' descriptions, but click through to see the other titles' blurbs!
This month has so many exciting books coming out in a range of genres and age groups, including some cute two mom picture books, sapphic middle grade contemporary novels, F/F YA romances, thought-provoking queer lit, and lots more.
As always, if you can get these through an indie bookstore, that is ideal, but if you can't, the titles and covers are linked to my Amazon affiliate link. If you click through and buy something, I'll get a small percentage. On to the books!
Adult
Fiction
"A delightful debut, perfect for any person who's ever created their own place to belong."-Casey McQuiston, bestselling author of Red, White & Royal Blue and One Last Stop
Amy, a semicloseted queer baker and bartender in mid-2010s Oklahoma, has spent a lifetime putting other people's needs before her own. Until, that is, she hits it off with Charley, a brilliant, attractive engineer who's just moved to Tulsa. Suddenly, Amy's found something-some one-she actually wants. Her tight-knit group of chosen family is thrilled she's finally moving on from her ex. Mostly, though, they want Amy to find a way to show up for love-and life-as her authentic self.
But when a one-off gig subbing in for a bridesmaid turns into a full-time business-thanks to Amy's baking talents, crafting skills, and years watching rom-coms and Say Yes to the Dress -her deep desire to please kicks into overdrive, at her own expense. It's not until Amy's precarious balancing act strains her relationships to the breaking point that she must decide what it looks like to be true to herself-and if she has the courage to try.
A novel about a young woman's life-altering affair with a much older, married woman.

Mallory is a freshman in college when she meets the woman. She sees her for the first time at the university's gym, immediately entranced by this elegant, older person, whom she later learns is married and works at the school. Before long, they begin a clandestine affair. Self-possessed, successful, brilliant, and aloof, the woman absolutely consumes Mallory, who is still reeling from her mother's death a few months earlier. Mallory retreats from the rest of the world and into a relationship with this melancholy, elusive woman she admires so much yet who can never be fully hers, solidifying a sense of solitude that has both haunted and soothed her as long as she can remember.
Years after the affair has ended, Mallory must decide whether to stay safely in this isolation, this constructed loneliness, or to step fully into the world and confront what the woman meant to her, for better or worse. This simmering, unsettling debut novel reveals the consequences of desire and influence, portraying two women whose lives have been transformed by love, loss, and secrecy.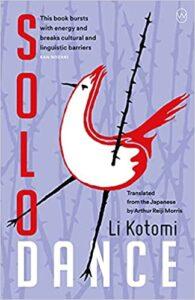 A powerful novel about the LGBTQ rights movement and gay love in Japan and Taiwan, from the most important queer voice of East Asia's millennial generation.
Cho Norie, twenty-seven and originally from Taiwan, is working an office job in Tokyo. While her colleagues worry about the economy, life-insurance policies, marriage, and children, she is forced to keep her unconventional life hidden―including her sexuality and the violent attack that prompted her move to Japan. There is also her unusual fascination with death: she knows from personal experience how devastating death can be, but for her it is also creative fuel. Solo Dance depicts the painful coming of age of a gay person in Taiwan and corporate Japan. This striking debut is an intimate and powerful account of a search for hope after trauma.
The debut adult novel by the bestselling and award-winning YA author Nina LaCour, following two women on a star-crossed journey toward each other

When Sara Foster runs away from home at sixteen, she leaves behind the girl she once was, capable of trust and intimacy. Years later, in Los Angeles, she is a sought-after bartender, renowned as much for her brilliant cocktails as for the mystery that clings to her. Across the city, Emilie Dubois is in a holding pattern, yearning for the beauty and community her Creole grandparents cultivated but unable to commit. On a whim, she takes a job arranging flowers at the glamorous restaurant Yerba Buena and embarks on an affair with the married owner.
The morning Emilie and Sara first meet at Yerba Buena, their connection is immediate. But the damage both women carry, and the choices they have made, pulls them apart again and again. When Sara's old life catches up to her, upending everything she thought she wanted just as Emilie has finally gained her own sense of purpose, they must decide if their love is more powerful than their pasts.
At once exquisite and expansive, astonishing in its humanity and heart, Yerba Buena is a love story for our time and a propulsive journey through the lives of two women trying to find somewhere, or someone, to call home.
Acts of Service by Lillian Fishman (Queer Fiction)
The Golden Season by Madelina Kay Sneed (Lesbian Fiction)
Little Rabbit by Alyssa Songsiridej (Queer Fiction)
Rainbow Rainbow by Lydia Conklin (Queer and Trans Short Stories)
The Dance Tree by Kiran Millwood Hargrave (Lesbian Historical Fiction) [tragic]
That Green Eyed Girl by Julie Owen Moylan (Sapphic Historical Fiction)
Mystery/Thrillers
Daisy Ellery's pies have a secret ingredient: The magical ability to avenge women done wrong by men. But Daisy finds herself on the receiving end in Misha Popp's cozy series debut, a sweet-as-buttercream treat for fans of Ellery Adams and Mary Maxwell.
The first time Daisy Ellery killed a man with a pie, it was an accident. Now, it's her calling. Daisy bakes sweet vengeance into her pastries, which she and her dog Zoe deliver to the men who've done dirty deeds to the town's women. But if she can't solve the one crime that's not of her own baking, she'll be out of the pie pan and into the oven.
Parking her Pies Before Guys mobile bakery van outside the local diner, Daisy is informed by Frank, the crusty diner owner, that someone's been prowling around the van-and not just to inhale the delectable aroma. Already on thin icing with Frank, she finds a letter on her door, threatening to reveal her unsavory secret sideline of pie a la murder.
Blackmail? But who whipped up this half-baked plot to cut a slice out of Daisy's business? Purple-haired campus do-gooder Melly? Noel, the tender-if flaky-farm boy? Or one of the abusive men who prefer their pie without a deadly scoop of payback?
The upcoming statewide pie contest could be Daisy's big chance to help wronged women everywhere...if she doesn't meet a sticky end first. Because Daisy knows the blackmailer won't stop until her business is in crumbles.
Romance
A high-strung pastry chef's professional goals are interrupted by an unexpected career transition and the introduction of her wildly attractive nonbinary kitchen manager in this deliciously fresh and witty queer rom-com.
Simone Larkspur is a perfectionist pastry expert with a dream job at The Discerning Chef, a venerable cookbook publisher in New York City. All she wants to do is create the perfect loaf of sourdough and develop recipes, but when The Discerning Chef decides to bring their brand into the 21st century by pivoting to video, Simone is thrust into the spotlight and finds herself failing at something for the first time in her life.
To make matters worse, Simone has to deal with Ray Lyton, the new test kitchen manager, whose obnoxious cheer and outgoing personality are like oil to Simone's water. When Ray accidentally becomes a viral YouTube sensation with a series of homebrewing videos, their eccentric editor in chief forces Simone to work alongside the chipper upstart or else risk her beloved job. But the more they work together, the more Simone realizes her heart may be softening like butter for Ray.
Things get even more complicated when Ray comes out at work as nonbinary to mixed reactions-and Simone must choose between the career she fought so hard for and the person who just might take the cake (and her heart).
Fantasy and Sci Fi
A rollicking feminist tale set in 1950s America where thousands of women have spontaneously transformed into dragons, exploding notions of a woman's place in the world and expanding minds about accepting others for who they really are. The first adult novel by the Newbery award-winning author of The Girl Who Drank the Moon.

Alex Green is a young girl in a world much like ours, except for its most seminal event: the Mass Dragoning of 1955, when hundreds of thousands of ordinary wives and mothers sprouted wings, scales, and talons; left a trail of fiery destruction in their path; and took to the skies. Was it their choice? What will become of those left behind? Why did Alex's beloved aunt Marla transform but her mother did not? Alex doesn't know. It's taboo to speak of.
Forced into silence, Alex nevertheless must face the consequences of this astonishing event: a mother more protective than ever; an absentee father; the upsetting insistence that her aunt never even existed; and watching her beloved cousin Bea become dangerously obsessed with the forbidden.
In this timely and timeless speculative novel, award-winning author Kelly Barnhill boldly explores rage, memory, and the tyranny of forced limitations. When Women Were Dragons exposes a world that wants to keep women small-their lives and their prospects-and examines what happens when they rise en masse and take up the space they deserve.
[Alex is a lesbian.]
If you look hard enough at old photographs, we're there in the background: healers in the trenches; Suffragettes; Bletchley Park oracles; land girls and resistance fighters. Why is it we help in times of crisis? We have a gift. We are stronger than Mundanes, plain and simple.

At the dawn of their adolescence, on the eve of the summer solstice, four young girls-Helena, Leonie, Niamh and Elle-took the oath to join Her Majesty's Royal Coven, established by Queen Elizabeth I as a covert government department. Now, decades later, the witch community is still reeling from a civil war and Helena is the reigning High Priestess of the organization. Yet Helena is the only one of her friend group still enmeshed in the stale bureaucracy of HMRC. Elle is trying to pretend she's a normal housewife, and Niamh has become a country vet, using her powers to heal sick animals. In what Helena perceives as the deepest betrayal, Leonie has defected to start her own more inclusive and intersectional coven, Diaspora. And now Helena has a bigger problem. A young warlock of extraordinary capabilities has been captured by authorities and seems to threaten the very existence of HMRC. With conflicting beliefs over the best course of action, the four friends must decide where their loyalties lie: with preserving tradition, or doing what is right.
Juno Dawson explores gender and the corrupting nature of power in a delightful and provocative story of magic and matriarchy, friendship and feminism. Dealing with all the aspects of contemporary womanhood, as well as being phenomenally powerful witches, Niamh, Helena, Leonie and Elle may have grown apart but they will always be bound by the sisterhood of the coven.
It was magic. In every world, it was a kind of magic.
"No maids, no funny talking, no fainting flowers." Luli Wei is beautiful, talented, and desperate to be a star. Coming of age in pre-Code Hollywood, she knows how dangerous the movie business is and how limited the roles are for a Chinese American girl from Hungarian Hill―but she doesn't care. She'd rather play a monster than a maid.
But in Luli's world, the worst monsters in Hollywood are not the ones on screen. The studios want to own everything from her face to her name to the women she loves, and they run on a system of bargains made in blood and ancient magic, powered by the endless sacrifice of unlucky starlets like her. For those who do survive to earn their fame, success comes with a steep price. Luli is willing to do whatever it takes―even if that means becoming the monster herself.
Siren Queen offers up an enthralling exploration of an outsider achieving stardom on her own terms, in a fantastical Hollywood where the monsters are real and the magic of the silver screen illuminates every page.
Comics, Graphic Novels, and Manga
SMASHING THE PATRIARCHY - Viking Style!
WOMAN. WARRIOR. VIKING. HEATHEN. OUTCAST.
THE GODS MUST PAY...
Born into a time of warfare, suffering, and subjugation of women, and exiled from her village for kissing another woman, the lesbian Viking warrior, Aydis, sets out to destroy the god-king Odin and end his oppressive reign. She is a friend to many as she is joined by mermaids, immortals, Valkyries, and the talking horse, Saga. But she is also a fearsome enemy to the demons and fantastic monsters that populate the land.
Young Adult
YA Contemporary
From the author of Some Girls Do
The first rule of watching K-dramas: Never fall in love with the second lead.
and Hot Dog Girl comes a sweet and salty queer YA rom-com about two girls on a summer road trip in an ice cream truck.
Fallon and Chloe used to be best friends. But last summer, the girls hooked up right before Chloe left for college, and after a series of misunderstandings, they aren't even speaking to one another. Now, a year later, Chloe's back home from school, and Fallon is doing everything in her power to avoid her. Which is especially difficult because their moms own a business together-a gourmet ice cream truck where both girls work.
But when their moms have the opportunity to make a presentation to some venture capitalists in Texas-something that could seriously expand their business and solve all their money problems to boot-it's up to Fallon to work a series of food truck festivals across the country. But she can't do it alone, and Chloe is the only one available to help. As tensions heat up again between the two girls, will Fallon be able to keep her cool?
As an avid watcher of K-dramas, Hana knows all the tropes to avoid when she finally lands a starring role in a buzzy new drama. And she can totally handle her fake co-star boyfriend, heartthrob Bryan Yoon, who might be falling in love with her. After all, she promised the TV producers a contract romance, and that's all they're going to get from her.
But when showrunners bring on a new lead actress to challenge Hana's role as main love interest-and worse, it's someone Hana knows all too well-can Hana fight for her position on the show, while falling for her on-screen rival in real life?
From the New York Times bestselling author of One Last Stop and Red, White & Royal Blue comes a romantic comedy about chasing down what you want, only to find what you need...
Chloe Green is so close to winning. After her moms moved her from SoCal to Alabama for high school, she's spent the past four years dodging gossipy classmates and the puritanical administration of Willowgrove Christian Academy. The thing that's kept her going: winning valedictorian. Her only rival: prom queen Shara Wheeler, the principal's perfect progeny.
But a month before graduation, Shara kisses Chloe and vanishes.
On a furious hunt for answers, Chloe discovers she's not the only one Shara kissed. There's also Smith, Shara's longtime quarterback sweetheart, and Rory, Shara's bad boy neighbor with a crush. The three have nothing in common except Shara and the annoyingly cryptic notes she left behind, but together they must untangle Shara's trail of clues and find her. It'll be worth it, if Chloe can drag Shara back before graduation to beat her fair and square.
Thrown into an unlikely alliance, chasing a ghost through parties, break-ins, puzzles, and secrets revealed on monogrammed stationery, Chloe starts to suspect there might be more to this small town than she thought. And maybe―probably not, but maybe―more to Shara, too.
Fierce, funny, and frank, Casey McQuiston's I Kissed Shara Wheeler is about breaking the rules, getting messy, and finding love in unexpected places.
Growing up in Texas's Rio Grande Valley, Maggie Gonzalez has always been a little messy, but she's okay with that. After all, she has a great family, a goofy group of friends, a rocky romantic history, and dreams of being a music photographer. Tasked with picking an escort for her little sister's quinceañera, Maggie has to face the truth: that her feelings about her friends―and her future―aren't as simple as she'd once believed.
As Maggie's search for the perfect escort continues, she's forced to confront new (and old) feelings for three of her friends: Amanda, her best friend and first-ever crush; Matthew, her ex-boyfriend twice-over who refuses to stop flirting with her, and Dani, the new girl who has romantic baggage of her own. On top of this romantic disaster, she can't stop thinking about the uncertainty of her own plans for the future and what that means for the people she loves.
As the weeks wind down and the boundaries between friendship and love become hazy, Maggie finds herself more and more confused with each photo. When her tried-and-true medium causes more chaos than calm, Maggie needs to figure out how to avoid certain disaster―or be brave enough to dive right into it, in Just Your Local Bisexual Disaster.
Sixteen-year-old Yamilet Flores prefers to be known for her killer eyeliner, not for being one of the only Mexican kids at her new, mostly white, very rich Catholic school. But at least here no one knows she's gay, and Yami intends to keep it that way.
After being outed by her crush and ex-best friend before transferring to Slayton Catholic, Yami has new priorities: keep her brother out of trouble, make her mom proud, and, most importantly, don't fall in love. Granted, she's never been great at any of those things, but that's a problem for Future Yami.
The thing is, it's hard to fake being straight when Bo, the only openly queer girl at school, is so annoyingly perfect. And smart. And talented. And cute. So cute. Either way, Yami isn't going to make the same mistake again. If word got back to her mom, she could face a lot worse than rejection. So she'll have to start asking, WWSGD: What would a straight girl do?
Told in a captivating voice that is by turns hilarious, vulnerable, and searingly honest, The Lesbiana's Guide to Catholic School explores the joys and heartaches of living your full truth out loud.
YA Mystery/Thrillers
Mysterious disappearances. An urban legend rumored to be responsible. And one group of friends determined to save their city at any cost. Stranger Things meets Jordan Peele in this utterly original debut from an incredible new voice.
Two girls fake their deaths only to face mortal danger in this YA thriller perfect for fans of The Twin and None Shall Sleep.
In one week, Maude will be dead. At least, that's what she wants everyone to think. After years of research, Maude has decided to fake her own death. She's figured out the how, the when, the where, and who will help her unsuspectingly. The why is complex: revenge, partly. Her terrible parents deserve this. But there's also l'appel du vide, the call of the void, that beckons her toward a new life where she will be tied to no one, free and adrift. Then Frankie, a step-cousin she barely knows, figures out what she's plotting, and the plan seems like it's ruined. Except Frankie doesn't want to rat her out. Frankie wants in.
The girls vault into the unknown, risking everything for a new and limitless life. But there are some things you can never run away from. What if the poison is not in the soil, but in the roots? This pulse-pounding thriller offers a nuanced exploration of identity, freedom, and falling in love while your world falls apart.
I Know What You Did Last Summer meets The Haunting of Hill House in this atmospheric, eerie teen thriller following an estranged group of friends being haunted by their friend who died last summer.
Emily Joiner was once part of an inseparable group-she was a sister, a best friend, a lover, and a rival. Summers without Emily were unthinkable. Until the fire burned the lake house to ashes with her inside.
A year later, it's in Emily's honor that Chelsea and her four friends decide to return. The house awaits them, meticulously rebuilt. Only, Chelsea is haunted by ghostly visions. Loner Ryan stirs up old hurts and forces golden boy Chase to play peacemaker. Which has perfect hostess Kennedy on edge as eerie events culminate in a stunning accusation: Emily's death wasn't an accident. And all the clues needed to find the person responsible are right here.
As old betrayals rise to the surface, Chelsea and her friends have one night to unravel a mystery spanning three summers before a killer among them exacts their revenge.
YA Horror
Arlee Gold has always lived in the shadow of her successful mom; even after everything Arlee's been through, her mother still expects nothing but the best. In an effort to get her daughter back on track after a less-than-stellar few school years, she's enrolled Arlee as a legacy at Camp Rockaway, an elite college prep summer camp deep in the North Carolina wilderness. On her own for the first time and buzzing with anxiety, Arlee is intimidated by the camp's shiny exterior, suffocated by the relentless, thick summer heat...and tormented by the ceaseless stream of crawling, slimy, flapping bugs that seem to come straight from her nightmares.
In the midst of her brewing dread, Arlee is relieved to find a queer sanctuary in her bunkmates, and is especially drawn to Winnie, the enigmatic girl who sleeps in the bunk above her. Except Arlee starts to notice whispers in her wake, and how so many others recoil from her as if she were as creepy as the insects that terrify her. Struggling in her prep classes and feeling increasingly paranoid, Arlee can no longer suppress her panicked "glitches." Winnie, too, seems to become wary, and Arlee's worst fear is confirmed: even here, in the place her mother promised was "going to change everything," she's been found out as a freak.
Just as she's facing a summer completely alone, another rising junior slips her a mysterious invitation, and Arlee finds herself caught up in a secret society that expects its sisterhood to protect each other from any and all who would harm them―by any means necessary. Here, finally, Arlee feels like a part of something bigger, something that matters. Guided by their cunning leader, Lisha, a rising senior with a smile sharp enough to cut bone, the sisterhood will stand against any threat, unquestioningly. But when Winnie is put in grave danger, Arlee is forced to confront just how far her sisters will go, and whether they truly protect the girls.
For over a year, the Bronx has been plagued by sudden disappearances that no one can explain. Sixteen-year-old Raquel does her best to ignore it. After all, the police only look for the white kids. But when her crush Charlize's cousin goes missing, Raquel starts to pay attention―especially when her own mom comes down with a mysterious illness that seems linked to the disappearances.
Raquel and Charlize team up to investigate, but they soon discover that everything is tied to a terrifying urban legend called the Echo Game. The game is rumored to trap people in a sinister world underneath the city, and the rules are based on a particularly dark chapter in New York's past. And if the friends want to save their home and everyone they love, they will have to play the game and destroy the evil at its heart―or die trying.
Three days after I was expelled from the Marable School for Girls, our poor Simon arrived.
YA Fantasy
For best friends Miliani, Inez, Natalie and Jasmine, Providence, Rhode Island has a magic of its own. From the bodegas and late-night food trucks on Broad Street to The Hill that watches over the city, every corner of Providence glows with memories of them practicing spells, mixing up potions and doing séances with the help of the magic Miliani's Filipino grandfather taught her.
But when Jasmine is killed by a drunk driver, the world they have always known is left haunted by grief...and Jasmine's lingering spirit. Determined to bring her back, the surviving friends band together, testing the limits of their magic and everything they know about life, death, and each other.
And as their plan to resurrect Jasmine grows darker and more demanding than they imagined, their separate lives begin to splinter the bonds they depend on, revealing buried secrets that threaten the people they care about most. Miliani, Inez and Natalie will have to rely on more than just their mystical abilities to find the light.
Thrilling and absorbing, Deep in Providence is a story of profound yearning, and what happens when three teen girls are finally given the power to go after what they want.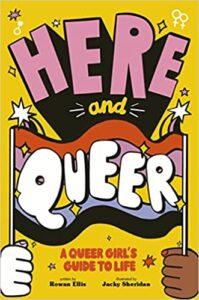 Seventeen-year-old Eleanor is the last person in Salem to believe in witchcraft-or think that her life could be transformed by mysterious forces. After losing her best friend and first love, Chloe, Eleanor has spent the past year in a haze, vowing to stay away from anything resembling romance.
But when a handwritten guide to tarot arrives in the mail at the witchy souvenir store where Eleanor works, it seems to bring with it the message that magic is about to enter her life. Cynical Eleanor is quick to dismiss this promise, until real-life witch Pix shows up with an unusual invitation. Inspired by the magic and mystery of the tarot, Eleanor decides to open herself up to Pix and her coven of witches, and even to the possibility of a new romance.
But Eleanor's complicated history continues to haunt her. She will have to reckon with the old ghosts that threaten to destroy everything, even her chance at new love.
Improbable Magic for Cynical Witches is a romantic coming-of-age about learning to make peace with the past in order to accept the beauty of the present.
In the 1920s gothic comedy Uncommon Charm, bright young socialite Julia and shy Jewish magician Simon decide they aren't beholden to their families' unhappy history. Together they confront such horrors as murdered ghosts, alive children, magic philosophy, a milieu that slides far too easily into surrealist metaphor, and, worst of all, serious adult conversation.
YA Nonfiction
Here and Queer is a helpful, friendly guide full of support and advice about living your best queer life, written for girls.
This vibrant, inclusive guide, designed for all kinds of girls, is designed to help you be the strongest, proudest, happiest version of yourself! A celebration of the gift of queerness, it's packed full of heartfelt advice, comforting stories, and stylish illustrations, and will give you the tools you need to explore your own identity, on your own terms.
Author and YouTuber Rowan Ellis uses her personal experience to take you through queer life, from coming out and dealing with tough stuff, right through to finding friendships and celebrating Pride. There are also brilliant guest essays from contributors across the LGBTQ+ spectrum.
The book opens with guidance on understanding how you feel as a queer girl. From choosing your pronouns to navigating different labels and identities, Ellis helps girls understand that they are in control of their own identity, and that it's ok to not be sure straight away.
Funny and full of heart, this debut graphic novel is a story about friendship, identity, and embracing all the parts of yourself that make you special.
Moving onto a glossary of queer terms, Here and Queer helps introduce girls to the rainbow of definitions and terms which help queer people understand who they are and how they feel. The book then moves onto advice on coming out, for many one of the hardest steps to take on their journey to truly living their best lives.
Following are chapters on sex and romance, including helpful advice about your first time, as well as guides on consent and knowing how to make sure you build a healthy and supportive relationship with your partner.
There are also sections on dealing with bullies and stigma, finding your community, and looking after your mental health, including advice on how to help you find extra support if you need it. The book also has more information on queer ladies in history, and on the fight for equality undertaken by brave activists throughout history and today.
Stylishly designed with cool illustrations, this helpful, friendly guide will help all queer girls navigate the challenges of discovering and embracing their identities and flourishing in their own skins!
Children's Books
Middle Grade
Fifth grade is just not Riley's vibe. Everyone else is squaded up-except Riley. Her best friend moved away. All she wants to do is draw, and her grades show it.
One thing that makes her happy is her favorite comedian, Joy Powers. Riley loves to watch her old shows and has memorized her best jokes. So when the class is assigned to write letters to people they admire, of course Riley's picking Joy Powers!
Things start to look up when a classmate, Cate, offers to help Riley with the letter, and a new kid, Aaron, actually seems to get her weird sense of humor. But when mean girl Whitney spreads a rumor about her, things begin to click into place for Riley. Her curiosity about Aaron's two dads and her celebrity crush on Joy Powers suddenly make more sense.
Readers will respond to Riley's journey of self-discovery and will recognize themselves in this character who is less than perfect but trying her best. And creative kids will recognize themselves in her love of art and drawing.
While often funny and light, Riley's exploration of what it feels to be an outsider and how hard it can be to make a friend break your heart in the best way. And with all of Riley's hijinks and missteps, this story is laugh-out-loud funny from start to finish.
Avery Hart lives for the thrill and speed of her dirt bike and the pounding thump of her drum kit. But after she's diagnosed with hypermobile Ehlers-Danlos syndrome, a disease that affects her joints, Avery splits her time between endless physical therapy and worrying that her fun and independence are over for good.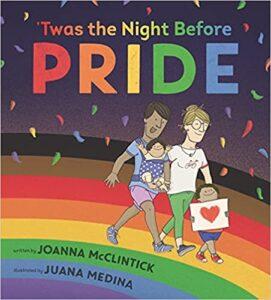 Sarah Bell is familiar with worry, too. For months, she's been having intense panic attacks. No matter how much she pours her anxiety into making art, she can't seem to get a grip on it, and she's starting to wonder if she'll be this way forever.
Just as both girls are reaching peak fear about what their futures hold, their present takes a terrifying turn when their school is seemingly attacked by gunmen. Though they later learn it was an active shooter drill, the traumatic experience bonds the girls together in a friendship that will change the way they view their perceived weaknesses-and help them find strength, and more, in each other.
Eleven-year-old Joey is angry. All the time. And she doesn't understand why. She has two loving moms, a supportive older half brother, and, as a triplet, she's never without company. Her life is good. But sometimes she loses her temper and lashes out, like the time she threw a soccer ball-hard-at a boy in gym class and bruised his collarbone. Or when jealousy made her push her (former) best friend (and crush), Layla, a little bit too roughly.
After a meltdown at Joey's apartment building leads to her family's eviction, Joey is desperate to figure out why she's so mad. A new unit in science class makes her wonder if the reason is genetics. Does she lose control because of something she inherited from the donor her mothers chose?
The Science of Being Angry is a heartwarming story about what makes a family and what makes us who we are from an author whose works are highly praised for their presentation of and insights into the emotional lives of tweens.
On a small island off the Scottish coast, Isla and her family are grieving the loss of her older sister Flora, who died three years ago. Then they're offered the chance to be part of a top-secret trial, which revives loved ones as fully lifelike AI robots using their digital footprint.
Isla has her doubts about Second Chances, but they evaporate the moment the 'new' Flora arrives. This girl is not some uncanny close likeness; she is Flora - a perfect replica. But not everyone on their island feels the same. And as the threats to Flora mount, she grows distant and more secretive. Will Isla be able to protect the new Flora and bring the community back together?
Picture Books
'Twas the Night Before Pride by Joanna McClintick and Juana Medina (Picture Book)
This groundbreaking illustrated YA nonfiction title from two-time National Book Award finalist and New York Times bestselling author Eliot Schrefer is a well-researched and teen-friendly exploration of the gamut of queer behaviors observed in animals.
A glittering celebration of queer families puts Pride gently in perspective-honoring those in the LGBTQ+ community who fought against injustice and inequality.
Pride's . . . a day that means "Together, we are strong!"
This joyful picture-book homage to a day of community and inclusion-and to the joys of anticipation-is also a comprehensive history. With bright, buoyant illustrations and lyrical, age-appropriate rhyme modeled on "'Twas the Night Before Christmas," it tackles difficult content such as the Stonewall Riots and the AIDS marches. On the night before Pride, families everywhere are preparing to partake. As one family packs snacks and makes signs, an older sibling shares the importance of the march with the newest member of the family. Reflecting on the day, the siblings agree that the best thing about Pride is getting to be yourself. Debut author Joanna McClintick and Pura Belpré Award-winning author-illustrator Juana Medina create a new classic that pays homage to the beauty of families of all compositions-and of all-inclusive love.
A sweet and celebratory story of a family's first time at Pride
One day in June, Mommy, Mama, and Emily take the train into the city to watch the Rainbow Parade. The three of them love how all the people in the street are so loud, proud, and colorful, but when Mama suggests they join the parade, Emily feels nervous. Standing on the sidewalkis one thing, but walking in the parade? Surely that takes something special.
This joyful and affirming picture book about a family's first Pride parade, reminds all readers that sometimes pride takes practice and there's no "one way" to be a part of the LGBTQ+ community.

Nonfiction
Growing up queer in a conservative Midwestern town, Gabe Montesanti never felt comfortable in her own skin. A competitive swimmer, she turned to perfectionism and self-control to create a sense of safety, only to develop an eating disorder and constantly second-guess her instincts. When she enters graduate school in St. Louis, she is determined to put the baggage of her childhood behind her. With no prior experience, she joins Arch Rival, one of the top-ranked roller derby leagues in the world. Gabe instantly falls in love with the sport's roughness, intensity, and open embrace of people who are literally and figuratively scarred. She soon finds community and a sense of belonging, reveling in the tattoos, glitter, and campiness.
But when Gabe suffers a catastrophic injury, she can no longer ignore the parallels between the physicality of roller derby and the unresolved trauma of her upbringing. Rendered inactive, forced to be still, Gabe realizes she needs to heal her emotional wounds as much as her physical ones; she must confront her fear and self-diminishment in order to feel truly alive.
Told with unflinching honesty and a giant dose of wonder, Brace for Impact is a tender, inspiring memoir about the everyday heroism of pursuing a life less ordinary, and the deeply human need to be at peace with who you are.
"This openhearted memoir . . . opens the door to include queer descendants of war survivors into the growing American library of love." ―Sarah Schulman, author of Let the Record Show
When Putsata Reang was eleven months old, her family fled war-torn Cambodia, spending twenty-three days on an overcrowded navy vessel before finding sanctuary at an American naval base in the Philippines. Holding what appeared to be a lifeless baby in her arms, Ma resisted the captain's orders to throw her bundle overboard. Instead, on landing, Ma rushed her baby into the arms of American military nurses and doctors, who saved the child's life. "I had hope, just a little, you were still alive," Ma would tell Put in an oft-repeated story that became family legend.
Over the years, Put lived to please Ma and make her proud, hustling to repay her life debt by becoming the consummate good Cambodian daughter, working steadfastly by Ma's side in the berry fields each summer and eventually building a successful career as an award-winning journalist. But Put's adoration and efforts are no match for Ma's expectations. When she comes out to Ma in her twenties, it's just a phase. When she fails to bring home a Khmer boyfriend, it's because she's not trying hard enough. When, at the age of forty, Put tells Ma she is finally getting married―to a woman―it breaks their bond in two.
In her startling memoir, Reang explores the long legacy of inherited trauma and the crushing weight of cultural and filial duty. With rare clarity and lyric wisdom, Ma and Me is a stunning, deeply moving memoir about love, debt, and duty.
This singular history of a prison, and the queer women and trans people held there, is a window into the policing of queerness and radical politics in the twentieth century.
The Women's House of Detention, a landmark that ushered in the modern era of women's imprisonment, is now largely forgotten. But when it stood in New York City's Greenwich Village, from 1929 to 1974, it was a nexus for the tens of thousands of women, transgender men, and gender-nonconforming people who inhabited its crowded cells. Some of these inmates-Angela Davis, Andrea Dworkin, Afeni Shakur-were famous, but the vast majority were incarcerated for the crimes of being poor and improperly feminine. Today, approximately 40 percent of the people in women's prisons identify as queer; in earlier decades, that percentage was almost certainly higher.
Historian Hugh Ryan explores the roots of this crisis and reconstructs the little-known lives of incarcerated New Yorkers, making a uniquely queer case for prison abolition-and demonstrating that by queering the Village, the House of D helped defined queerness for the rest of America. From the lesbian communities forged through the Women's House of Detention to the turbulent prison riots that presaged Stonewall, this is the story of one building and much more: the people it caged, the neighborhood it changed, and the resistance it inspired.
A quiet revolution has been underway in recent years, with study after study revealing substantial same-sex sexual behavior in animals. Join celebrated author Eliot Schrefer on an exploration of queer behavior in the animal world-from albatrosses to bonobos to clownfish to doodlebugs.
In sharp and witty prose-aided by humorous comics from artist Jules Zuckerberg-Schrefer uses science, history, anthropology, and sociology to illustrate the diversity of sexual behavior in the animal world. Interviews with researchers in the field offer additional insights for readers and aspiring scientists.
Queer behavior in animals is as diverse and complex-and as natural-as it is in our own species. It doesn't set us apart from animals-it bonds us even closer to our animal selves.
Check out more LGBTQ new releases by signing up for Our Queerest Shelves, my LGBTQ book newsletter at Book Riot!