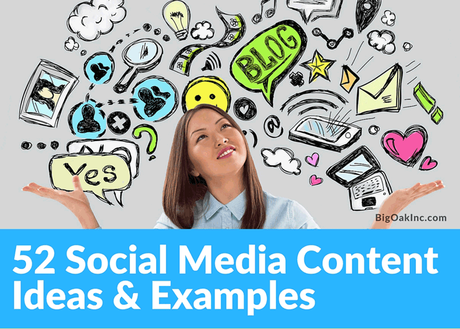 This post have easily be titled, "What Do I Blog About for My Business," but I wrote about that already. Instead, I wanted to target content that could easily be shared with your social media pages as well as be used for your company blog. This idea came to me after I recently attended an Internet marketing seminar here in Richmond, VA., which targeted small business owners and focused on how they could market their business through the Internet by using a digital marketer. The speakers proceeded to push social media as the one of the best strategies for getting in front of your customer.
While we can't deny that social media is a heavy contributor the viral buzz of the Internet, it may be insufficient as a primary marketing tool for many small business. If used correctly and you apply some ROI measures to your efforts you can have some success, but even then social media marketing can become more of a vanity tool that takes your time and money and offers little return to you business.
As with most things in life, moderation is important and preparation is necessary. Don't go overboard and lose sight of what actually makes your small business money. If social marketing isn't providing a source of revenue, it may be time to look into other avenues such as SEO or PPC advertising.
But if you are going to make an honest effort to see if social media can help your business, then you need to have a strategy on how to do that. Part of that strategy should be deciding what type of content you wish to publish. Every business is different and should tailor their social media efforts to their audience such as, where they hang out, what type of information do they need and what content do they read for fun. Social media content needs to be a correct blend of marketing your business and providing interesting content for your fans/followers. To get you started here is a list of 66 content ideas to feed your social media pages. I have provided examples to help you along, but please add any others ideas you may have the comments.
Focus on You
How You Work: What does a normal work day look like for you (do you actually have a normal work day ever?). This is a nice example of "A Day in the Life" from Suzi Pratt.
Ask Me Anything: Having a larger audience will make this social media strategy more successful, but getting friends and family to prime the pump will help. Ask Me Anything was made famous on Reddit and can be a great way to start conversations about you and how you can insert yourself or you business online. Just ask Phil. Here is one of his responses he posted on this blog.
Your Favorite Things: Talking about your likes can help you connect with others who like what you like. Novel concept, I know. What is your favorite product or brand of product (make it related to your business or not). Kari McIntosh shares her favorite things.
Share a Tip: We all love to give advice and sharing a tip, even a tip that may not seem all that important, may connect you with a new follower/fan/customer. Sharing tips from your industry is even better. It shows your expertise as in this example: Brian Tracy shares 4 tips.
Partner Spotlight: It is rare that a successful business doesn't have a few partner relationships, so it is likely you are partners with a business that helps your business. Showcase this partnership and give them a plug on your social media pages. Hopefully they will return the favor.
Share a Cause You Support: Do any charities or causes have your support? If so, share those with your social media followers. It may help generate more support for something you care about and it shows you and your company care about more than just making money. Obviously, be a contributor.


Come down & support our local SPCA, $1 a cupcake! @StandardMotors #SPCA #getinmybelly #cupcakesforacause #cupcakeday pic.twitter.com/q7M3h9jmtR

- Standard Motors (@StandardMotors) February 29, 2016

Recommend a Colleague on LinkedIn: Business to business interaction is the primary focus of Linkedin, so it makes sense to mention a colleague (not a competitor) who you know on Linkedin. It sends a message that you are here to help and don't mind collaborating with other people and companies. Use colleagues that you use in your business, if possible. Learn more about writing recommendations for LinkedIn.
Predictions: Whether you are right or wrong on your future predictions, it provides a source for interaction and comments. Of course, being right is better and that adds validity to your experience in your industry. So keep your prognostication efforts focuse on things you are sure of; and have sources to back up. This guy makes predictions about marriage based on wedding cakes (see image below).

Focus on the Company
Employee Spotlight: If you are the only employee in your company...well, this could be awkward. But, if you have employees or this is a good idea. It provides confidence for your employee and provides customers with confidence that you have people in your organization you care about. Get creative and try to capture the person's personality as well as how they help the company. An excellent employee spotlight from Deem.com.


Little Known Company Facts: As a business owner, you know everything about your company. But your customers only know what you tell them. What helpful or interesting facts can you divulge about your company? My company, Big Oak Studios, Inc., began in my home and for our first three years it operated out of 3 separate homes. Our name came from the large oak tree in my partner's backyard.Fascinating, right?
ThrowBack Thursdays: The longer you have been in business they better for this content idea. And hopefully you snapped a few pictures along the way to post. If you don't have photos, maybe an old advertisement or an older logo? This shows your company has a history, longevity and your company can continue to change with the times. Plus it allows you and your company to show you have a sense of humor, in some cases. Here are some examples to get you thinking.


Time warp: the way Ray & Charles #Eames lived. From Case Study House No. 8 #tbt http://t.co/WGsmsY12oq @EamesOffice pic.twitter.com/FIdKevPrEG

- Herman Miller (@HermanMiller) March 6, 2015

Dares or Challenges: This may seem like pandering...because it is. But, it can also be fun. You have seen it on Facebook before: If this photo gets 100 likes I'll do (add your own "punishment" here). Be aware, if you make your goal you better do what you said. Trust is important. Sometimes it is even healthy.
Customer Testimonials: Sharing a particularly thoughtful or interesting success story is a terrific way to show what an outstanding company you are and how wonderfully you take care of your customers. Getting videos of celebrities who use your products is even better.
Employee Accomplishments: Do you have an employee who has achieved something they are proud of? How about getting a college degree or their Master's degree or getting a scholarship? Smaller accomplishments are a excellent to show too, such as completing a 5K run.
Company Highlights and Celebrations: Is your company celebrating an anniversary? Again, this speaks to longevity, which is becoming more and more rare. Share your company milestones and include images when you do. Can you afford to throw a party for your anniversary (see image below)?
Sponsorships: My Little League team was sponsored by Jimmy's Pizza. There was no Internet at that time, but if there was Jimmy should have posted his nice gesture on his social media pages. You can also donate money to charities and spotlight your altruistic efforts. This also gives you a reason to tell people why you are choosing to be a sponsor and give insight to you.
Product Comparisons: We have to assume you have a superior product, right? So, compare your product or service to those of you competitors. Why is your product better? What about comparing your own products? Can you turn it in to an image or chart?

Ask for Advice: You can often get good feedback by simply asking your social followers. What color do they prefer for your product? What is their favorite thing about your product? Is their an issue that could be better related to your service? What would you like to see us do next?
Deals & Promotions: If you sell a product this makes perfect sense. If you have a service this also makes perfect sense. Post about upcoming promotions and give exclusives to your followers and fans. Great sales can convince your followers it is worth keeping in touch and will provide incentive for new followers.


Stop into your local Lids soon to hit our great #sale on select @NFL #hats, act fast though, limited time only! pic.twitter.com/C5V2N8lj1r

- LIDS (@lids) July 14, 2016
Focus on the Content
Fill in the Blank: Try asking questions with a one word fill-in-the-blank answers. Remember those types of tests in elementary school? When I grow up I want to be _______. Or, This week my goal is to _______." My favorite book is _______? PostPlanner.com provides more ideas and examples.The example from Food Network's Facbook page is prime example of this content idea (see below).
Get Controversial: Okay, I don't mean be a confrontational or say something that you know is wrong to incite the masses. The idea is to share an opinion that may or may not be yours to get people talking. Your goal shouldn't be to alienate people, but to start a debate. Just be careful, like the people at ModernFamer.com.
Shoutouts to Thought-Leaders: Mentioning the accomplishments, or simply acknowledging the thought-leaders in your industry shows your followers that you are actively trying to stay ahead of your industry by following and listening to others. Try sharing what they read.
Lists: Try to read the Internet for a day and not see a list. Yes, they are plentiful, but that is because people like to read them. Even now you are reading a list. 😉 Can I just cite my humble list here as an example of a good list? Make sure you are thorough with sources to back up what you say.
Statistics: At the seminar I mentioned in the opening paragraph, I would say 90% of the slides had slides about percentages. Stats are fun. They are notoriously hard to prove as being accurate, but they do get people thinking. Using stats related to your industry that help convince people to use your business are the best. OkCupid.com takes a look at stats about beauty.
Infographics: You may think infographics are past their prime or you may have no idea what is an infographic. Either way, you should be using them and then submitting them to infographic sites. They are images and content combined into one graphic. You can redistribute infographics already created or make your own or pay someone to do it for you. We used an infographic for promotion on our blog.
Create a Weekly/Monthly Series: Don't make this too difficult. In fact, keep it very simple, especially since you need to commit to this type of post on a regular basis. Posting a cute pic of your dog every week or showing and example of how your product is being used by customers is simple idea. Are you a carpet cleaner? Show a before and after each week. I would stay away from posting daily for many reasons.
FAQs: You should already have an FAQ section on your site, but even if you do, there are probably questions that are asked more often.That can mean a solid opportunity to show off your expertise and get in front of those people who are asking themselves that very same question. Especially if they are in trouble with the law.
Recipes: You don't have to run a food site or blog to share a family recipe or a favorite recipe. Recipes get shared...a lot. This humanizes you and your company and provides an opportunity to showcase some photography of food. Everyone loves food and pictures of food. Want to make this idea more connected with your business? Have employees bring in their recipes for a pot luck lunch you share with your social media pages. Curating recipes works too.
Forum Discussions: Most industries have a forum devoted to it. It makes sense that your customers might be interested in what is going on in the industry as well. Provide highlights to them on your blog and social channels and, if it makes sense, provide a link to the entire discussion. This works even better if you are part of that discussion. You can create a free forum at Proboards.com.
Memes: A meme is usually an image with text over the image. It is usually funny and can be insightful...sometimes. They are good fun and you can find them without difficulty. You can make your own to suit your own marketing needs. MemeGenerator.com provides simple tools to do so.

Finding a Deal: Could you share a deal for a product or service that compliments your own product or service. If you have trouble finding something in your niche then find a deal that supports a hobby or interest you have and can share. Or you can share how to get a good deal.
Expert Quotes: Experts are easy enough to find and quoting them is even easier. Make a collection of quotes in one blog post and you can make images of them and use Pinterest and Instagram to promote the quotes and your business.Quotes from leaders provided by Sandglaz.com. Notice they branded the images.
Graphs and Charts: It is relatively easy to create a graph or chart online today. Imagery increases interaction, so make a chart that displays why your product, service or company is a better choice. Or show the benefits of using your services.
Share a Unknown Fun Holiday: There is a day for everything. Just check out these weird holidays. You can probably find something related to your business or interests. Sharing this provides insight into your interests and/or your company's. Plus, it's fun.

Weekly/Monthly Roundups: Take some time to curate a list of news from your industry and share it with your followers. If you can keep it up on a regular schedule your followers may come to expect it and look forward to your efforts to provide them with information that you have already identified as important or interesting.
Focus on a Follower or Fan: At some point you will have some terrific followers from your social media marketing efforts. Why not pick one to spotlight? Hopefully they are a client or customer who is saying good things about you as well. It shows you care about your customers and gives you the opportunity to focus on one of them. Nice job, ParkingPanda.com.
Inspirational Quotes: Expert quotes, as suggested above, may not be plentiful or you may have trouble finding a truly "expert" quote so you may have to look for inspirational quotes. There are thousands to choose from and can be on a variety of topics. Use images as a background and use pinterest.com and instagram.com to promote them.
Do an Interview: Most business owners like to talk about themselves and their business. Just ask. Seriously, go ask them and then ask a few more questions and then you have yourself an interview. If you do an audio recording of it, you have a podcast; and if you do a video recording you have a video for Youtube. We asked the founder of Wikipedia to do an interview and he accepted. Jimmy Wales took the time to answer our questions (see image below) and we posted it on our blog. It was that simple. If we can do it, you can do it. But pick someone else besides Jimmy Wales.
Be Funny: This can mean posting a meme, a text joke, funny picture or something that happened at the office (keep it clean). There are thousands of options for sharing funny media and I'm sure you have seen enough to know what you like and what would work for your social pages. These have high rates of interaction, but very little follow-through. But gosh darn, they are fun.
Thank Your Fans: Nothing would be possible without them. We can all forget that from time to time. So send a thank you and if you can send a sale code or special deal to those fans or a select few, even better.
I am interested in any other ideas you have tried or are thinking about trying to boost your social media presence. I could have added another 50 if I kept thinking about it so I"m sure there are many ideas I haven't included. Pairing these ideas with your business will give way to more unique ideas I'm sure, so please share what you have learned from your social marketing content successes.
If you need help with your content strategy of social media marketing, please give us a call or email us. I'll be happy to answer questions and we can see how our businesses can work together: (804)741-6676.