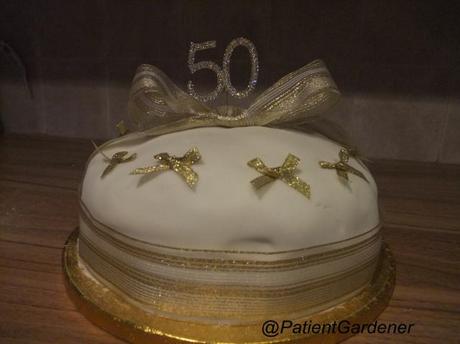 I am quite chuffed with myself at how the cake I have made for my parent's 50th Golden Wedding Anniversary has turned out.  I am no cake decorator and have had many a run in with a piping bag which I have lost.  In the past I did some fab cakes for the boys birthdays but they were always making shapes etc out of fondant icing – I can't do dainty or elegant.
Anyway, here it is.  The cake itself is the standard rich fruit cake I make every year for Christmas which never fails.  Then my amazingly unskilled decoration is some fondant icing and a few bought bits and pieces arranged kind of artistically.
When I told Mum I had made her a cake for their 'do'  Saturday she said she didn't want anything formal or smart and would be quite happy with my normal snow scene!  So hopefully she will be quiet pleased with this effort.  I know I am.
(Of course now looking at the photograph I can see a dent in the side which I will have to try to tweak!!)