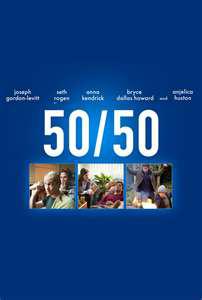 When I first heard that Joseph Gordon-Levitt was starring in a drama/comedy about a man who has just learned he has cancer, well let's just say I knew we had cinematic gold coming to theaters. I was right to a certain degree. Not only was 50/50 touching, moving, fantastic, brilliantly acted, but it even exceeded my expectations. It is so rare in today's time that we actually find a comedy that has a heart, they are often nothing more than vulgar trash that never have meaning whatsoever, yet still fail to entertain, then 50/50 came along.
Adam Lerner (Joseph Gordon-Levitt) is a perfectly healthy 27-year-old man, until one day at a Doctor's visit he learns that he has been diagnosed with a very rare form of cancer, and it is a mystery to both him and the medical staff as to how he has even gotten it. At first with the help of his best friend, Kyle (Seth Rogen) and his girlfriend, Rachael (Bryce Dallas Howard) Adam is optimistic about his fifty percent chance of survival, but when Kyle finds Rachael cheating on Adam his whole life begins to go down hill.
Now as Adam must try to find some happiness he reluctantly begins sessions with a young Therapist, Katharine (Anna Kendrick) who is actually still working on getting her doctorate. It's a rough few sessions, but after a while Adam opens up to Katharine as they start an unlikely friendship.
It is a simple story with simple characters, the film succeeds so incredibly on how Will Reiser (making his writing debut, I might add) takes the simplicity of his story and makes it something more. As the audience not only do we care about the conflict surrounding the characters, but we truly care about the characters as well, that is a sign of fine writing, a piece of art that is certainly deserving of an Oscar nod.
Joseph Gordon-Levitt (Oh hey, did ya hear? He is directing a movie!) is absolutely fantastic in his often funny, and at times heart breaking performance. The first film I ever saw with him was Angels in the Outfield, and since then he has always impressed me, but here he reaches new heights. One of my favorite performances of the year.
Seth Rogen is not bad either, a surprisingly funny performance coming from him, especially as I hate almost everything he does. Anna Kendrick was the real gem though, not only is she beautiful but she gave a very worthy and realistic performance, I believed every single bit of it. Geez I hope she can get away from Twilight.
Final Word – Hugo still has the crown for my favorite of the year, but let me tell you 50/50 is darn close. In an age where comedies straight up suck, 50/50 is a modern classic.
10/10