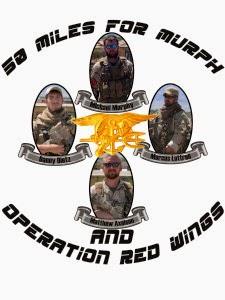 From Mud and Adventure:


Freddy Rodriguez
June 23, 2014


Last year was the first 50 mile run in honor of Navy SEAL Lt. Michael Murphy, his teammates and those who passed away during Operation Red Wings on June 28th, 2005. Jeff Rondina and I made the run from El Barrios Bravest Fire Department in Spanish Harlem, Manhattan out to Lake Ronkonkoma, Long Island. After 12 hours, we reached our destination just in time to begin the 4 mile Run Around the Lake which was being held in Murph's honor. That was exactly one year ago today as I am typing this. Well, I will be doing the run once again this year.




For those unfamiliar with Murph and Operation Red Wings, I'll try to give you a small insight to these men. After being compromised during a reconnaissance mission in the Hindu Kush of Afghanistan, the four man SEAL team consisting of Michael Murphy, Marcus Luttrell, Matthew Axelson and Danny Dietz, were in a heavily outnumbered firefight with the enemy having the high ground as well as the right and left flanks. Due to the terrain, their radio was unable to establish communication back at the base. After trying to reestablish their position by taking several dangerous leaps off the side of the mountain, their wounds started to get the best of these warriors. Murph decided to break from cover and go out into the open to try and receive a signal on his satellite phone in order to call for support and immediate extract for his men. Despite taking a round that caused him to drop the phone, Murph picked it back up and completed the call to get aid for his men, ending the call with "Thank you, sir." Murph would eventually succumb to his wounds but due to his actions and giving their location, the remains of his men would later be found and would give a directional point on the search for Marcus Luttrell. Danny, as tough as he was, was always bringing up the rear and trying to establish comms during the fight. Axe continued to draw fire to try and draw the enemy away from Marcus' location. His remains was eventually found with his pistol emptied and the slide locked back, showing he fought to the very end.


 


[...] These are the men who I am running for, who I am honoring. It is rare that someone would lay down their life for another and these men were willing to do that without hesitation. More people need to know about them and their sacrifice. This is why I am running in their honor. 




[...]




What I will be doing doesn't come close in comparison to what these men went through. Their memories and the small stories I've read and heard about these men will keep me moving forward throughout the night. I will be once again escorted by the Floral Park Fire Department, along with the Mineola Volunteer Fire Department, NYPD and possibly a couple more including the Suffolk County PD.




I will begin the run on Friday, June 27th at approximately 7:00pm from Manhattan and plan on reaching Lake Ronkonkoma by Saturday morning around 8:00am. Then its the 4 mile Run Around the Lake in honor of Murph, possibly with some GRT friends who plan on carrying rucks, logs and other heavy objects. Most of my route will be covered via Jericho Turnpike from New Hyde Park Rd all the way out to route 454 in Suffolk County....




I appreciate any and all support during this mission of mine. My donation page is live and would really be humbled for any amount of donation. All proceeds will be going toward the Lt. Michael Murphy Scholarship Foundation and the Lone Survivor Foundation. My goal is to raise $1000 by the time I finish my run. 
GO HERE to read much more - and find the link to the donation page.