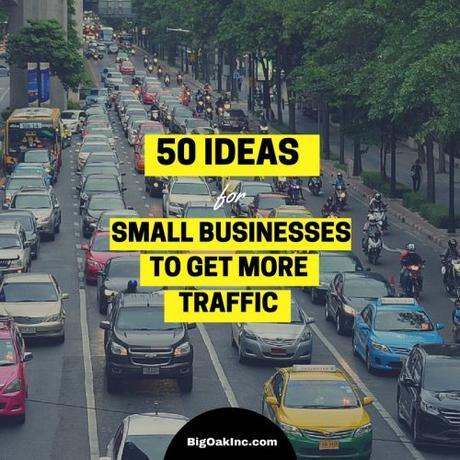 Whatever your business may be engaged in, it is best that you attract a lot of traffic. Not only does having lots of people visiting your site increase your chances of having potential customers from getting to know you and your business, it also opens other opportunities such as advertising so you can earn extra income.
However, it is not very easy to get a lot of traffic especially that there are lots of websites out there competing with you. In order to help you to stand out from the competition, we have listed 50 ways to help you increase your business website traffic.
Add Names to Your Images
Naming your images will help them be searched on search engines. Those who click on your images can be directed to your page.
Social Media Ads
Another way social networking sites can help you is through social media ads. Social networking sites make use of social media targeting, which directs your ads to users whose activities and searches are related to your business. This will increase your chances of getting in touch with people who are actually interested in your products.
Google Ads
Google is a great medium for your ads. Your ads will be targeted to people who search for topics related to your product offerings.Recently, Big Oak Studios was featured among top PPC firms (again) in 2016 by Clutch. Big Oak has proven their caliber in PPC ads; check their results here!
Ask Your Current Readers to Share
Include an option for your current audience to share your site, and your posts on their social media accounts. On that note, make sure that your page and your posts are worth sharing!
Do a list swap with someone else's list
List swaps help you grow your mailing list. It is effective when you swap mailing lists with businesses who are also engaged in the same industry. Just make sure that you and the other company has a decent list to go with.
Update Your Email Signature
Don't forget to include your website on your email signature so that they can be directed to your page.
Add an Autoresponder with a Link to Your Site
Autoreplies should include link to your website so that they can check your site for answers should they have questions while you are away.
Direct, Targeted, Email Outreach
Your email campaign is only effective if you target the right people. Make sure that in your email campaign, you ask them to visit your site.
Be Interviewed
Interviews, especially those done in national TV, reaches a lot of people. Make sure that you mention your website in your interview.
Be Interviewed for Expert Roundups
We made mention of interviews. Being interviewed as an expert is even better. It will increase your credibility and your website will gain more audience.
Submit Your Site to Aggregators
Submitting your website to aggregators increases your site's visibility. Consider submitting your site to different website aggregators.
Use Someone's Product and Let Them Tell Your Story
Stories from actual users increase trust to your site. Stories also make your products more relatable. They would also most likely share their post and the people in their network will become interested on visiting your site.
Create a Mobile App



According to a research bySmart Insights, apps account for 89% of mobile media time, with the other 11% spent on websites. To make a mobile "bookmark" so your audience can access your site readily, a mobile app will be the perfect solution. Create a mobile app to increase not only you traffic, but also help retain customers and jack up revenue.
Create an eBook and List it On Amazon
Selling eBooks, especially those with little to no price, is a good way to gain subscribers. Furthermore, Amazon is the biggest place to sell eBooks, and that selling it there increases its credibility. Make sure that your eBook is worth reading though!
List Your Physical Business on Yelp, Foursquare, etc.
Yelp, Foursquare, and other social networking sites for business increases the credibility of your business. Include your website on your page so the audience can get to know you more.
Run a Free Promo on a Deals Site
It would be a good idea if you can hold promotions on deals site. This will really spark interest on your products. Again, don't forget to provide a link to your site!
Acquire Someone Else's Newsletter
There are lots of newsletters out there and starting from scratch might not be a good idea. Acquiring one that already has a lot of subscribers might work better for you so try it out!
Syndicate Your Content to Other Sites
Ever bumped into "related posts" on a site you visited? When these posts are from other sites, that is content syndication. Syndicating your content to other sites is a good way to increase traffic to your site. Gain more views through these channels:* Business Insider
* Business2Community
* BuzzFeed
* Entrepreneur.com
* Fast Company
* Forbes
* Harvard Business Review
* Huffington Post
* Inc. Magazine
* Mashable
* New York Times
* SocialMediaToday
* TechCrunchHowever, they do not syndicate content just for the sake of distributing it. Make sure you're sharing something valuable and worth sharing!
Republish Your Content on Secondary Blog Networks
Republishing content can help you attract new audiences. At times, republished content even gain more views.
Create a Wikipedia Page



Wikipedia usually comes first on search engine results page as it directly answer queries. Make a Wikipedia page for your business and provide a link to your website in there.
Add Your Articles as Wikipedia References
You can add your articles as a source on related topics. Not only does this increase your subscribers, it also boosts your credibility.
Sell Your Product Through Affiliates
Affiliate marketing can help you. When choosing a partner, make sure that they promote not only your products but also your site.
Build a Related Micro Site
Microsites can exist separately or as a subset of the main site. Micro sites are simpler, making it more targeted and easier to navigate. Users who don't want to dig deep into your main site will benefit a lot with your micro site.
Pitch to Link Roundups
Link roundups are the compilation of the best content on a specific industry. Make content that will appeal to link roundup webmasters and you might just end up on their list.
Share Articles to Twitter, Facebook, and LinkedIn
Again, take advantage of social networking sites. Increase the reach of your articles by sharing them on Twitter, Facebook, and LinkedIn.
Create SlideShares of Your Content
SlideShare is a professional content-sharing community. Creating presentations of your content there can increase your audience.
Interview Influencers on Your Site
Influencers are backed up by lots of followers. Interview influencers that have a relation to your business and you can take advantage of their followers.
Write an Expert Roundup Post
Expert roundup posts can get a lot of views and shares for these posts are overflowing with credibility. Expert roundup posts attract a lot of traffic so take the effort to make such posts.
Review Companies and Products
Making reviews for companies and products can help you attract traffic. A lot of people seek opinion from others before making purchase decisions so take advantage of this fact and start making reviews!
Host a Webinar, Ask Your List to Promote
Webinars truly are effective. We earlier asked you to target audiences of your competitors. This time around, make one for your own audiences and ask them to promote your site.
Grow Your Email List
With all our previous tips involving email, make sure that you spend time in growing your mailing list.
Run a Giveaway



Provide incentives for those who subscribe to your site or your newsletter. This will attract a lot of audience.
Ping People Mentioned in Your Content
When you include people in your content, it means that they exude a certain degree of popularity and credibility. You can make use of that credibility to help increase traffic to your site. That being said, do take the effort in pinging people mentioned in your content.
Post Videos to YouTube
YouTube videos also attract a lot of audiences. Put your site on the description so that they can be directed to your site.
Get Listed on Google News



Google News aggregates articles from all over the web. In the same rationale that you should submit to your website to site aggregators, have your press releases and news articles submitted to Google News.
Offer a Free Product
People really love free stuff. Offering free products can really attract visitors to your site.
Sell a Bundle with Other Products
You can also try selling your product bundled with other related products. If you partner with other popular products, you can take advantage of their popularity so that you can attract their customers.
Follow our tips, and Increase your website's traffic!
Attracting a lot of traffic is a really hard task. But with our above tips, you are fifty steps closer to a successful traffic-generating initiative. Try our suggestions, and enjoy increased traffic to your website.
About the author: Robe Mening has been building websites for more than a decade. He wrote a FREE 3-step guide to increase website traffic thoroughly with content optimization.