Thursday, April 24, 2014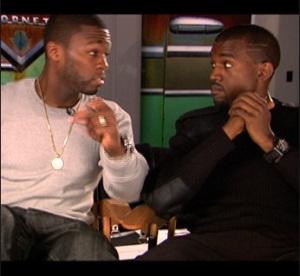 It's Safe To Say Rapper 50 Cent Doesn't Care Much About Offending His Peers .No Matter How Big Of An Artist They Are You Can Count On 50 To Give You His Honest Opinion ,And He Did Just That In An Article For MTV Stating 'I'm Not A Fan Of Kanye Wests Yeezus Album . He Also Went On To Say "That Last Record , To Be Honest I'm Not Playing It Right Now . I Still Play Flashing Lights , Gold Digger And The College Dropout Album As A Whole , But Some Of The New Stuff Is So Creative And Feels Like He's Trying To Create A Whole New Sound'.
50 Claims Kanyes Sound Is 'Scrambled And It Doesn't Feel Like Hip Hop, It's More Like A Fusion Of Something Else , Like A Weird Combination Of Dance Music Sounds And Stuff' .
Kanyes Sound Has Changed Drastically Throughout The Years But Isn't That What Evolution Is 50 ? I'm Sure If Artists Sounds Stated Exactly The Same People Would Find A Way To Complain About That Too, I'm Just Saying…..