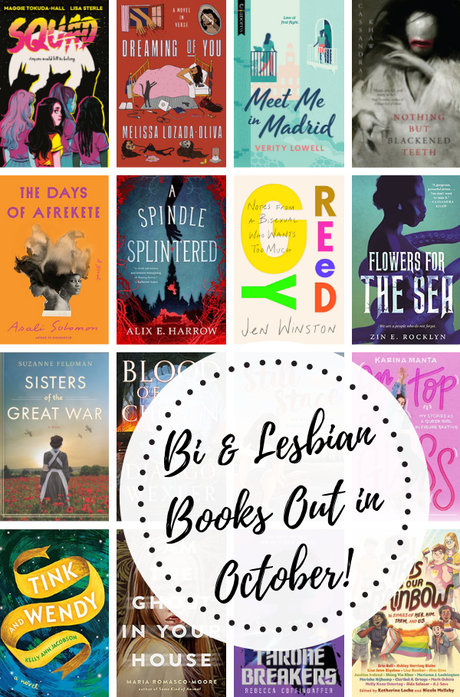 Would you believe that more than 50 sapphic books come out this month? It's true! Unfortunately, it's not always easy to find out which books have queer representation, or what kind of representation they have. So here's a big list of bi and lesbian books out this month, sorted by genre. I've highlighted a few of the books I'm most interested in, but click through to see the other titles' blurbs! All blurbs are the publishers'.
As always, if you can get these through an indie bookstore, that is ideal, but if you can't, the titles and covers are linked to my Amazon affiliate link. If you click through and buy something, I'll get a small percentage. On to the books!
Adult
Fiction
Wu Goodson is a 25-year-old queer, multiracial woman who documents the identity journeys of other New Yorkers. She finds her videography work meaningful, but more importantly, it distracts her from investigating the challenges of her own life and keeps relationships at a distance.
When the family's Taiwanese patriarch dies, Fay's Asian grandmother moves to America; and Fay, her mother, and her aunt learn unsettling truths about their family and each other. They must decide to finally confront themselves, or let their pasts destroy everything each woman has dreamed of and worked for.
An unconventional story of an Asian-American matriarchy, The Balance Tips is a complex and moving literary exploration of Taiwanese-American female roles in family, sexual identity, racism, and the internal struggles fostered by Confucian patriarchy.
Dreaming Of You by Melissa Lozada-Oliva (Queer Novel in Verse)
A macabre novel in verse of loss, longing, and identity crises following a poet who resurrects pop star Selena from the dead.
Melissa Lozada-Oliva's Dreaming of You is an absurd yet heartfelt examination of celebrity worship.
A young Latinx poet grappling with loneliness and heartache decides one day to bring Tejano pop star Selena Quintanilla back to life. The séance kicks off an uncanny trip narrated by a Greek chorus of gossiping spirits as she journeys through a dead celebrity prom, encounters her shadow self, and performs karaoke in hell.
In visceral poems embodying millennial angst, paragraph-long conversations overheard at her local coffeeshop, and unhinged Twitter rants, Lozada-Oliva reveals an eerie, sometimes gruesome, yet moving love story.
Playfully morbid and profoundly candid, an interrogation of Latinidad, womanhood, obsession, and disillusionment, Dreaming of You grapples with the cost of being seen for your truest self.
Liselle Belmont is having a dinner party.
It seems a strange occasion-her husband, Winn, has lost his bid for the state legislature-but what better way to thank key supporters than a feast? Liselle was never sure about her husband becoming a politician, never sure about the limelight, never sure about the life of fundraising and stump speeches. Then an FBI agent calls to warn her that Winn might be facing corruption charges. An avalanche of questions tumbles around her: Is it possible he's guilty? Who are they to each other; who have they become? How much of herself has she lost-and was it worth it? And just this minute, how will she make it through this dinner party?
Across town, Selena Octave is making her way through the same day, the same way she always does-one foot in front of the other, keeping quiet and focused, trying not to see the terrors all around her. Homelessness, starving children, the very living horrors of history that made America possible: these and other thoughts have made it difficult for her to live an easy life. The only time she was ever really happy was with Liselle, back in college. But they've lost touch, so much so that when they ran into each other at a drugstore just after Obama was elected president, they barely spoke. But as the day wears on, memories of Liselle begin to shift Selena's path.
Inspired by Mrs. Dalloway and Sula, as well as Audre Lorde's Zami, Asali Solomon's The Days of Afrekete is a deft, expertly layered, naturally funny, and deeply human examination of two women coming back to themselves at midlife. It is a watchful celebration of our choices and where they take us, the people who change us, and how we can reimagine ourselves even when our lives seem set.
Inspired by real women, this powerful novel tells the story of two unconventional American sisters who volunteer at the front during World War I
August 1914. While Europe enters a brutal conflict unlike any waged before, the Duncan household in Baltimore, Maryland, is the setting for a different struggle. Ruth and Elise Duncan long to escape the roles that society, and their controlling father, demand they play. Together, the sisters volunteer for the war effort-Ruth as a nurse, Elise as a driver.
Stationed at a makeshift hospital in Ypres, Belgium, Ruth soon confronts war's harshest lesson: not everyone can be saved. Rising above the appalling conditions, she seizes an opportunity to realize her dream to practice medicine as a doctor. Elise, an accomplished mechanic, finds purpose and an unexpected kinship within the all-female Ambulance Corps. Through bombings, heartache and loss, Ruth and Elise cherish an independence rarely granted to women, unaware that their greatest challenges are still to come.
Illuminating the critical role women played in the Great War, this is a remarkable story of resilience, sacrifice and the bonds that can never be vanquished.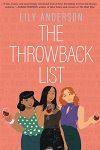 Romance
In this sexy, sophisticated romantic comedy, two women juggle romance and career across continents.
Charlotte Hilaire has a love-hate relationship with her work as a museum courier. On the one hand, it takes her around the world. On the other, her plan to become a professor is veering dangerously off track.
Yet once in a while, maybe every third trip or so, the job goes delightfully sideways...
When a blizzard strands Charlotte in Spain for a few extra days and she's left with glorious free time on her hands, the only question is: Dare she invite her grad school crush for an after-dinner drink on a snowy night?
Accomplished, take-no-prisoners art historian Adrianna Coates has built an enviable career since Charlotte saw her last. She's brilliant. Sophisticated. Impressive as hell and strikingly beautiful.
Hospitable, too, as she absolutely insists Charlotte spend the night on her pullout sofa as the storm rages on.
One night becomes three and three nights become a hot and adventurous long-distance relationship when Charlotte returns to the States. But when Adrianna plots her next career move just as Charlotte finally opens a door in academia, distance may not be the only thing that keeps them apart.
Fans of Bridgerton will love this "delightful" Regency romp (Julia Quinn, New York Times bestselling author​) in which a proper Society miss recruits a very improper lady investigator in a quest for vengeance, only to find love instead.
As a master of disguise, Thomasina Wynchester can be a polite young lady-or a bawdy old man. She'll do whatever it takes to solve the cases her family takes on. But when Tommy's beautiful new client turns out to be the highborn lady she's secretly smitten with, more than her mission is at stake . . .
Bluestocking Miss Philippa York doesn't believe in love. Her heart didn't pitter-patter when she was betrothed to a duke, nor did it break when he married someone else. All Philippa desires is to decode a centuries-old manuscript to keep a modern-day villain from claiming credit for work that wasn't his. She hates that she needs a man's help to do it-so she's delighted to discover the clever, charming baron at her side is in fact a woman. But as she and Tommy grow closer and the stakes of their discovery higher, more than just their hearts are at risk.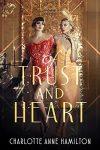 Mystery/Thrillers
Horror
Cassandra Khaw's Nothing But Blackened Teeth is a gorgeously creepy haunted house tale, steeped in Japanese folklore and full of devastating twists.
A Heian-era mansion stands abandoned, its foundations resting on the bones of a bride and its walls packed with the remains of the girls sacrificed to keep her company.
It's the perfect venue for a group of thrill-seeking friends, brought back together to celebrate a wedding.
A night of food, drinks, and games quickly spirals into a nightmare as secrets get dragged out and relationships are tested.
But the house has secrets too. Lurking in the shadows is the ghost bride with a black smile and a hungry heart.
And she gets lonely down there in the dirt.
Effortlessly turning the classic haunted house story on its head, Nothing but Blackened Teeth is a sharp and devastating exploration of grief, the parasitic nature of relationships, and the consequences of our actions.
Clytemnestra is a check-in girl at The Gold Persimmon, a temple-like New York City hotel with gilded furnishings and carefully guarded secrets. Cloistered in her own reality, Cly lives by a strict set of rules until a connection with a troubled hotel guest threatens the world she's so carefully constructed.
In a parallel reality, an inexplicable fog envelops the city, trapping a young, nonbinary writer named Jaime in a sex hotel with six other people. As the survivors begin to turn on one another, Jaime must navigate a deadly game of cat and mouse.
Haunted by specters of grief and familial shame, Jaime and Cly find themselves trapped in dual narratives in this gripping experimental novel that explores sexuality, surveillance, and the very nature of storytelling.
Flowers for the Sea is a dark, dazzling debut novella that reads like Rosemary's Baby by way of Octavia E. Butler
We are a people who do not forget.
Survivors from a flooded kingdom struggle alone on an ark. Resources are scant, and ravenous beasts circle. Their fangs are sharp.
Among the refugees is Iraxi: ostracized, despised, and a commoner who refused a prince, she's pregnant with a child that might be more than human. Her fate may be darker and more powerful than she can imagine.
Zin E. Rocklyn's extraordinary debut is a lush, gothic fantasy about the prices we pay and the vengeance we seek.
Fantasy
Emmy Harlow is a witch but not a very powerful one-in part because she hasn't been home to the magical town of Thistle Grove in years. Her self-imposed exile has a lot to do with a complicated family history and a desire to forge her own way in the world, and only the very tiniest bit to do with Gareth Blackmoore, heir to the most powerful magical family in town and casual breaker of hearts and destroyer of dreams.
But when a spellcasting tournament that her family serves as arbiters for approaches, it turns out the pull of tradition (or the truly impressive parental guilt trip that comes with it) is strong enough to bring Emmy back. She's determined to do her familial duty; spend some quality time with her best friend, Linden Thorn; and get back to her real life in Chicago.
On her first night home, Emmy runs into Talia Avramov-an all-around badass adept in the darker magical arts-who is fresh off a bad breakup . . . with Gareth Blackmoore. Talia had let herself be charmed, only to discover that Gareth was also seeing Linden-unbeknownst to either of them. And now she and Linden want revenge. Only one question stands: Is Emmy in?
But most concerning of all: Why can't she stop thinking about the terrifyingly competent, devastatingly gorgeous, wickedly charming Talia Avramov?
USA Today bestselling author Alix E. Harrow's A Spindle Splintered brings her patented charm to a new version of a classic story. Featuring Arthur Rackham's original illustrations for The Sleeping Beauty, fractured and reimagined.
"A vivid, subversive and feminist reimagining of Sleeping Beauty, where implacable destiny is no match for courage, sisterhood, stubbornness and a good working knowledge of fairy tales." -Katherine Arden
It's Zinnia Gray's twenty-first birthday, which is extra-special because it's the last birthday she'll ever have. When she was young, an industrial accident left Zinnia with a rare condition. Not much is known about her illness, just that no-one has lived past twenty-one.
Her best friend Charm is intent on making Zinnia's last birthday special with a full sleeping beauty experience, complete with a tower and a spinning wheel. But when Zinnia pricks her finger, something strange and unexpected happens, and she finds herself falling through worlds, with another sleeping beauty, just as desperate to escape her fate.
Comics, Graphic Novels, and Manga
Elena Abbott is one of Detroit's toughest reporters, who must now exhaust all her abilities as a reporter and a supernatural savior to rescue Detroit from dark forces trying to corrupt the city's most important election-but at what cost to her own life?
A WAR FOR THE SOUL OF DETROIT. Elena Abbott is one of Detroit's toughest reporters-and after defeating the dark forces that murdered her husband, she's focused on the most important election in the city's history. But when someone uses dark magic to sabotage the campaign of the prospective first Black mayor of Detroit, it becomes clear to Abbott that the supernatural conspiracy in her city is even greater than she ever imagined. Now Abbott must exhaust all her abilities as a reporter and a supernatural savior to rescue Detroit-but at what cost to her own life?
Miles Morales: Spider-Man mastermind & Eisner Award-winning writer Saladin Ahmed and acclaimed Machine Gun Wizards artist Sami Kivelä return to the Hugo Award-nominated world of Abbott, as the eponymous unstoppable reporter tackles a new corruption taking over Detroit in 1973 and the supernatural threat behind it.
Young Adult
YA Fantasy
An immortal monster hunter and a royal handmaiden embark on an epic journey to change their fates in this soul-stirring young adult fantasy novel for fans of The Witcher and The Last Unicorn.
By night, the Ankou is a legendary, permanently young mercenary-the most fearsome sword for hire in all of the Five Lands, and its most abiding mystery. But when the sun rises, a dark magic leaves him no more than bones. Cursed with this cycle of death and resurrection, the Ankou wants only to find the final rest that has been prophesied for him, no matter the cost.
When the kingdom of Kaer-Ise is sacked, Flora, handmaiden to the royal family, is assaulted and left for dead. Wounded, heartbroken, and the sole survivor of the massacre, Flora wants desperately to be reunited with the princess she served and loved. She and the Ankou make a deal: He will help Flora find her princess, and train Flora in combat, in exchange for her aid in breaking his curse. But it isn't easy to kill an immortal, especially when their bond begins to deepen into something more . . .
Together, they will solve mysteries, battle monsters, and race against time in this fantasy novel about sacrifice, love, and healing by Elysium Girls author Kate Pentecost.
Pie is the ghost in your house.
She is not dead, she is invisible.
The way she looks changes depending on what is behind her. A girl of glass. A girl who is a window. If she stands in front of floral wallpaper she is full of roses.
For Pie's entire life it's been Pie and her mother. Just the two of them, traveling across America. They have slept in trains, in mattress stores, and on the bare ground. They have probably slept in your house.
But Pie is lonely. And now, at seventeen, her mother's given her a gift. The choice of the next city they will go to. And Pie knows exactly where she wants to go. Pittsburgh-where she fell in love with a girl who she plans to find once again. And this time she will reveal herself.
Only how can anyone love an invisible girl?
A magnificent story of love, and friendship, and learning to see yourself in a world based on appearances, I Am the Ghost in Your House is a brilliant reflection on the importance of how much more there is to our world than what meets the eye.
YA Sci Fi
YA Comics, Graphic Novels, and Manga
Pretty Little Liars meets Teen Wolf in this sharply funny, and patriarchy-smashing graphic novel from author Maggie Tokuda-Hall and artist Lisa Sterle. When the new girl is invited to join her high school's most popular clique, she can't believe her luck-and she can't believe their secret, either.
When Becca transfers to a high school in an elite San Francisco suburb, she's worried she's not going to fit in. To her surprise, she's immediately adopted by the most popular girls in school. At first glance, Marley, Arianna, and Mandy are perfect. But at a party under a full moon, Becca learns that they also have a big secret.
Becca's new friends are werewolves. Their prey? Slimy boys who take advantage of unsuspecting girls. Eager to be accepted, Becca allows her friends to turn her into a werewolf, and finally, for the first time in her life, she feels like she truly belongs.
But then things get complicated. As their pack begins to buckle under the pressure, their moral high ground gets muddier and muddier-and Becca realizes that she might have feelings for one of her new best friends.
Lisa Sterle's stylish illustrations paired with Maggie Tokuda-Hall's sharp writing make Squad a fierce, haunting, and fast-paced thrillerthatwill resonate with fans of Riverdale, and with readers of This Savage Song, Lumberjanes, and Paper Girls.
YA Memoirs & Nonfiction
An insightful memoir from a figure skating champion about her life as a bisexual professional athlete, perfect for readers of Fierce by Aly Raisman and Forward by Abby Wambach.
Karina Manta has had a busy few years: Not only did she capture the hearts of many with her fan-favorite performance at the U.S. Figure Skating Championships, she also became the first female figure skater on Team USA to come out as queer. Her Modern Love essay "I Can't Hate My Body if I Love Hers" was published in the New York Times, and then she joined the circus-Cirque du Soleil's on-ice show, AXEL.
Karina's memoir covers these experiences and much more. Attending a high school with 4,000 students, you'd expect to know more than two openly gay students, but Karina didn't meet an out-lesbian until she was nearly seventeen-let alone any other kind of queer woman. But this isn't just a story about her queerness. It's also a story about her struggle with body image in a sport that prizes delicate femininity. It's a story about panic attacks, and first crushes, and all the crushes that followed, and it's a story about growing up, feeling different than everybody around her and then realizing that everyone else felt different too.
Children
Middle Grade
The first LGBTQA+ anthology for middle-graders featuring stories for every letter of the acronym, including realistic, fantasy, and sci-fi stories by authors like Justina Ireland, Marieke Nijkamp, Alex Gino, and more!
A boyband fandom becomes a conduit to coming out. A former bully becomes a first-kiss prospect. One nonbinary kid searches for an inclusive athletic community after quitting gymnastics. Another nonbinary kid, who happens to be a pirate, makes a wish that comes true-but not how they thought it would. A tween girl navigates a crush on her friend's mom. A young witch turns herself into a puppy to win over a new neighbor. A trans girl empowers her online bestie to come out.
From wind-breathing dragons to first crushes, This Is Our Rainbow features story after story of joyful, proud LGBTQA+ representation. You will fall in love with this insightful, poignant anthology of queer fantasy, historical, and contemporary stories from authors including: Eric Bell, Lisa Jenn Bigelow, Ashley Herring Blake, Lisa Bunker, Alex Gino, Justina Ireland, Shing Yin Khor, Katherine Locke, Mariama J. Lockington, Nicole Melleby, Marieke Nijkamp, Claribel A. Ortega, Mark Oshiro, Molly Knox Ostertag, Aisa Salazar, and AJ Sass.
Nonfiction
Memoirs & Essays
A hilarious and whip-smart collection of essays, offering an intimate look at bisexuality, gender, and, of course, sex. Perfect for fans of Lindy West, Samantha Irby, and Rebecca Solnit-and anyone who wants, and deserves, to be seen.
If Jen Winston knows one thing for sure, it's that she's bisexual. Or wait-maybe she isn't? Actually, she definitely is. Unless...she's not?
Jen's provocative, laugh-out-loud debut takes us inside her journey of self-discovery, leading us through stories of a childhood "girl crush," an onerous quest to have a threesome, and an enduring fear of being bad at sex. Greedy follows Jen's attempts to make sense of herself as she explores the role of the male gaze, what it means to be "queer enough," and how to overcome bi stereotypes when you're the posterchild for all of them: greedy, slutty, and constantly confused.
With her clever voice and clear-eyed insight, Jen draws on personal experiences with sexism and biphobia to understand how we all can and must do better. She sheds light on the reasons women, queer people, and other marginalized groups tend to make ourselves smaller, provoking the question: What would happen if we suddenly stopped?​​
Greedy shows us that being bisexual is about so much more than who you're sleeping with-it's about finding stability in a state of flux and defining yourself on your own terms. This book inspires us to rethink the world as we know it, reminding us that Greedy was a superpower all along.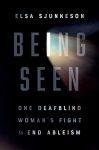 Other Nonfiction
Check out more LGBTQ new releases by signing up for Our Queerest Shelves, my LGBTQ book newsletter at Book Riot!