More than 1,000 Android applications collected your information , even after denying them permission to do so, according to researchers. This is an idea that brings us back to reality at a time when companies like Facebook, Google and Amazon are under scrutiny for their privacy and security policies. Researchers at the International Institute of Computational Sciences (ICSI) have shown that applications without permission are able to use other apps that you gave them permission to access information. According to the findings of this research, these apps can even get information through your Wi-Fi connections.
If you have seen advertisements in apps or in your browser of products that you had searched in another app, you can notice how that information collected without your permission works. Google refers to the privacy problem in Android Q, the update of its operating system for Android phones, which will come out later this year.
If you feel helpless because despite denying access to your information to the apps, nothing happens, we understand you. But there are still some things you can do to make it difficult for applications to access information that you do not want to give them.
Only allows access to relevant information
The apps you download can request access to your calendar, camera, contacts, location, microphone, phone, messaging, storage and sensors. Some permissions are necessary for the application to work. If it is a map app, then the location information is necessary. If it is a word game, it is not necessary to know your location.
The problem comes when the apps ask for access to parts of your phone that you do not want to give access to or do not need it. For example, if you grant access to your microphone, they may be listening, so you should be aware of what you allow access. By denying permissions, you can prevent any app from seeing your information in the first place.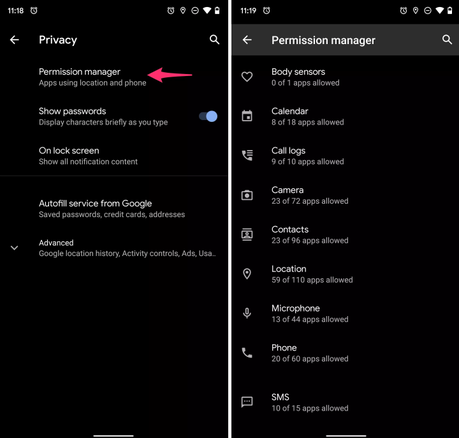 Android Q App Permissions Control
If it turns out that the app does not work unless you give it access, you can decide whether you want to give it to them or not. But forming the habit of reviewing the permissions that the applications have will make you more aware of what each app does on your phone.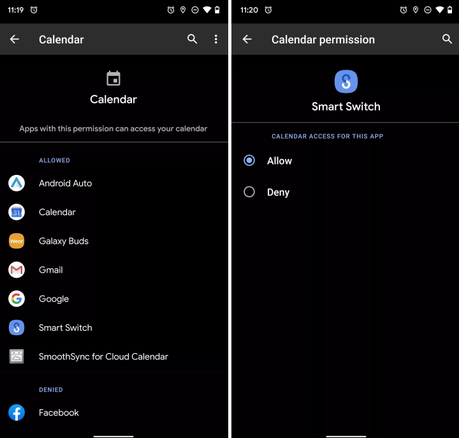 Calendar Permission
Allow or deny permissions in your apps one by one
If you install an application without any permission enabled, you can still open the ones that interest you individually in configuration.
Go to the configuration of your Android phone.
Choose Apps or Application Manager.
Select the app you want to modify by clicking Permissions.
From there, you can choose which permissions to activate or deactivate, such as the microphone or camera and in which application.
Search for flaws or viruses
Google Play Protect scans all your apps to find any potential danger. Even the most reliable applications can develop flaws that can be exploited by hackers, so it's a good idea to scan the applications on your phone periodically to make sure they are secure.
Go to the Settings of your Android phone.
Choose  Security.
Select Google Play Protect. From there, you will see all the apps that have been reviewed and if any of them are suspicious. In case one is, you will have to take immediate action and stop using those apps on your phone.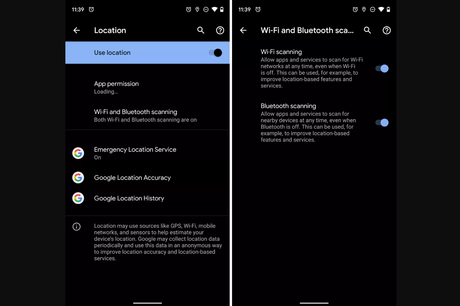 Android Q Location Settings Advanced
Turn off location settings
Much of the tracking comes from the configuration of your location, so it is best to turn it off.
Go to the Settings of your Android phone.
Touch Location.
Select Google Location Settings.
Turn off the Location Reporting switch and Location History.
You can go one step further and delete all your location history.
If you need to enable the location, you can do it manually and then turn it off when you finish.
Turn off location information in your photos
Go to the Photos app on your Android phone.
Touch the menu and select Settings.
Choose Remove geo location
You can also turn off the individual photo location in the Photos app by opening the photo, clicking on the three highlighted points, selecting Info and choosing No location. (Or go to the submenu under the map and click on Remove Location).