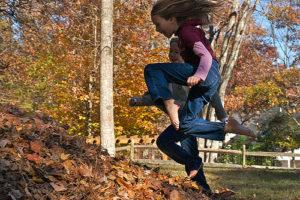 Smart phones, laptops and television have definitely brought us all together. Instant communication is effective. We stay in touch with our friends and family members on platforms like face book.
But the flip side of this scenario is that instead of experiencing life on a 'real' basis, our children are content with the 'virtual' media. They plonk themselves on their cushy beds and laugh and smile to themselves all the time.
And as parents, the wrinkles on our foreheads become deeper with concern. We know this is not a good sign. Yet, we are unable to see a way out because we too are glued to these gadgets all the while.
Here are 5 seemingly simple ways to get our children to play outdoors.
There are no two ways about this. If we are online all the while, buy our groceries, gifts, cakes etc through apps and online portals, our kids will follow suit. Nothing can ever replace a real life experience. Even a simple thing like going to a nearby store keeps us active. We interact with real flesh and blood people. We can touch and feel the products before buying them.
Such simple errands energize us. Our body gets the much needed exercise when we get a breath of fresh air in the open. So, let's make it a point to include our children in all our errands.
We could tell them that we would appreciate their help in carrying those groceries. We could begin by creating that list with them. Let them write out that list and add things that they want to buy too. Allow them to pick the items from the shelves. Make them aware of discounts and offers that are being offered. Ask them to check out the prices and compare it with other brands. Let them pay the bills and check the change that is returned.
Perhaps their friends live far away. May be there are not many children of their age group in the neighbourhood. But the parents can always find time for them. I can hear the working women groan and roll their eyes in dismay! I was a working woman too. Let the house hold chores wait. Yeah - ignore the mess around the house!
We create time for academics. We need to create time to play with our kids too. Period.
Cricket, baseball, badminton, volley ball can all be played around the house and yes, even inside the house! J ! Just start a match. Wear those gloves, wield that bat and put on those leg pads. Wink at those kids; wear the cap at the right angle and play.
Watch the kids erupt with laughter when you are out on the first ball of the game. Ask them to teach you the skills and the rules of the games. Mould the rules according to the size of the room and number of players. Create your own unique games in the process and give it an equally weird name in the process! Allow them to beat you. Smile and have fun!
Children grow up all too soon! We will be young parents only once in a lifetime. Life is stressful enough on a daily basis! Let's de stress with our children to balance our day! Only when and if we consciously create those great grand experiences in our lives, will our children have great grand memories of their childhood. After the game is over, ask them to help around the house and see how willingly the work gets done in a jiffy! The entire family is filled with positive energy when we are active.
Indoors, outdoors, rain or sunshine, play with them whenever possible. During vacations, plan picnics during the weekends. Select destinations which are full of activities. Let's don our thinking caps first. And reset our priorities in the only life we have got. And then get around to creating a family life worth cherishing! Have loads of fun along the way - that is mandatory!!
Image: lecates on Flicker
Comments
comments