I am very grateful to May Noradee for writing these '5things'. May is the founder of May Noradee Properties and Design and recently designed PACATA Asian Restaurant in London's Covent Garden. I recently met May at the launch party of PACATA.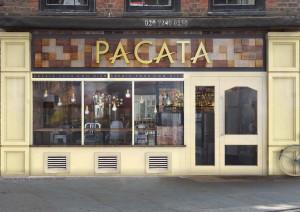 Pacata Restaurant in London's Covent Garden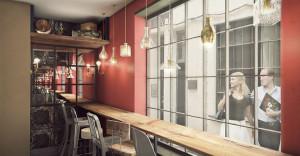 The interior of PACATA restaurant, designed by May Noradee
Circle patterns are a great way of adding dynamic and movement into any interiors and in any styles of decor depending on how they are integrated into the design.  5 Ways to play with circles patterns in your home are as follow:
One
For a bold statement or an "instant feature wall", use big circular patterned wallpaper in bold contrasting colours on one wall of the room only to create a focal point, e.g. the headboard wall in a bedroom etc.  Alternatively, spend a day at vintage markets to pick up a collection of old hand painted circular plates, frames or circular objects of your choice, then arrange them into patterns and fix them onto the centrepiece wall to create a "sculptural feature wall", which is more unique and expresses your style.  Don't overwhelm the room with circles, especially when using large patterns and bold colours.  Pick a main feature, be it a wall or a floor, not both and not all 4 walls.  If one wants all 4 walls to be circles, use small circular pattern wallpapers such as polka dots patterns, then keep the decor and the floor simple and neutral.  With circles, less is more.  For a subtle sophisticated approach, use circular pattern flooring e.g. rugs, tiles etc. or wallpaper in soft neutral tones or monochromes, to create texture and movement to the room, but only choose one.  Keep the walls and decors simple so that the floor is the main focal point if a circle patterns rug is used, or vice versa if the wallpaper is used.
Two
For a less permanent and more flexible use of circles, coordinate circles accessories to unify the overall composition of a room.  For example, a panel of sheer circles pattern curtain can be mixed in with plain color curtains, coordinated with circle pattern cushions and circular centrepiece on the coffee table such as candle holders or vases to liven up a tired old room.
Three
If the home is in an art deco style, consider the use of overlapping circular patterns in metallic colours such as silver or gold to add interests to dark wooden cabinet doors such as walnut; or cut-out wood frames in overlapping circle patterns, painted white or dark brown and combined them with mirror or glass panels for use as cabinet doors, wardrobe doors or wall panels.
Four
For minimalist approach, think lights and shadows.  Laser cut circular pattern screens in monotone colours such as white, grey, black add interests and focal point to a minimal interior by creating sculptural quality to the space and filtering the lights.  Alternatively, choose circular sculptures in wood, stone or metal such as bronze on a console table to be the focal point of a minimalist setting.  Don't limit circles to just patterns on the walls or floors.  Think 3 dimensional.  Circular patterns can be created from combining spherical lampshades at different heights and sizes to create a feature lighting for the room too.
Five
My favourite, "the liquid wall". Combine frameless circular shaped mirrors onto neutral color circular pattern wallpaper to create an illusion of holes in the wall.  If one feels very adventurous, a strong colour, big, bold pattern wallpaper can be used as a backdrop for the frameless convex mirror or circular fisheye mirrors as the centrepiece on the wall.  The bold wallpaper pattern will be reflected in the convex mirror creating an illusion of a distorted, liquid-like wall.