AdWords is one of the most effective marketing platforms to drive more traffic to your landing pages. With a targeted campaign, you could immediately rank for relevant keywords in the paid section of the search results in Google. Even if your site is newly established, you can start generating measurable results with paid traffic.
One question that frequently gets asked though is whether AdWords has any impact on the organic search results. In other words, does having an active PPC campaign have any impact on your overall site rankings?
The short answer is no.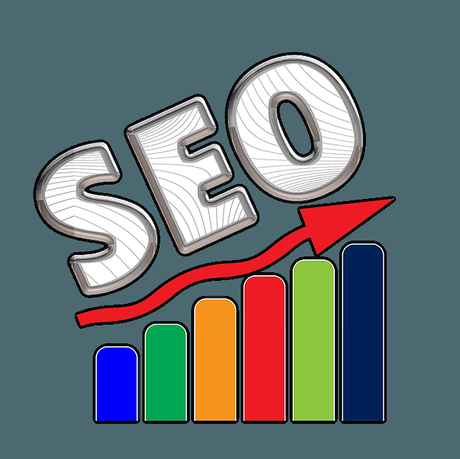 It is a myth that Google rewards businesses that advertise on its AdWords network with higher organic rankings. The paid and organic search rankings are operated on different algorithms, so one does not affect the other. An SEO campaign won't suddenly boost your rankings in the paid search results, and vice versa.
But effective Google AdWords management offers tremendous value regarding SEO. Here we look at how you can boost your SEO marketing efforts with Google AdWords.
1. For Keyword Research
Keyword research is one of the most important aspects of SEO.
Target the right keywords, and you can expect a steady stream of quality traffic once you start ranking. But Target the wrong keywords, and you can go months or even longer with very little to show for. Which is why you need to identify keywords to build your SEO campaign around.
This is where AdWords comes in.
Keyword Planner is an online research tool (found within AdWords) that provides more insight on keywords you enter including additional keyword ideas and traffic estimates. You can either enter your site URL or a few seed keywords to generate a list of suggested keywords.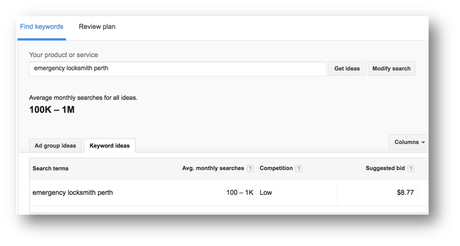 The idea is to identify keywords with moderate competition and decent search volume and build out a landing page around that keyword. With some basic SEO (e.g. on-page optimisation, link building, etc.), that page could rank in the organic search results and drive more traffic to your website.
2. For Discovering Profitable Keywords
The Keyword Planner tool provides hundreds of potential keywords. But the challenge is knowing which one to pick. We regularly see business owners spend a tremendous amount of resources on building out a landing page, only for it to barely produce traffic once it ranks on the first page of the results.
So how do you know which keywords to build an SEO around?
By starting an AdWords campaign as a test run.
After conducting basic research, the next step is to identify which keywords to target for SEO. Using AdWords, you can bid on keywords that have potential based on traffic estimates and send traffic to an optimised landing page. Then simply let your campaign run for a few weeks and dig into your keyword reports.
Here you can gain invaluable insight on all the keywords in your campaign. If a keyword has generated sales, it not only makes sense to continue targeting it but also to create an SEO campaign around.
Taking this approach will save a good deal of effort and is what we recommend to our clients.
3. For Geographic Targeting
What makes AdWords an effective channel is the targeting options available.
For example, your business might only serve customers within certain regions. If you were advertising on AdWords, you wouldn't want your ads to display for searches outside of those areas. Otherwise, you would only be burning through your budget on clicks that don't convert.
Geotargeting is an excellent feature that can be valuable regarding SEO.
One excellent use of AdWords is the geotargeting feature, or the ability to target specific regions. Campaigns are typically set to target all of Australia by default, but you can change it by going into a campaign and clicking on Edit next to Targeting at the top of the page.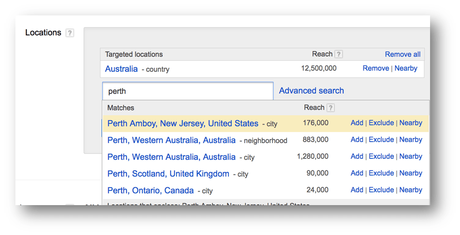 Here you can select areas to target in your campaigns or even exclude regions that you don't want your ads to appear.
Why is this feature useful?
Because by creating campaigns that target different regions, you can see in your reports which ones convert the best. You can then use this information in your SEO campaign by building out geo-specific landing pages and investing more resources to get them ranked.
4. For Testing Ad Copy
Simply ranking on the first page is not enough to get visitors to click through. A compelling title can entice online visitors to notice and click on your page.
Earlier we looked at how AdWords can be used to identify profitable keywords. These same keywords can be used to create engaging blog posts around and attract even more search engine traffic.
The typical approach to content creation is to write a blog post with a relevant title. But you can take it a step further by split testing different headlines in AdWords. Then simply measure which ones generate a higher click through rate. The headlines that do well are the ones that you can use in the title of new blog posts. And since it has already been tested, you know that it will perform well in the search results.
This technique also works with existing content. If some pages have low click through rates (you can find this information in Search Console), you can change the headlines to boost click through rates.
5. For Testing New Offers
Launching a product line or new services?
Even with a well-managed SEO campaign, it can take some time to rank a new page for those target keywords. With AdWords, you can create a campaign and start generating traffic (and sales) right away. Not only can you test different headlines, but you can also test landing pages with varying offers. For example, offering a free trial might convert better than providing a discount. But you would never know unless you test them.
Taking this approach significantly increases your chances of success. If you are testing new offers, be sure to let your campaigns run for a few weeks to collect a sufficient amount of data. In the meantime, you can continue optimising your SEO to rank that page.
Conclusion
Advertising on AdWords has no impact on your organic search rankings.
But the information gathered can substantially boost your SEO marketing efforts from being able to identify profitable keywords to testing ad copy and much more. Use these strategies to give your business a significant competitive advantage online. The sooner you get started, the more insight you have to build a comprehensive digital marketing strategy.