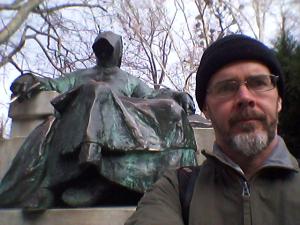 "He's right behind me, isn't he?"
5.) Sound Seeking: If anything  looks more insane than walking down the street talking to oneself out loud, it's talking to oneself out loud in rhyme and alliteration in a disjoint fashion while counting off beats on the fingers of your hands.
4.) Emotion Evocation: If your writing comes across as a cry for help, you may be a deeply troubled individual. Or you may be a poet trying to induce a reader to feel.
3.) Clarity & Codes: Because there may be no literal meaning to your verse, the reader may suspect that you're writing in code to your imaginary pink bunny rabbit. Faced with the humbling possibility that he or she may "just not get it," most people prefer the alternative explanation that you're a rambling lunatic.
2.) Playing the Odds: Let's be honest, there have been a lot of poets who slipped into the abyss. Poe, Pushkin, Plath, Pound, and several poets whose last names didn't begin with the letter "P," were all afflicted by mental illness.
1.) Violent Reactions to being Interrupted:  A poem under development is a house of cards that needs only the subtlest gust of wind to be obliterated. Poems in the works are gauzy and fragile. So, as one is trying to wedge words together into a solid construct, one is occasionally interrupted. When this happens, one may instinctively pimp slap the interrupting individual like a Zen master trying to make the point that there is no point.
By B Gourley
in
humor, lists, poem, Poetry
on
September 2, 2017
.