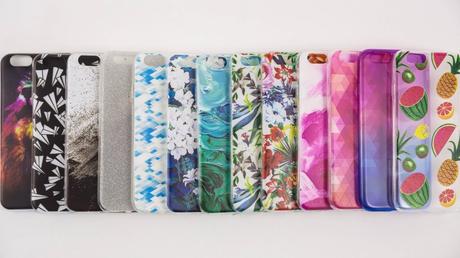 Your iPhone has a mountain of features that it isn't a surprise that it is the focus of so many people's lives. Such an important device deserves both protection and style.
There are many unique iPhone cases that provide both quality protection from disaster and the elements while giving a great sense of style and unique features.
Interested in finding a great new case for your iPhone? Eager to see what fun things you can do with a simple phone case? We got 5 great phone cases for you!
1. Oaxis InkCase
There are a lot of places that showcase dual features, but this phone case takes that to another level.
The Oaxis InkCase turns the back of your phone into your own personal kindle. The case projects an easy to read screen right onto the back. The best part? It saves a ton of battery power, making reading for hours on end possible!
2. Prynt iPhone Case
For many, physical print pictures have become a thing of the past. With this phone case, they may come back in style!
The Prynt iPhone case has a built-in polaroid picture printer right in the case. You can now save all your wonderful moments in a nice physical print within seconds.
The Prynt app gives you access to all the filters and editing software of a quality photo editor. This amount of control gives you the perfect pictures every time.
Great for all the photographers out there who want a showcase of their own to hang up around the home.
3. BoxWave Keyboard iPhone 6 Case
Whether you want to relieve the old school slide keyboards or if you like having physical buttons, this marvel of a phone case attaches in and slides a keyboard underneath.
You only need to slide the case to the side and the keyboard hidden underneath will activate. Take texting and writing to another level with this convenient typing accessory.
4. iPhone X Max Leather Case
For sleek style and handmade design, look no further than the iPhone Xs Max Leather Case from Hitcase Ferra.
The full-grain Italian leather and ultra-light design allow for a unique and gorgeous look without making your phone bulky or awkward.
This case also offers high-end protection, so you never have to sacrifice your phone's safety for good looks.
5. VRS Design Damada Glide Wallet Case
For a hybrid that keeps your money where your mind is, look no further than the VRS design Damada glide wallet case.
A small compartment in the phone case, accessed with an easy slide of your thumb, holds your credit cards and important information. Never forget your wallet and phone at once with this great and durable case.
Finding the Unique iPhone Cases for You
Finding the perfect phone case in a sea of unique iPhone cases is a journey in itself. Whether you want utility, fashion sense, or both, as you can see, there are many options for you.
Technology is booming and there is so much to learn about, master, and make your own. We here at Infinity on Loop are eager to make sure you stay informed and ready to go! Check out our other articles today.