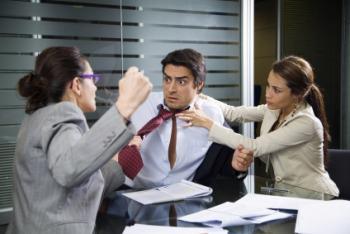 Not enough time, boss pushing for work to be completed, children are loud, bills to pay, shopping to be done, housework to do, partner asking for your help… and to top it all off you're suppose to be nice to people by communicating effectively with them?
Yikes!
If you're like me, you find it hard to communicate in stressful moments. Stress management techniques don't always do the trick. In response to stress, you either become aggressive towards other people to release stress or you become submissive to hide the stress.
Showing aggression towards another person temporarily feels okay, but then reality kicks in as you feel even more stressed from having hurt the other person. When you are submissive and hide your stress, it internally eats at you as your emotions get suppressed, which then hurts your relationships.
When under stress, your communication style will change in response to the situation. You can go from a cool and collected person one moment, yet when a stressful situation impinges your tolerable threshold your calm style likely shifts to the aggressive or submissive behaviors.
What behavior you fall back on in stressful situations is the one you have been comfortable with in the past that will have "protected" you. It's a natural human extinct built within us that we use to block out external factors and listen to internal ones. You probably now are able to realize that stress causes you to block external factors, such as other people's feelings, as your interpersonal communication skills decline. You begin to only worry for your internal factors.
When someone has surpassed their tolerable stress level, telling them to get their "act together" or how ineffective their current communication is, does not work. It won't work for you either. Communicating better in intense conflict is a matter of managing stress otherwise it is next to impossible to deal with conflict.
Stress motivates us to take action, but it too often works against us. I've come up with the best five ways and techniques to manage stress that you can use to deal with difficult conflict:
1) Stop the stress from rising in the first place. The best technique to deal with stress is to stop it from occurring altogether. You can incorporate other stress management techniques listed below into your stress plan before you get stressed in conflict.
2) Breathe. When your stressed levels rise, you breathe shallowly. This causes you to enter the fight or flight response that hurts your ability to effectively communicate When your stress levels rise, take several deep, slow breathes and you will instantly reduce your stress levels.
3) Accept responsibility for how you feel. It is tempting and too easy to release your stress on other people. Do not treat people inappropriately. If you treat people in a way they don't want to be treated, you build their stress levels, which they will be happy to put back on you.When you accept responsibility, you live in truth. you eliminate blame. You do not become a victim of others. You take control of your feelings. Your new levels of responsibility builds your self-control and ability to manage stress.
If someone causes you stress, you need to address the person by explaining to them how you feel, why you feel that way, and what can be done to fix the problem. Do not stress out the person by focusing your reason for being stressed directly on the person, but focus on the problem. Be problem oriented and not person oriented.
4) Take time out. Walking away is a guaranteed stress management technique to refresh your mind. If you can afford to go on a Caribbean cruise, go for it! For others who cannot do that, go for a walk or workout at the gym. Being active releases hormones that counter stress. Being away from the stress also takes your mind off the problem and gives you clearer thoughts and feelings. Be sure to address the problem after your time out, however, otherwise you will only have temporarily avoided the real issue.
5) Be flexible. Stress is like the sunrise and sunset. It is inevitable. Therefore, the best way to deal with it is to change your behavior and communication. You need to be able to recognize when others are stressed by reading their verbal and nonverbal language then adjust yourself accordingly. Be flexible by going a bit out of your way for them to assist their temporary needs and wants. Don't run around the world for them, but do be more aware and respondent of them. This can lead you to less stress.
Bonus Tip: Ask others about your responses in stressful moments. It is useful to ask others what you do when you enter that threshold level where you begin to block out external factors. Just ask them what you are like and how it makes them feel when you are stressed. You are to ask other people about this because assessing yourself when you experience heavy emotions is an inaccurate source of information.
Stress shouldn't make you miserable. We were given the ability to be stressed to get things done otherwise we would sit on our lazy behinds all day. Learn these ways to manage your stress to effectively communicate, and you will better manage your relationship communication in stressful moments.

Author: Joshua Uebergang Article Source: EzineArticles.com
© 2011, ©Active Consultants 2011. All rights reserved. Copying in part or in entirety only permitted by written consent
Republished by Blog Post Promoter