Make safety a priority in America's most bikeable city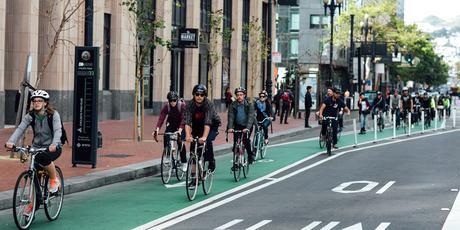 Photo Credit: San Francisco Bike Coalition
On Monday, September 27, 2016, the Chicago streets claimed the life of yet another biker. A 23-year-old woman collided with a flatbed truck. This right hook incident, a type of accident that involves a vehicle hitting a biker while turning right, came the week after Bicycling Magazine named Chicago "The Best Bike City" in the country.
According to the Chicago Department of Transportation, six people have died this year in biking accidents within the Chicago city limits. However, that figure doesn't include deaths near Chicago, such as the death of an 18-year-old at Northwestern University last week in Evanston. Nor does it count bikers critically injured or the immeasurable near misses. Urban biking is dangerous.
While you may not be able to speed up Chicago's effort to become more biker-friendly (see The Loop Link Project), there are things that you can do to make your bike commute safer.
Get a horn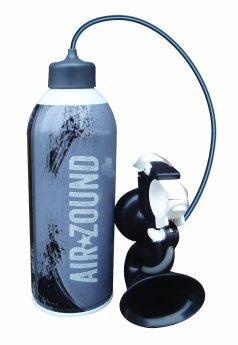 Delta Airzound Bike Horn at Amazon
Drivers use horns to get the attention of others drivers because it works. Perhaps bikers should, too. A commercial vehicle turning right in front of a biker isn't going to hear a bike bell. But they'll likely be able to hear an air horn.
According to bikers who use them, bike horns successfully alert oblivious drivers to their presence. One Amazon customer review for the Delta AirZound Bike Horn said, "I've only had this for two days and already avoided a couple of near misses (turned them into wide misses) with it. When cranked to full volume, it really gets drivers' attention – even with their windows wound up and Eminem rattling their mirrors!"
These horns can typically be filled/refilled using any bike pump, then clamped to handlebars for easy access. The bike horn market, being relatively new, isn't super competitive yet. But there are some decent options out there. Bikers looking for a smaller air horn might prefer the Blast Airhorn by BioLogic.
Amp up your light arsenal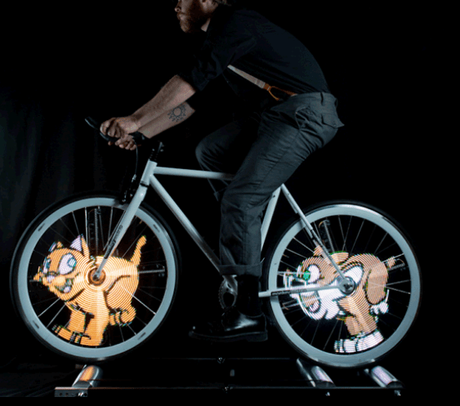 Photo Credit: Monkey Lights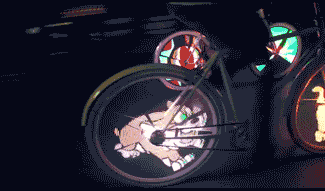 Lights can significantly increase biker visibility not just at night, but during rain, snow and any other type of inclement weather. Headlights and taillights, imperative for even the most severely amateur biker, mount to the front and back of your bike and usually have at least two modes: flashing or solid beam. Some riders prefer to use two headlights and two taillights, one of each set to flash and the other to solid beam, because they believe it improves their chances of being seen by drivers with poor night vision.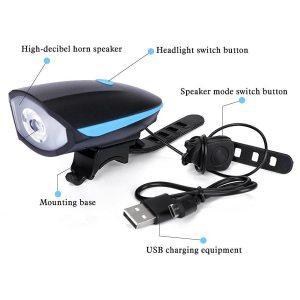 2-in-1 Bike Horn Light
Head/taillight styles range from being super basic and affordable, like these from Walmart, to fancy and high tech, like this performance grade NiteRider headlight.
In addition to head/taillights, spoke lights, can be a valuable supplement to your light arsenal. The picture above shows an extensive spoke light display. But, there are plenty of very basic versions, such as the SpokeLit LED lights at Target, which are inexpensive and easy-to-install.
Additionally, some bikers prefer to wear headlamps attached to their helmets, not only to increase their visibility to drivers but also to illuminate their own paths. Where bike lights are concerned, the adage "the more the merrier" applies.
For efficient shoppers, this combination horn/headlight apparatus kills two birds with one stone.
Dress for biking success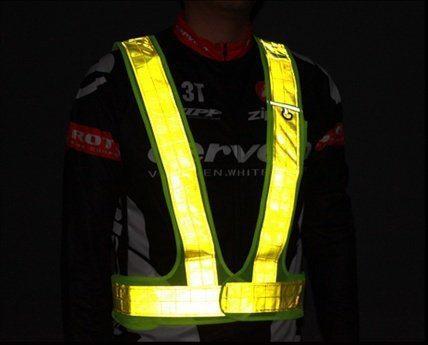 Photo Credit: Bike Hero
Wear bright, reflective clothing. When sporting dark colors, especially at night, throw on a reflector vest like this one from Bicycle Hero. Buy reflective duct tape at a hardware store and put it everywhere – bike frames, pedals, shoes, clothes, bags, etc. Of course, there is always the cliché advice to "wear a helmet." But since they actually do save lives, it's worth hearing again.
Preplan your route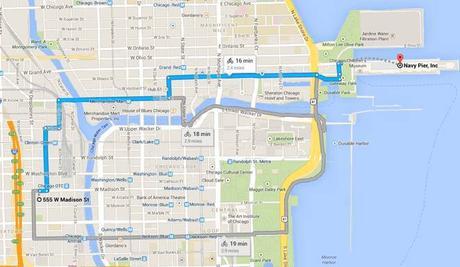 Photo Credit: Google Maps and Treehugger.com
Use applications such as Google Maps that allow you to find routes/directions specifically for bikers. Although the software isn't perfect, sometimes suggesting high-traffic routes that aren't ideal, these apps can still serve as a framework to help you preplan your own routes.
The City of Chicago Bike Maps page links to Chicago Complete Streets, where Chicagoans can find a list of biking resources, including a printable version of the Chicago 2016 Bike Map. You can request a Chicago Bike Map here.
Until better urban biking apps exist, make your own routes by synthesizing information gleaned from all sources. Try to stick to a consistent route so that you become familiar with traffic patterns and road conditions. This can be especially important in the fall, when leaves cover streets, hiding potholes and uneven pavement.
Be informed
Knowing the difference between a driver who's simply rude and a driver who's breaking the law can be empowering. For example, a driver passing within less than 3-feet of a biker is breaking the law, as per city ordinance. To take a deeper look into this type of information check out Chicago Complete Streets.
Among their resources, the organization offers an informative guide to Safe Cycling in Chicago. In addition to listing all Illinois and Chicago bike laws, the guide covers relevant topics such as correct hand signals, the difference between the types of Chicago bike lanes, tips for smart biking in traffic and other helpful advice.