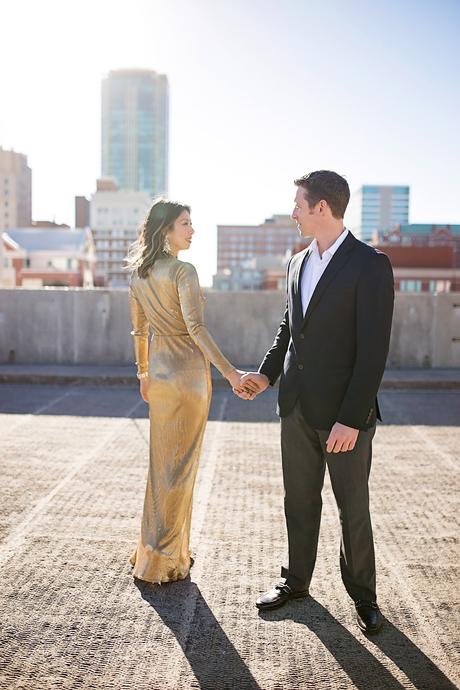 I told y'all that the gold dress would be seen again slightly different! (Last seen here.) It's so nice I wore it twice! LOL! Anyhow, this wasn't meant to be a blog post, but I couldn't resist sharing these pictures. Then it hit me, I should share my tips on how to do a great couples photo shoot!
The title of this blog post was really a struggle at first. It was almost, "Another NYE Outfit", "The Girl in the Gold Dress", "Pictures with the Mister"... And then while I was getting ready for bed, it came to me. Just tell people what you did! Duh!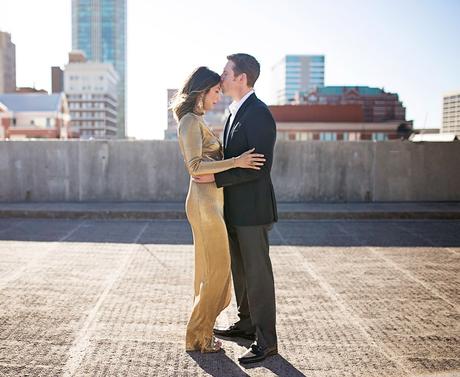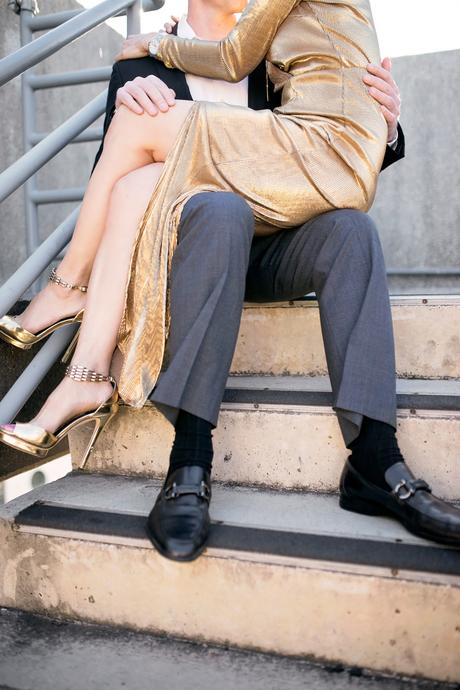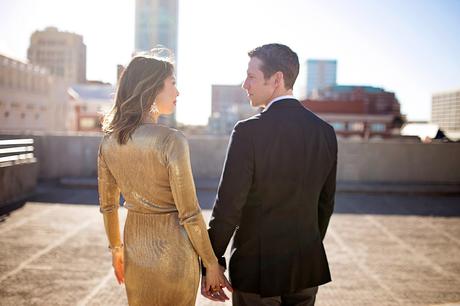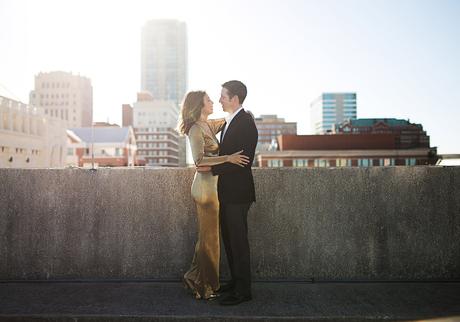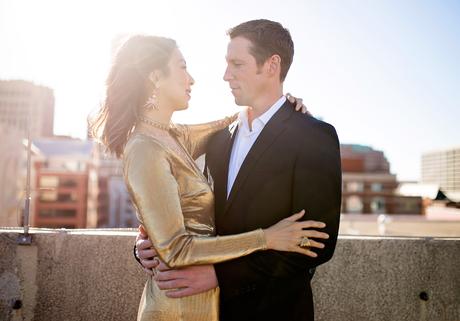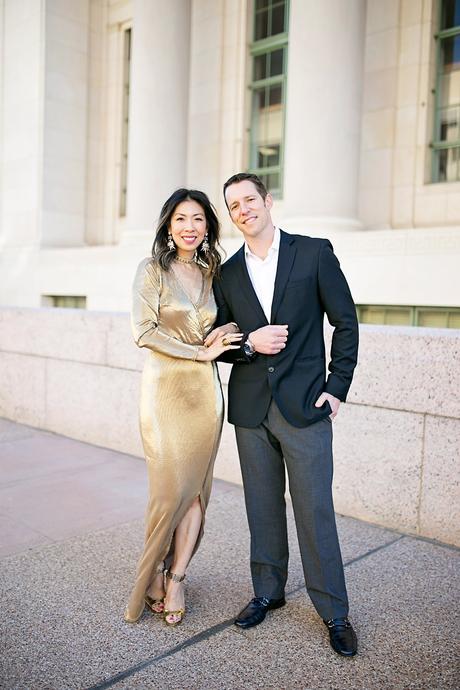 // Photography by
Angie Garcia
//
So, I'm sharing my secrets for a successful couples photoshoot! First thing is to make sure you have a willing accomplish! Ha! Mr. S hesitantly agreed, but I'm so glad he said YES!
1. FIND A GREAT PHOTOGRAPHER
We are lucky because we have worked with Angie before (our family pictures), and she is such a talent! She specializes in fashion photography, but she does amazing work for anything she photographs. Obviously, I LOVE her because she is my friend, and we shoot together for the blog. I've also been lucky to work with Mary Hafner and Beckley & Co. Both also do fashion photography.
2. DECIDE ON A THEME
I wanted an "editorial" and "glamorous" couples photo shoot along the lines of a Tom Ford Campaign. That dictated the location (Fort Worth skyline) and our wardrobe (me in a gold gown and him in a jacket). You could do something "dreamy" (think fields) or hometown inspired (think Fort Worth Stockyards). The skies are the limit!
3. FIND SOME EXAMPLE POSES
Once you decide on a theme, then look for some example poses/ photos to show to the photographer so they have an idea of what you want too. It makes it clear for everyone involved, including your significant other. I googled "glamorous couple photoshoot" to find some images.
4. SET THE RIGHT TIME
It was serendipity that we shot later in the afternoon which lent to sun flares and a dreamy look. I LOVE it! Sunrise and Sunset are the best times to get this magical lighting where it's not too bright (to where you are squinting your eyes) and not too dark (hard for the photographer to get good and clear pictures).
5. STICK WITH SOLID COLORS
Patterns are super fun to wear but may not translate well on photos. Stick with solid colors to be safe. I'm wearing gold, and Mr. S is wearing black, white, and grey. They complement each other and don't compete.
6. BE HEAVY HANDED ON THE MAKEUP and HAVE FUN
For once, it's okay! I don't mean stage makeup, but I did add a little more eyeshadow, blush, and a couple of coats of mascara. It gives you a fresh face in the pictures and you won't look washed out. (See the last picture of us.) And don't forget to HAVE FUN! It may show up in the pictures if you are stressed with each other. I know I said "5 tips" but this last one is important for the ones wearing makeup and for the couple!
Hopefully, this helps anyone who is interested in getting professional photography for a couples photo session. If you're spending the money, then you want great quality photos! Plus, it isn't too intimidating once you know what to do! If you have any questions, then please ask away!
BTW, Happy Friday! Now, both Baby Girl and Little M are sick. They have both been febrile. :( Mr. S had to leave town for work, but luckily my mom came into town yesterday to help me. She is such a lifesaver. Hope y'all have a fabulous weekend!
Scroll down to check out my Nordstrom Sale Picks!

Nordstrom is having their half-yearly sale until January 2nd so I wanted to share my top 5 sale picks! A lot of them are pieces that I already own, wear a lot, and/or love!
FAUX LEATHER MOTO JACKET $59.90 (wearing size XS)
I wear this piece A LOT (as shown in below pic). I want it snug so I got a size XS, but you could go a size up to wear it over bulky sweaters.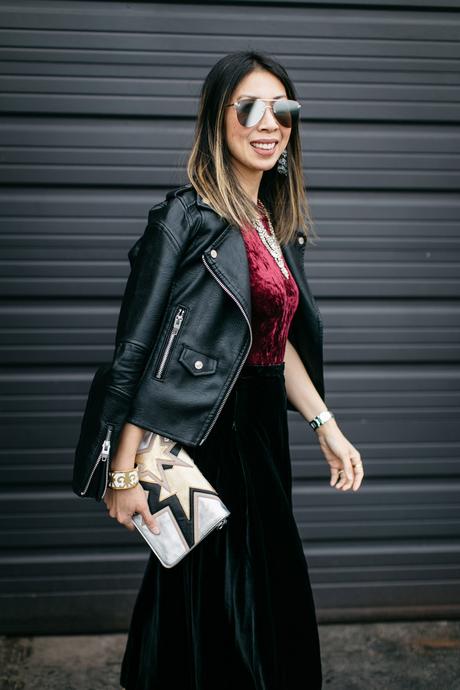 BOMBER JACKET ($60 TOPSHOP -wearing size 2, $71.40 GLAMOROUS - size XS)
They are such a fun addition to an outfit. I have the camo version of the TOPSHOP bomber, and a navy/white version of the GLAMOROUS.

FAUX FUR STOLE $59.40
This is a super easy way to add a touch of luxe to any outfit. I added it to this sequin dress for a NYE look, and it would be great over a leather jacket too! It comes in burgundy, black, and a pink/navy combo (which I own too)!


FAUX FUR JACKET $45.56
I got a similar one last year and wear it NON-STOP. It's so cozy and perfect for wearing with all black (as seen below) or a winter white outfit. You can throw it on over a dress or easy jeans and tee. I LOVE it!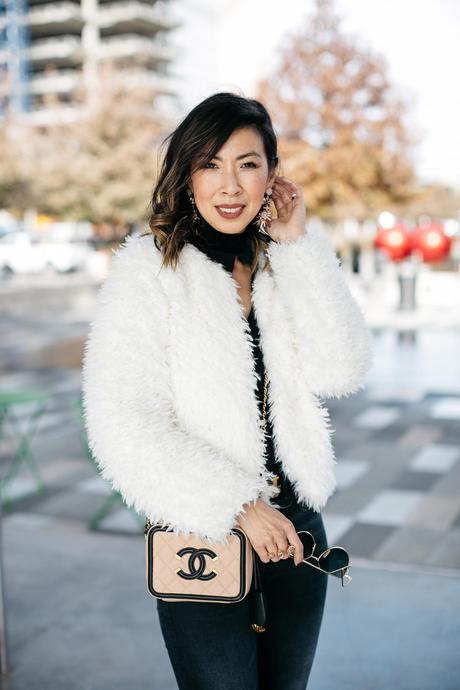 CAMEL BOOTS $144.90
I have a pair of camel boots that are a wardrobe staple. I wear them with skinny jeans (as seen below) or a black dress with leopard print belt/ embellished belt. It's a great neutral color and goes with everything.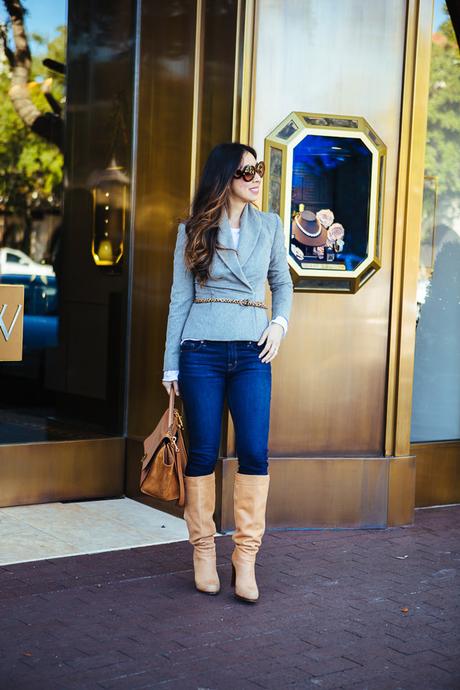 That's all folks!! Enjoy the weekend and have a safe and Happy New Year! I'm not sure what we will be doing - it depends on how the littles are feeling. What are you up to this weekend?