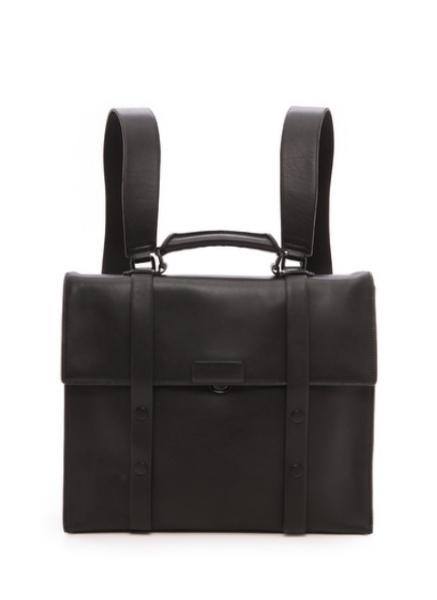 A 3.1 Phillip Lim satchel-like design
A backpack can be a great way to carry your everyday essentials if you are having a sporty personality, if you are going to classes or commuting to the city on a frequent base. Even though men's bags are a usual thing today, there are a lot of guys who prefer carrying their things in backpacks. Carrying around a backpack has a lot of advantages: it gives you a free hand, which a briefcase doesn't, it balances you, which a tote bag does not, and it allows you to carry more, as using your back to schlepping you essentials can be more comfortable and easy.
This is why it is crucial to find the perfect backpack for your needs, taste and preferences.
Getting the wrong backpack will most likely result in not only a unnecessary expense, but also in frustration, so knowing what to consider when purchasing a backpack can give you a better shopping experience and a better relation to your backpack after you made your final decision and bought the right piece for you.
Everyone is different and needs vary from person to person, but having a few factors in mind and considering how they apply to your needs and preferences is a very good way to go when needing a new everyday backpack.
Here are 5 essential pointers we have put together that will help you narrow down your searches when you will be on the look-out for your new backpack.
 1. Size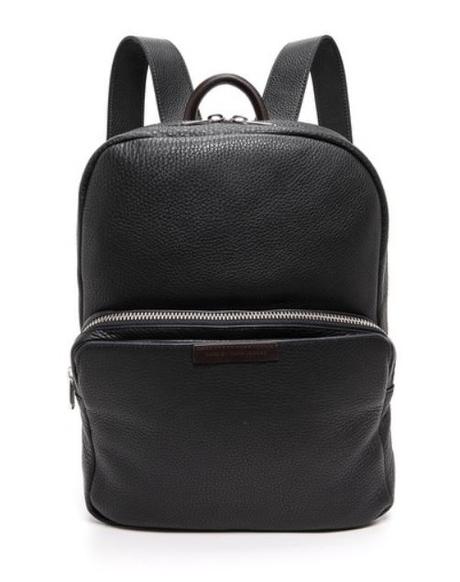 A Marc by Marc Jacobs leather backpack
The size of your everyday backpack is very important. Not only because a backpack that is too big and intended for long trips is, well, too big and heavy, but also because it can get uncomfortable. A backpack that is too small is useless, as, if you can't fit what you need to fit in it (your tablet, your laptop, your files, etc.), it becomes useless. If it's too big, it will feel like you have just landed from a parachute jump and are now dragging your parachute across the field. Also, carrying around a backpack that is too big and has only a few things in it, might make your belongings wobble and might result in your back feeling uncomfortable. Not to mention the possible sounds.
 2. Fabric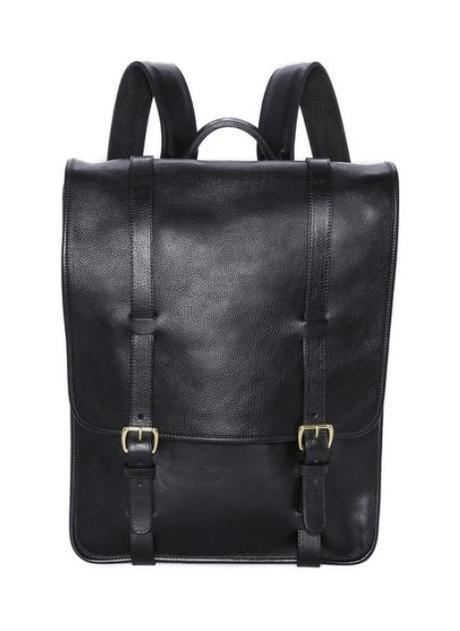 A Lotuff leather backpack
The fabric from which your backpack is made is always essential. The material of the backpack should be given by the environment in which you want to wear it and by the setting you will find yourself in when carrying your backpack.
A waterproof leather backpack is always a more stylish option than a canvas backpack, but on some occasions, such as a forest walk, a light fabric bag might be more useful. It really comes down to your needs and preferences, but what we want to point out is that the material from which your backpack is made is crucial and you should always take it into consideration.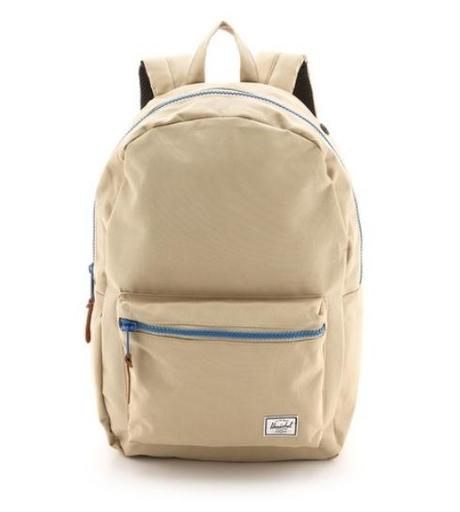 A Herschel Supply Co. backpack
The choice of fabric should be made easier by taking a look at the cloths you are planning on wearing with your backpack. Bohemian, casual clothes can be worn with a canvas piece, but a dress shirt will look better with a leather bag. And, as a side note, sometimes canvas bags can be waterproof.
Synthetic fabrics are also an option, but it is our opinion that they work best for travel and adventure backpacks, rather than for carrying your essentials.
 3. Straps
Whenever you are buying a backpack, always make sure you check its straps and how long, respectively short, they can get. Most backpacks are made to fit all sizes, but you never know. Checking the length of the belts should not take long and in this case it's always better to be safe than sorry.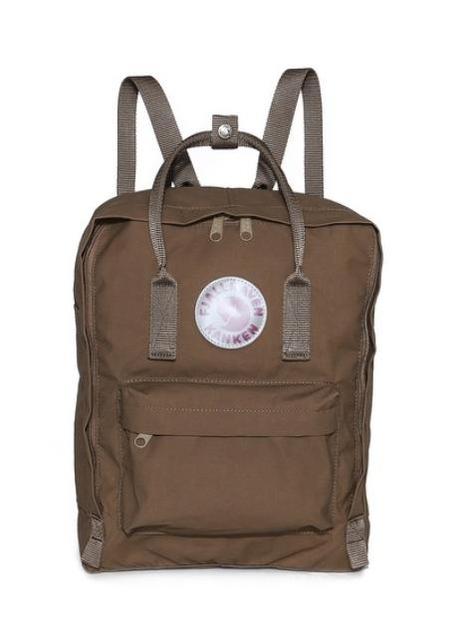 A Fjallraven backpack, which can be easily carried as a handbag
If you are shopping online, you can always either check the product description or, in case you don't find any reference there, ask the customer service for support.
4. Price
It is well-known that sometimes the price of a piece, should it be a clothing item or a backpack, is going to be determined by its quality, but this is not always the case. Whenever you wish to purchase a new backpack, try to think about what it is you are paying for: a backpack made from a quality material, potentially crafted by hand, that features an elaborate design and a complex logic of space and fabric arrangements is definitely going to cost more than a simple piece made from poor materials.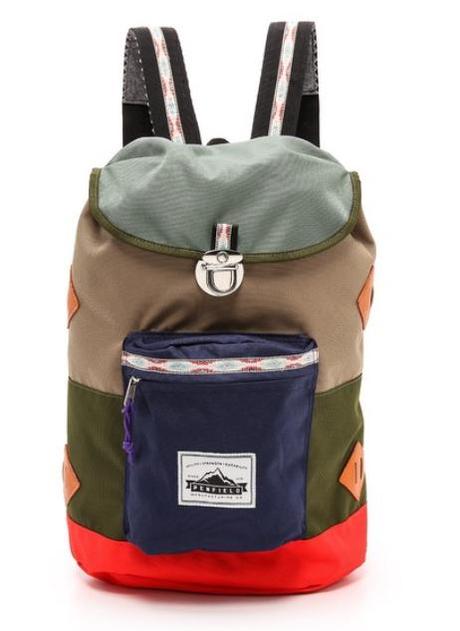 A Penfield rucksack
If something is too cheap, it is probably not only of poor quality, but it has also probably been made by craftspeople who work in bad conditions. If the price is not enough to pay for the manufacturing of the piece, for the transport, for the distributor and for everyone else involved in the selling process, it is most likely that the piece you are buying does not come from an ethical working environment. On the other hand, if a piece costs too much for its quality, you are either being overpriced for no reason or you are paying for the brand.
We don't recommend being cheap when it comes to purchasing a backpack, as you won't be proud of your savings if the zipper breaks in the middle of your commute. A quality backpack, bought from a reliable brand or shop can last a long time and can serve you quite well.
 5. Color
Just like the fabric, the color of your backpack should be determined by the colors of your clothes. If you only wear deep solids, a neon green backpack might not be the best addition to your collection of accessories.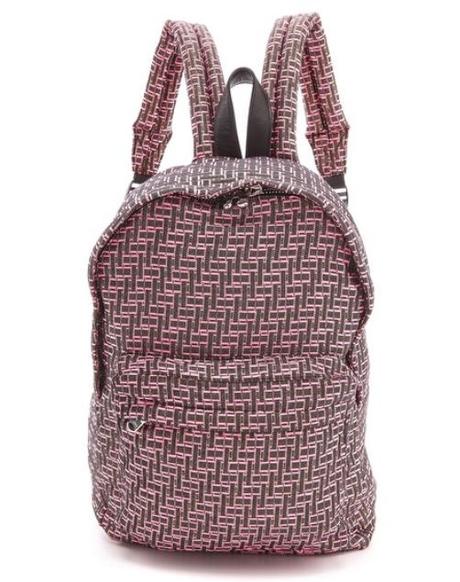 A colorful W. Anzevino + A. Getty backpack
If you have a very wide range of colors hanging in your closet, the best way to go might be opting for a backpack in a neutral color. In fashion, neutral colors are a series of colors and shades that can be matched with absolutely any other color, print or pattern. These are: black, gray, white, beige, ivory, tan, khaki, brown, dark blue.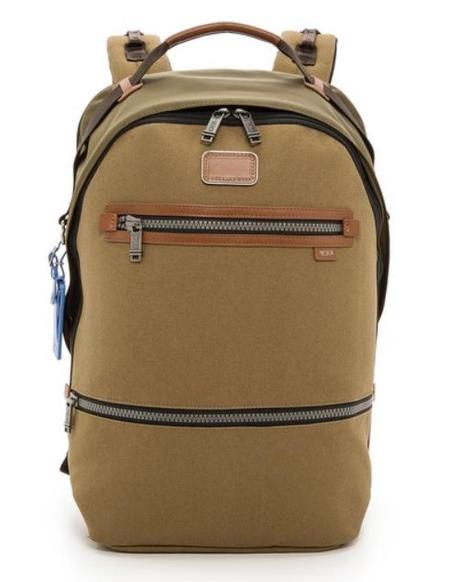 A neutral Tumi Alpha Bravo Cannon Backpack
Additional information
Before making a purchase, or once the backpack you ordered online has arrived, make sure you check all the zippers, the pockets and every other detail that might have an issue. Also check your piece's warranty and make sure you keep it in a safe place.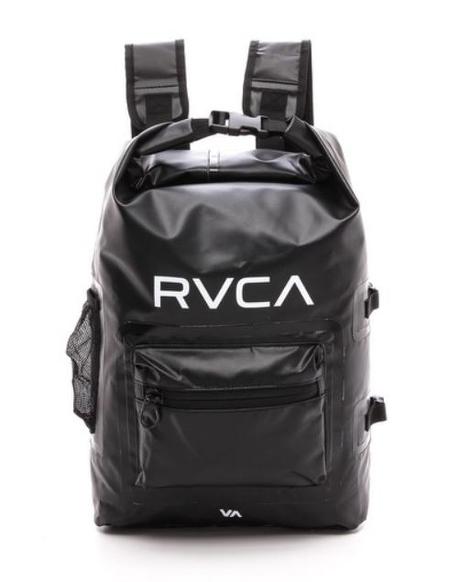 A RVCA backpack
Also, if you are buying a backpack from an offline store, before you make the choice, go ahead and try the backpack on filled with things you find in the store. Many backpacks sit differently when full than when empty, so you might want to give this test a try; you might be surprised of the outcome.
Regardless of what you need your backpack, whether it is going to college or commuting to work, it is very important to find a product that has enough storing capacity to fulfill your needs and that sits comfortably on your back.
A backpack can be a good accessory and choosing the best one for you is an investment we encourage you to make!
Fraquoh and Franchomme
P.S. What kind of backpack do you like? What are the things you are looking for when buying one? Share your thoughts in the comments below! For more articles on style, fashion tips and cultural insights, you can subscribe to Attire Club via e-mail or follow us on Facebook or Twitter!
Share on Tumblr
0