Things to do in Madrid
This post was written by Ocean Belcher, travel nomad and tourism professional at the United Nations World Tourism Organization (UNWTO) in Madrid. To see other posts written by Ocean please visit anoceanaway.ne
1. Watch Real Madrid play at Santiago Bernabeu
The high walls of the stadium enclose you and make you feel the intensity of what´s to come. The stadium is designed to represent a bull fighting arena and instills a feeling of triumph and success into the body and spirit of 85,000 spectators. Players below shine and glisten in their fresh white strips and the atmosphere moves you. Even if you´re not interested in football, this is an experience not to miss when visiting Madrid.
People flood from all directions embodying the spirit of the team through fandom. Costumes, flags, decorated vehicles and drunken hollering are all party of the festivities. Opera booms through the stadium and is matched by the volume of obscenities being screamed from fans sitting behind you.
The joy of a goal leaves grown men hugging and drinks going flying, while the players jump and straddle each other and there´s high fives all round! An atmosphere like no other.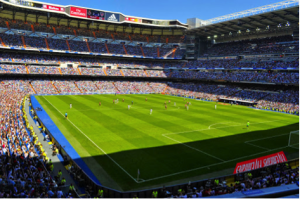 5 things to do in Madrid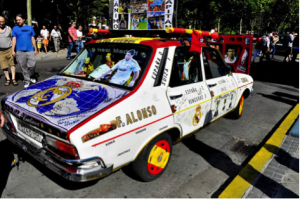 5 things to do in Madrid
2. Experience Retiro Park
Trip Advisor rated Retiro Park #3 out of all activities worth doing while in Madrid. This park is huge, and stunningly beautiful. Whether traveling with a group of friends, or alone, you could never feel lonely or down in such a place. It is always alive and pulsating with the hum of activity, the laughter and chatter of people around you. People run laps of the outside and do yoga under the tall luscious trees, roller skating fitness classes happen around the statue of the fallen angel and 80´s music blares from a portable speaker nearby. Dogs meet with their friends and try to mount each other, and likewise the Spanish youth are nearly fornicating in the grass. Public affection is something overly common here.
Regardless the park is suitable for all ages and has numerous playgrounds and outdoor gyms to suit all visitors and recreational desires.
3. Get amongst the Euro Club-scene
Madrileños are people of this night, they eat late, party later, and come home still looking classy at 7am after eating two burritos and drinking a 1/3 of Tequila. This is why they've earned the nickname 'gato's' (cats) for their ability to stay out all night on the tiles, and why the rest of us have earned the nickname 'guiri's' (foreigners) for our shameless ability to tap-out at 3am and stagger home before passing out with our shoes on!
The Madrid night club scene is world class, but not for the faint-hearted as it doesn´t start pumping until well after 1am.  Clubs worthy of mention include:
Kapital: 7 storeys situated in an old theater each presenting an alternative genre of music and a Karaoke bar for those who´ve had their fair share of mojitos. Go-go dancers and costumed prancers, chandeliers, confetti and balloons. €15 before 1am and includes one drink.
Palacio: Multiple rooms and floors, international student night on Thursdays, classic top 40´s dance music and Spanish pop, and a marble sweeping staircase in the entrance. It´s in the heart of an old Palace – hence the name.
4. Tour the arty streets of Malasaña
Malasaña district is known for its vintage shops, used bookstores, comic outlets and fancy pastry places. It should also be named the capital of those little "closet-type-bars" that are built upon the passion of a group of friends and erected in an extremely small place for just that group of friends to hang around in (like Friends?). You know, the unconventional kind with the mismatched furniture and strange instillations.
The smell of incense and paint will fill your nostrils and you´ll be whisked away amongst the vibe of this creative countercultural district, complete with people socializing in the streets with their crazy outfits, wide rimmed glasses, vintage t-shirts and leather satchels. It seems unpretentious and the offerings are diverse.
The local merchants partnered with street-artists to combat the problem of graffiti (not the beautiful street artist kind, but the kind like a dog spraying his stinky scent in the streets). They paired with creative individuals in the street art scene (the real kind) and collaborated to present artistic pieces on their storefronts that young scribbling hooligans wouldn't dare paint over. The result is both surprising and visually stimulating.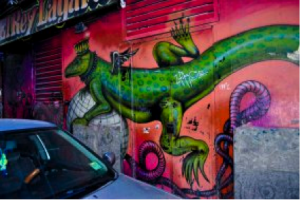 5 things to do in Madrid
5. Take a day trip to Toledo.
The winding paved streets and brick walls tower over head and cast long shadows in the suffocating heat. The structures dwarf you and add to the feeling of entrapment as you become more contained within the old city walls that speak of hundreds of years' worth of medieval history. This small fortified town was once the capital city of Spain, and holds an important role in Spanish history, hence why it has become a dedicated UNESCO World Heritage site. The castles, cathedrals and monasteries display stories of Kings and Queens, forbidden interracial romances and bloody battles! It´s a half-hour train ride from the real capital of Spain, and a return trip is less than €20. Highly recommended.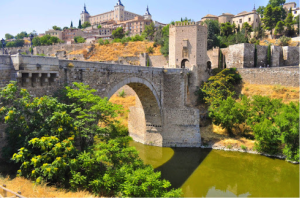 5 things to do in Madrid