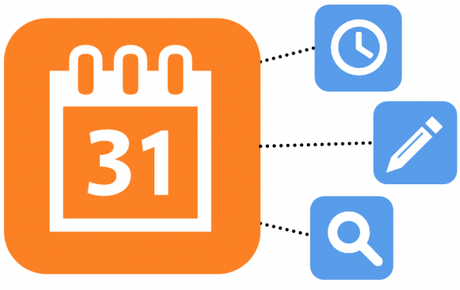 Are you serious about making your company a market leader? Do you want your voice to become a leading authority in your industry? If your answer is yes, then you need to make your mark by producing great content online.
Greatness does not lie in cobbling together last minute blog posts. To be effective, you need to create a website content calendar. Investing in this tool will help you achieve the kind of online presence that is vital for digital success today. In the short term, it will result in brand recognition. In the long run, it will increase sales.
Here is how you can make a content calendar for your website:
Step 1: Understand the why
You want to know the difference between a mediocre business and a successful one? It's consistency- consistency in delivering good service, consistency in maintaining integrity, consistency in brand management. And to convey the message of consistency and reliability, you need effective online content that emphasizes your dedication to your customers.
Remember that you operate in a tough market with fierce competition. Repeatedly informing your consumers that you are their best choice means maintaining a schedule of posting high quality website content. We understand that the daily grind and pressures of your business push content production to the back burner. This is why a content calendar is so important.
An ecommerce website content calendar is a crucial tool that reminds you to stay in contact and communicate efficiently with your existing and potential customers. Hence, understanding the importance of making and maintaining a content calendar is the first step towards its creation.
Step 2: Importance of planning
There are many topics that attract and captivate audiences, such as how to make yourself irresistible to women. As appropriate as this topic might be if you are selling self-help relationship books and tutorials online, it would be completely irrelevant to a business that specializes in selling IT consultant services.
Your topics can not be off the cuff. For an efficient marketing campaign, your content has to be related to your field and written in a way that connects with your audience. You need to determine the focus and direction of your content. Begin by asking yourself these questions:
Once you know the answer to these questions, create a calendar that maps out content, at least a month in advance. If possible, plan a quarter in advance along with creating a workflow plan that clearly outlines your entire content marketing process.
The more detailed your calendar, the more effective it will be. By documenting the specifics of who on your team will be doing what, when and using which channel, you are making it easier for the plan to fall in to place.
Step 3: Power of SEO
We all know that Search Engine Optimization (SEO) is a powerful tool that influences a website's ranking in Google search results. However, Google has recently made algorithm changes that have slightly decreased the importance of keywords. Now Google's search engines scan a web page to understand the "intent" of the content.
Having said this, using appropriate keywords is still important to ensure that your website pops up on the first page of Google search results. The quality of content should always come first. Never try to overdo your keywords to the point that user experience suffers for the sake of search engine optimization.
To ensure that the keywords you have chosen have the most beneficial effect on your website, begin by brainstorming a list of phrases and keywords that your potential customers may be using, to look up products or service providers with your offerings, background, and skill set. There are different tools that you can use that would suggest keywords for you, such as übersuggest and Google Keyword Planner.
By publishing high quality content consistently on your website that uses the right keywords and links, you will help your website move steadily up in the search results. The right keywords on your titles, site pages and product descriptions are all crucial for making your content efforts effective.
Your calendar should plan the range of content so that you can identify which SEO words to be used to maximize impact. For example, around Valentine's Day, you could publish content that highlights deals that would make the day memorable for users.
Step 4: Create a draft
A draft helps you evaluate whether your content is eye catching and appealing. Your content can be a mix of blog posts, ebooks, infographics, videos, podcasts, and webinars, to name a few.
Content can be generated in many forms. A draft allows you to test what combination is the most likely to generate traffic for your website and convert potential customers into long-term clients. It also prevents you from relying too heavily on one form of content or, continuously, repeating the same type till it gets boring or monotonous.
If you are struggling with content ideas, there are a bunch of sites that can help you narrow down the field and genre of content that would be appropriate for your field. Some of the most effective ones are:
The draft can incorporate slot posts by month, week or day depending on which format you use. Drafts allow you to review your content before the final publishing and prevent grammatical errors and other imperfections that can mar the image of your brand.
Step 5: Stay on target
Sales cycles are a part of day-to-day operations. Having content that matches your sales cycle increases its efficiency, by allowing you to maximize revenue during your peak season. Having a calendar pushes you to stay on target for content by reminding you to publish till it becomes routine for you to do so. This allows you to reap rewards of increased sales.
A content calendar keeps you on target by presenting the big picture. It presents a bird's eye view through which you can see patterns and potential series that can connect your content to your offerings. Instead of getting lost in details, a calendar provides you with a broad vision of the various marketing channels you intent to employ and, hence, helps to keep you on track.
Your calendar needs to be aligned with your team's vision, your business goals and the deadlines that compliment your sales' cycle. It should ensure that you continue hearing the voice of your customers and keep your company plans centered on their needs.
Understanding the importance of generating quality content and documenting it in a calendar is a vital step towards success. Plan to use powerful content with strong SEO, review it before it gets published and stick to the schedule you have created to increase brand recognition, sales revenue, and your bottom line.
Audrey Throne is a mother and a professional blogger by choice. She has completed her masters in English literature from the University of Birmingham. As a blogger she wrote quite a few posts on health, technology as well as management. Find her on Twitter: @audrey_throne.