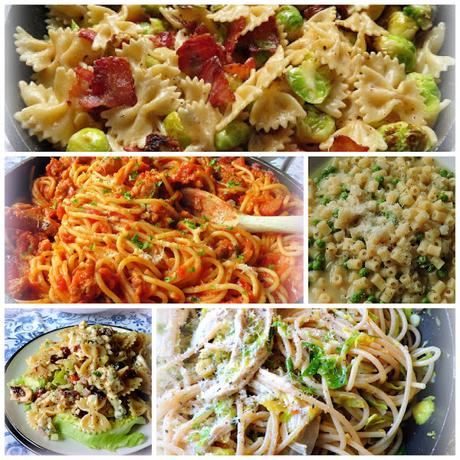 I thought it would be fun today to do a round-up of some of my favorite pasta dishes that I have cooked here in The English Kitchen.  There is a bit of something here for everyone.  
Skillet dishes, oven bakes, all-in-ones, sauces, and salads.  Pasta is one of my favorite things to cook and to eat.  Its a great way to satisfy those carb cravings we all have from time to time!
There is something here from the very basic traditional pasta dishes to new pasta recipes with modern twists.  I can guarantee that these are all delicious recipes which are very easy to make and which use simple every day ingredients.  
Scroll down to the end to see my hints and tips for cooking pasta perfectly every time!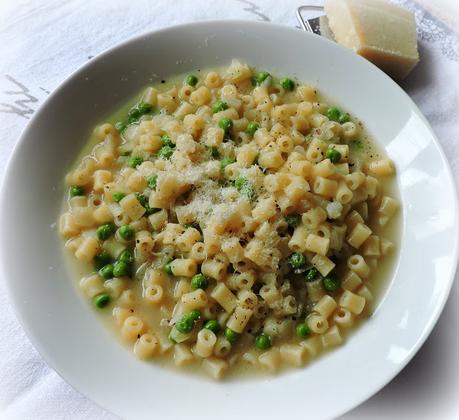 PASTA E PISELLI 
Simple ingredients put together in a simple way.  Pasta, peas, water and cheese. It doesn't get any simpler or easier than this. You wouldn't think that simple things like this could come together in such a delicious way, but like magic, they do!  I love this.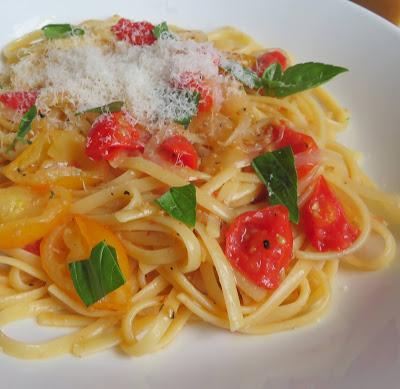 MARTHA STEWARTS ONE PAN PASTA
One thing I love about this tasty pasta dish is 
that everything cooks in one pan, even the pasta (linguini) . . .  you just add the dry pasta and other ingredients, including water, and it cooks all-together in the pan.
No fuss, no muss  . . .  no faffing about with having to drain this or that   . . .  the water, tomatoes, etc. condense along with the starch from the cooking pasta to create a delicious sauce.
VIEW RECIPE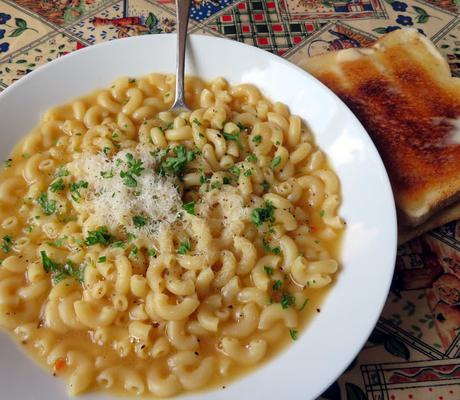 PASTA WITH CHICKEN BROTH, BUTTER & CHEESE
This brilliant pasta dish 
is a beautiful example of simple and uncomplicated foods.  Food done well and put together in a most delicious way. 
Stock and pasta are the basis of this very simple and yet delicious dish in which pasta is quite simply cooked in a quantity of stock . . .  It doesn't get much easier than this. 
VIEW RECIPE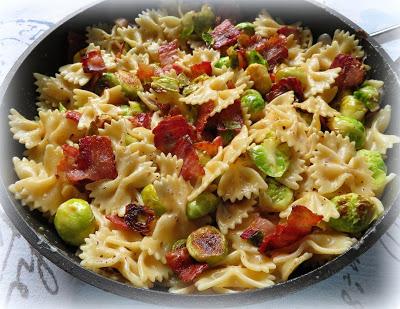 BOW TIE PASTA WITH SPROUTS AND BACON
Pasta, sprouts and bacon are three of my absolute favorite things, so I just love this dish. 
Its a very simple recipe and goes together really quickly if you have all of your ingredients prepped and ready to go. 
The sprouts get all caramelised on the edges, which I really love. 
C
risp salty bacon and those nutty crispy-tender sprouts in a creamy sauce with plenty of cheese scattered over top! What's not to love about this! 
VIEW RECIPE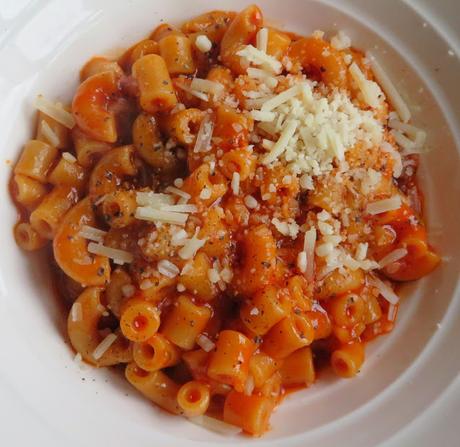 SAUCY PASTA HOOPS
Did you used to like Spaghetti hoops when you were a child? It wasn't something we had very often but when we did it was a real favourite! A grown up version of a childhood favourite, all cooked in one pan.
Rich and cheesy and oh so easy to make! NO fuss, NO muss, and delicious to boot.VIEW RECIPE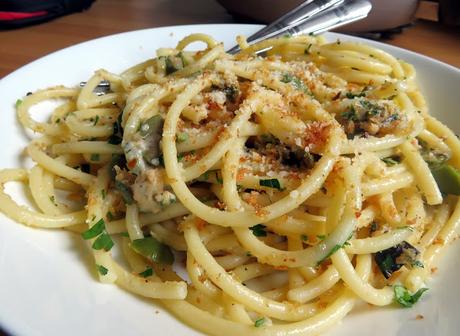 LEMON & GREEN OLIVE PASTA
If you are looking to try out a new pasta dish this week look no further. This one is a winning combination all round. Although the quantities are for only two people, you can very easily multiply them to feed more!  It always amazes me when a few simple ingredients come together in an unbelievably delicious way. If you love the flavours of lemon and good green olives you are going to adore this simple pasta dish. Incredibly tasty and very special.VIEW RECIPE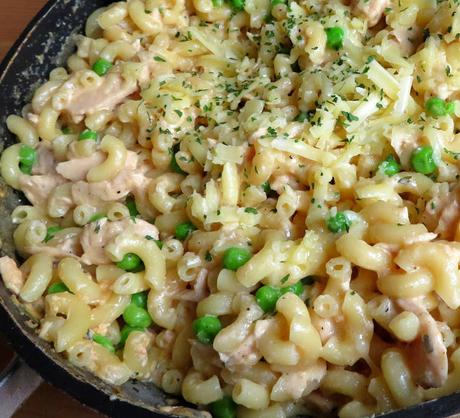 CHEESY TUNA SKILLET PASTA
This is a fabulously tasty skillet meal.  It goes together really quickly and is done in about 15 minutes time maximum. While it is cooking you can be putting together a nice salad to serve on the side. Easy peasy.Its like your favorite Tuna Casserole, or Tuna Helper I guess. Cooked on top of the stove, all in one dish. Again, no fuss, no muss.VIEW RECIPE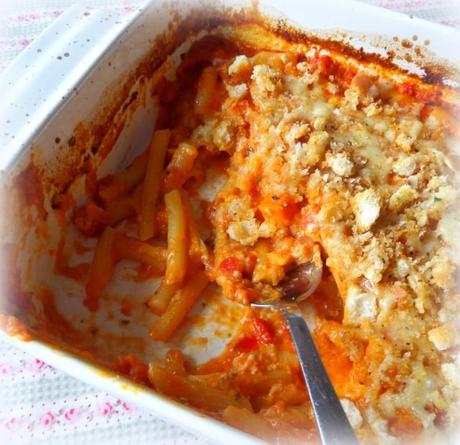 EASY OVEN BAKED PASTA
Pasta which has been baked in sauce is really very tasty . . .  and all you have to do is just sit there and let the oven do all of the work.  All you need is some salad and crusty bread on the side and Bob's your uncle!Again, a simple dish to make using very simple ingredients. This is delicious.VIEW RECIPE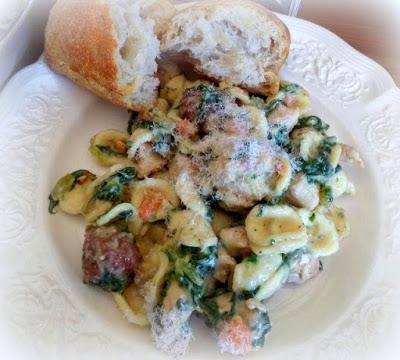 ITALIAN WEDDING SOUP SUPPER DISH
Don't let the poor photograph put you off from eating this fabulously tasty pasta dish. It's got all the flavours of the traditional Italian Wedding Soup, but it's not soup . . . it's a hearty skillet supper, and it's delicious! With tiny meatballs, orecchiette pasta, chicken, spinach, aromatics and cheese, this always goes down a real treat!VIEW RECIPE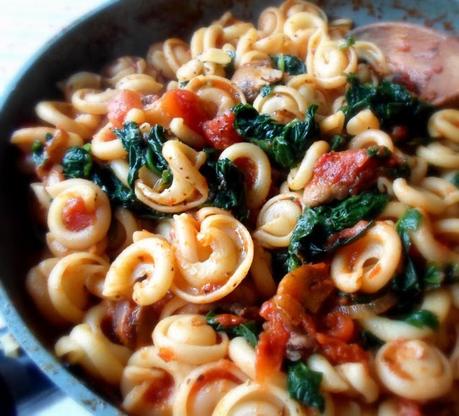 KITCHEN SINK PASTA
This simple pasta dish was created from all the bits and bobs that were lingering in the bottom of my vegetable bin. I actually won a prize for this recipe. A trip to Tuscany.  
Its amazing what you can do with 
some spinach, a few TBS of sun-dried tomato pesto, a handful of button mushrooms, some leftover seasoned tinned chopped tomatoes and a rather tired looking banana shallot, oh, and some pasta of course!
VIEW RECIPE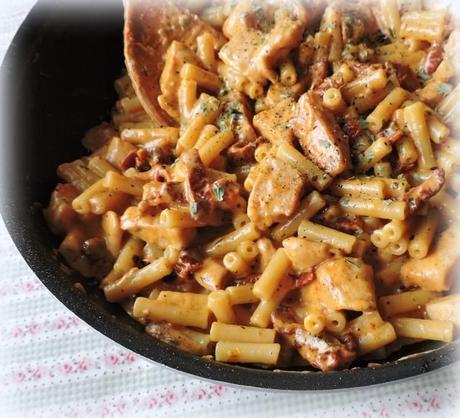 CHICKEN & PASTA IN A GARLIC & CREAM SAUCE
 A fabulous one pot dinner, with chicken, pasta and the most delicious sun dried tomato and garlic cheese sauce!


This is such a simple recipe.  You simply saute some garlic and sun dried tomatoes in a bit of oil from the sun dried tomato jar.  
Some chicken, some cream, some cheese, herbs and seasoning and you have a sauce which is to absolutely die for! 
VIEW RECIPE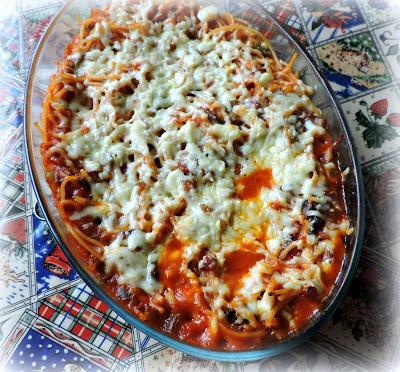 SPAGHETTI FRANCISCO 
A baked meal in one which is great for covered dish suppers and pot lucks. You can also divide it between two casserole dishes and freeze one for later. 
The original recipe came from Sunset Magazine. I have been baking this old favorite for my family for many, many years, always to accolades.
VIEW RECIPE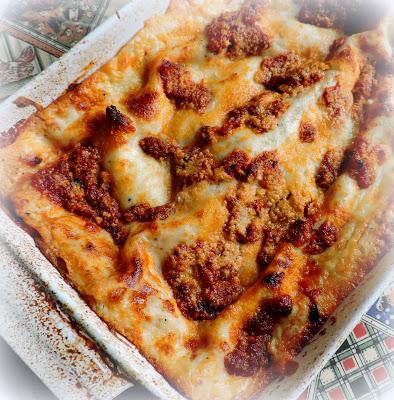 TOMATO LASAGNA
Oh, I do love a good lasagna.   Ofttimes we will stop ourselves from making it as it can be a somewhat complicated dish, but this simple lasagna can be whipped up any time and what I love most about it is the simplicity of flavors.  
A simple tomato sauce, layered with béchamel and cheese . . .  amongst sheets of pasta, and baked until golden.   It is so good.   And it is the simplicity of the flavors which make it even more delicious.
VIEW RECIPE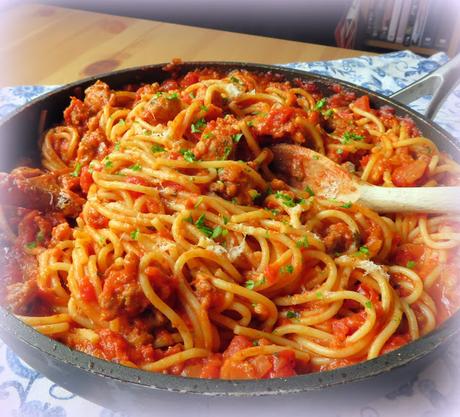 SPAGHETTI WITH QUICK BOLOGNESE SAUCEThis delicious sauce 

requires very little work and very few ingredients. Just some chopped onion, chopped carrot (both of which you can actually chop in a food chopper) . . .  some crumbled Italian sausage meat . . . t

omato paste and a bit of red wine.  

You simmer this together for half an hour and add some herbs and some cream at the end. Beautiful with spaghetti, or any pasta really.
VIEW RECIPE
CREAMY SWEETCORN MAC & CHEESE
This is a delicious side dish that is great for bring to pot lucks and BB Q's.  Everyone loves it. 
Macaroni and cheese with the delicious addition of corn.  Don't knock it until you try it. 
VIEW RECIPE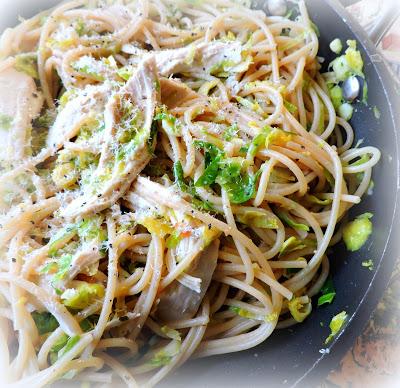 SPAGHETTI WITH ROASTED CHICKEN & SHREDDED SPROUTS
Leftover roast chicken tossed together with buttery soft shredded Brussels sprouts, whole wheat spaghetti, garlic and cheese.  Amazingly delicious!
I love recipes like this!  A bit of this and that thrown together in a most delicious way.
VIEW RECIPE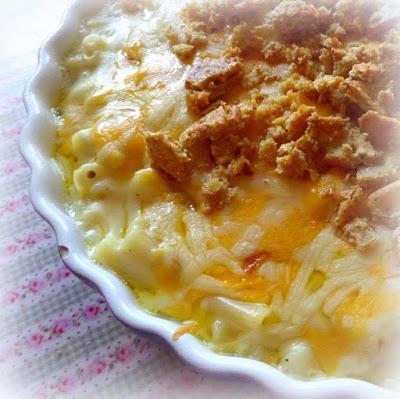 GOURMET MAC & CHEESE
A truly creamy and rich version of macaroni and cheese with three delicious cheeses and a crunchy topping. What's not to love about this?
This is quite simply, my favorite version of mac & cheese.
VIEW RECIPE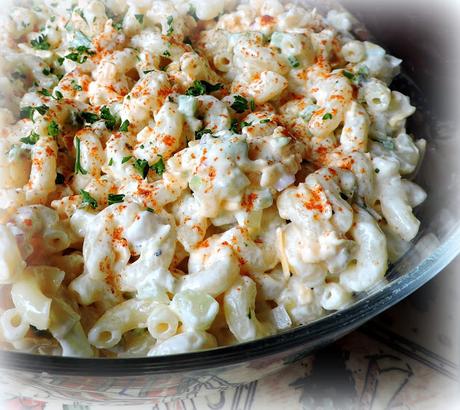 CHEDDAR MACARONI SALAD
I have several different macaroni salads on here that I have posted and both are very good.  My 
Creamy Macaroni Salad
 is quite delicious and combines a variety of elements of different salads I have tried through the years.  The other one which I make, 
Basic Macaroni Salad
 is also very good!
This recipe for Cheddar Macaroni Salad 
Cheddar Macaroni Salad, was adapted from one of my oldest cookery books, The Better Homes and Gardens, New Cookbook, the 1982 Edition.  This is one of my favorite books and one of the very first cookbooks I purchased. Sadly I have lost the book now, having had to leave it in the UK.  Maybe one day I will come across another copy.
VIEW RECIPE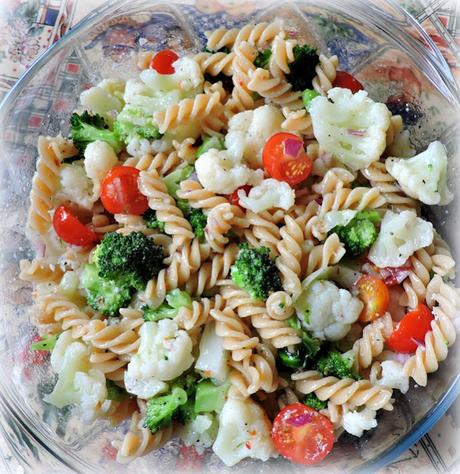 PASTA SALAD PRIMAVERA

This recipe is actually one I adapted from one which I found in an old Weight Watchers cookbook.  It is filled with colour, flavour, texture and taste!

I really enjoy these types of salads because they sit well, and taste even better the day after.  With plenty of fresh vegetables . . .  cauliflower, broccoli, cherry tomatoes and red onions  . . . chopped fresh basil.  
VIEW RECIPE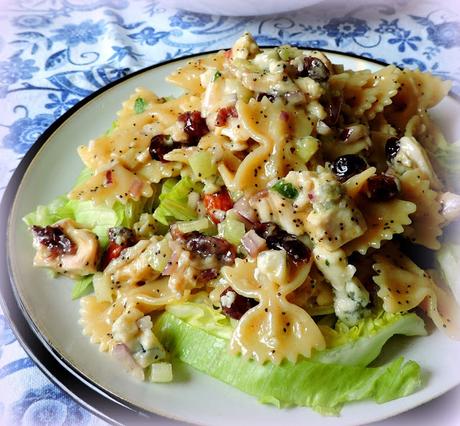 TURKEY, SOUR CHERRY & ALMOND PASTA SALAD
I use farfalle pasta for this, whole wheat if I can get it . . .  its the perfect shape to use in a pasta salad. Nice and open, but with a few little pleats to hold in the dressing.  And that dressing is delicious.  
A homemade poppy seed dressing that is lovely and tangy from fresh lemon juice, with a bit of punch from Dijon mustard and sweetness from creamy honey. 
There is nothing about this that I don't love.
VIEW RECIPE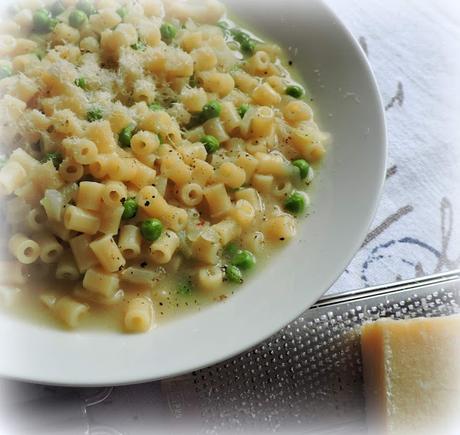 HOW TO COOK PASTA PERFECTLY EVERY TIME:
Here are my hints and tips for cooking perfect pasta each when you cook it. Whether you are cooking it to serve as a base for a delicious sauce or to add to a fantabulous casserole, this information is sure to come in handy and insure pasta perfection each and every time.
1. No matter what you may read, don't put any oil in your water or on your pasta. Adding oil to the water or to your cooked pasta will cause your sauce to slip right off.
2. Use plenty of cold, fresh, heavily salted water, in a large pot. This ensures that once it comes to the boil you will have plenty of room for the noodles to move about freely, enabling it to cook properly and preventing it from sticking together.  The basic rule of thumb is  to use three liters (3 gallons) of water to every 250g of pasta (1pound).
3. Use plenty of salt.  Your water needs to "taste like the sea" in order for the flavor to permeate the pasta.  Three liters of water will require at least 1 TBS of fine sea salt.
4. Make sure your water has
come to a rolling rapid boil before you add your pasta. Don't ever be tempted to add it before this happens. If you add your pasta too soon, it is likely to end up soggy and badly cooked.
5. Drop your pasta into the boiling water and then stir it immediately.  This will prevent it from sticking together, or to the sides or bottoms of your saucepan.
6. Follow the package directions. All brands and varieties of pasta will have a recommended cook time printed on the packaging, both for regular or al dente (firm, but tender to the tooth, my preferred). Different types of pasta will take different cook times. One size does not fit all when it comes to pasta.
7. Save some of the cooking water.  Just use a ladle and measure out some of it. This comes in handy when saucing up your pasta.
8. Always have your sauce ready before you begin to cook your pasta. Cooking the pasta should be the last thing you do.
9. Drain your pasta well, rinse and then drain again, using very hot water. Don't let it sit and get all dry. You should use it as soon as possible after this step.
10. Add your pasta to the sauce, not the other way around.
11. Add some pasta water to the sauce. 
Adding a touch of pasta water to your sauce when you add the pasta will help the sauce to stick better to the pasta. It also adds some richness and flavor as well as helping to bring a split sauce back together.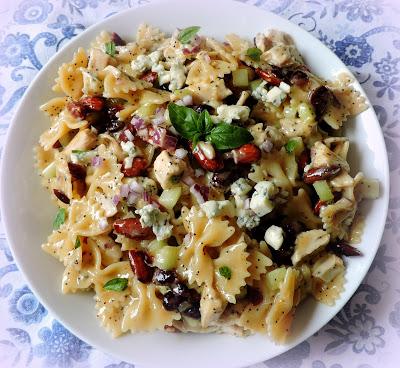 Following these hints and tips can bring perfect pasta within your reach every single time!  Happy Cooking!
This content (written and photography) is the sole property of The English Kitchen. Any reposting or misuse is not permitted. If you are reading this elsewhere, please know that it is stolen content and you may report it to me at mariealicejoan at aol dot com. 
Follow my blog with Bloglovin