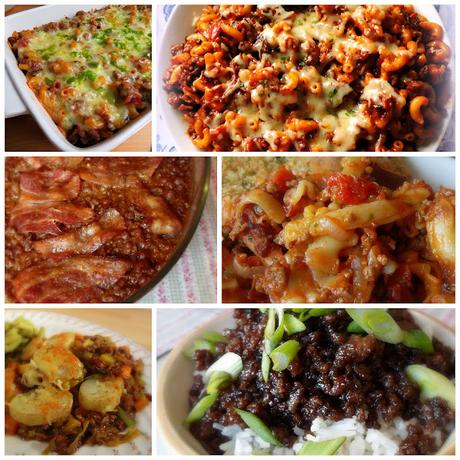 When I was thinking about what I could share with you today my mind went to all of the quick, easy and delicious ground beef recipes I have shared on here over the years.  These ones which I have chosen to highlight for you are some of our family favorites.  By no means are they the sum total of simple Ground Beef Recipes that I have shared with you throughout the years.
Ground beef is one of those ingredients that lends itself to a multitude of amazing recipes, but . . . with anything, it can be very easy to fall into a recipe rut where you end up cooking the same old things time and time again.  It never hurts to share some new ideas, or even new old ideas!
One great thing about Ground Beef is that it is for the most part one of the more economical cuts of beef.  You can really make it stretch a long way as well, by using a bit of this and a bit of that. With the way the cost of food is rising these days, anything that can help us stretch our food dollars and help them to go a bit further is always welcome!
I will tell you up front that I do not buy regular ground beef, not ever.  I know it is the cheapest, but more often than not it is full of fat. It is a false economy when at least a third of what you have paid for is going to end up being poured away.  It is also not that good for your health when it comes to the fat content.
I buy my ground beef at my local farmer's market.  It may cost a tiny bit more than the supermarket variety, but it is fairly lean and I know exactly where it came from.  
The meat you buy in the supermarket is composed of the ground meat from a multitude of animals and that tiny package you buy can contain meat from many many animals. It is hard to prove provenance when your sourcing from so many different suppliers.
Lets face it, they are grinding tons of meat, and it doesn't really matter to them where it all comes from.  The meat I buy locally comes from the same producer and usually the same few animals.
Ever noticed that that ground beef you buy at the shops is a totally different color inside than it is on the outside? Another reason I buy locally. It is frozen at the source, and it is the same color inside as it is on the outside.  I know . . .  Me = picky-picky!
I just like to know what I am putting into my body.  So that is why I buy what I buy.  Its quite lean and it tastes good.  In the UK I bought it from my local butcher, and for the same reasons.
Anyways, we all do what we have to do, and what makes us feel good. 
I can guarantee however, that no matter where you source your meat, each of these recipes I am sharing today is a delicious way to showcase it. Easy, delicious and family pleasing! You can't ask for more than that!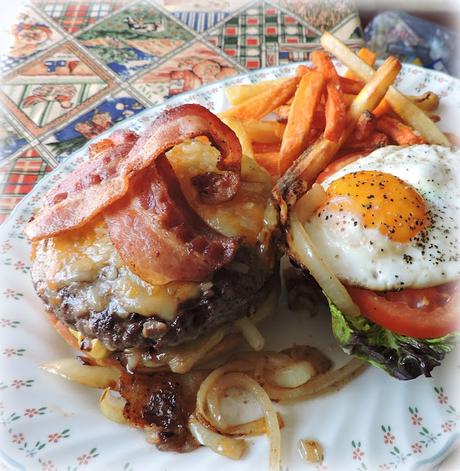 TINA'S BURGERS
- My friend Tina makes the best burgers.  A meaty hamburger patty in a bun on top of fried onions and topped with plenty of cheese, crisp bacon, a fried egg, lettuce and tomato.
If you can eat one of these by yourself, then that is saying something.  These are fabulously hearty and incredibly tasty!!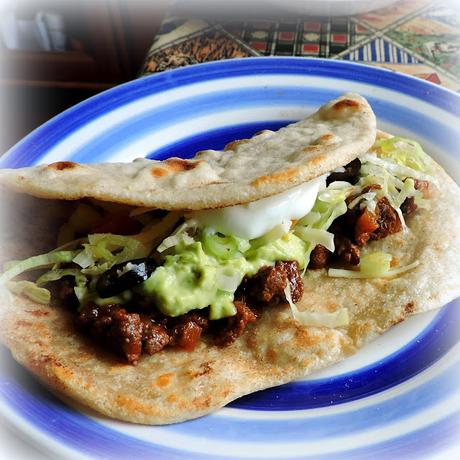 STREET STYLE BEEF TACOS
- Delicious, perfectly spiced chopped steak served on homemade tortillas with all of your favorite taco toppings.  Also included is a recipe for your own homemade Avocado Cream to top them with.
These are quite simply one of my favorite tacos.  Not too spicy, although if you are a lover of heat you can certainly amp them up.  These are fantastically tasty!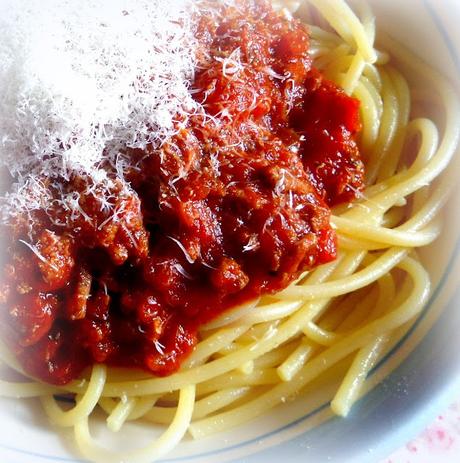 SPAGHETTI BOLOGNESE
- This is an excellent, from scratch Bolognese sauce. 
This recipe that I am showing you today is the result of probably thirty or so years of my trial and testing of what worked for me and what didn't. 
T
he secret is to brown the meat, onions and garlic off and then add the wine and allow it to almost evaporate until adding the remaining ingredients.  This really concentrates the essence of the wine into the flavor of the sauce and makes for a really delicious result.  
I have experimented through the years with my own combination of herbs and spices and I do believe that this is one of the best
Bolognese
 sauces anyone could ever hope to eat.  Authentic or not.  It is beautiful.  Simple.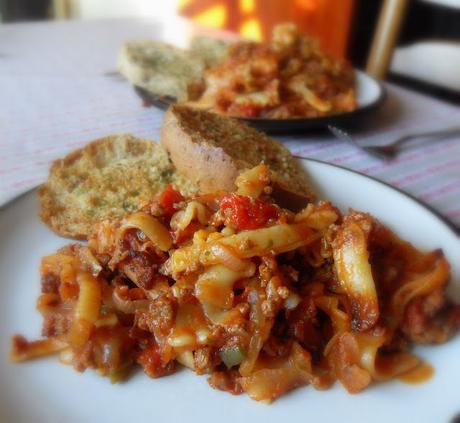 OVEN HASH
- 
Economical and honest ingredients combined to make a delicious meal that your family will love. 
Not a hash with potatoes, but a delicious mixture of spiced minced beef, baked with tomatoes, onions and noodles. Comfort food. Family food. Simple, maybe . . . but never plain.
This is an old favorite from the Betty Crocker Cookbook. You cannot fault it in any way. Its also very easy to make it your own with a bit of this and a bit of that. I love recipes like that!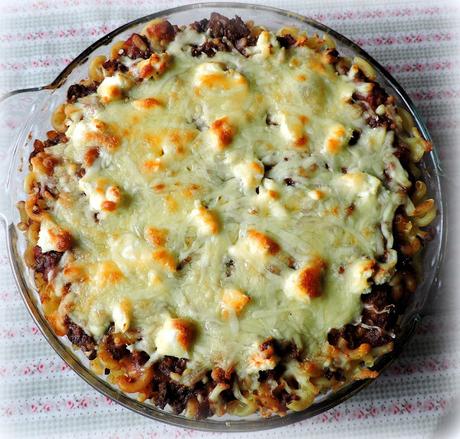 MOCK LASAGNA CASSEROLE
- 
This is such a simple casserole to make and as easy as thawing out a container of
Bolognese
, (see above recipe) and boiling a quantity of macaroni.  Easy peasy. 
Layered together with some ricotta and other cheeses, it is so quick and easy to throw together.  I used mozzarella, strong cheddar and parmigiana reggiano cheeses this time, but you can easily just use a ready grated cheese mix from the shops, or your own tasty combination.
You simply layer it all together and bang it into the oven for half an hour . . .then sit back and enjoy the accolades.   It such a simple thing and so delicious and your family doesn't need to know you didn't slave away all day on it.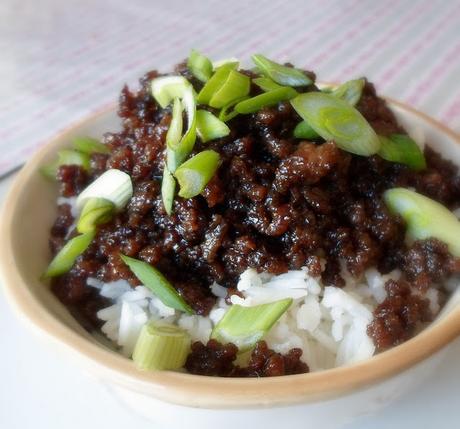 KOREAN BEEF
- 
Korean food is traditionally very spicy . . . using ingredients such as soy, ginger, garlic, spring onions, mustard, red chilies, bean paste, wine, etc. This quick and easy dish has all the flavors you would come to expect from this cuisine.
Quick, easy, economical and delicious. We enjoy it with rice for a super quick and tasty meal!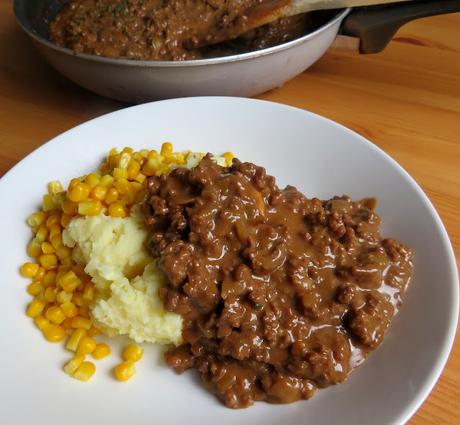 HAMBURGER GRAVY
-  I had someone very insultingly tell me this looked like dog food.  All I could say was that if their dog was eating like this, it was a very  lucky dog!
An old family standby with a rich and delicious gravy, meant to be ladled over potatoes, pasta or rice, or even over hot biscuits.  This is the back bone of many kitchens across North America!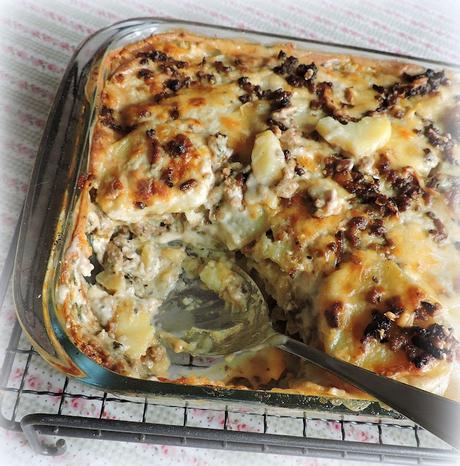 BEEF AND POTATO CASSEROLE
-
A delicious casserole made by layering potatoes, tinned soup and cheese in a dish along with cooked ground beef.  Simple ingredients that taste delicious when put together. 
This is an old family favorite. Its also something I used to throw together when the Missionaries were coming over for supper. A little taste of home. Its fabulously tasty!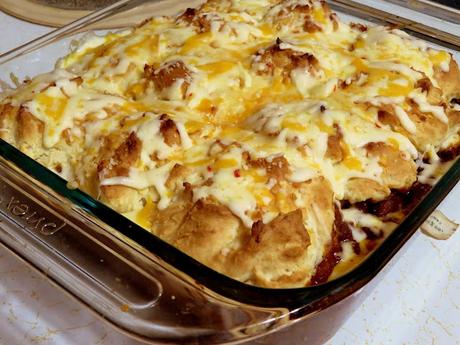 COWBOY CASSEROLE - A tasty combination of baked beans, ground beef and BBQ sauce, popped into a casserole dish and topped with some drop biscuits and cheese.  Its such a simple make but incredibly delicious. This is a real family pleaser as well as being something that is popular at Pot Lucks!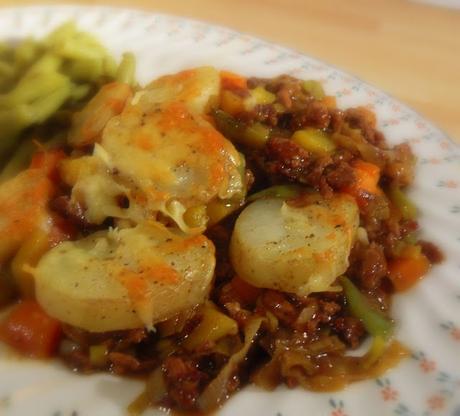 COTTAGE PIE WITH POTATO COBBLES
- 
This may be the most delicious Cottage Pie you've ever eaten and I don't make that claim lightly!  Tender beef in a rich and tasty gravy, topped with potato cobbles.
Potato cobbles are simply boiled potatoes cut into thick slices and layered on top of that rich beefy gravy, brushed with melted butter, sprinkled with cheese and baked until golden brown. Why settle for ordinary!  These are not much more effort than making mashed potatoes. In fact I think they are a whole lot easier!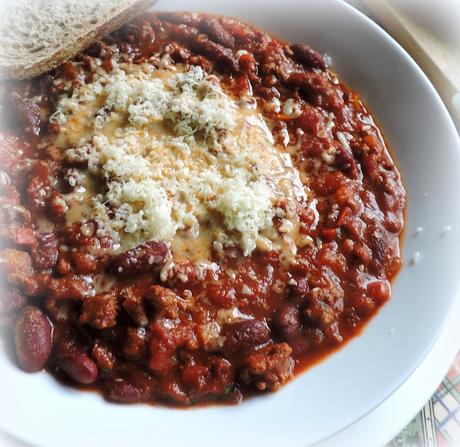 CLASSIC BEEF CHILI
- Everyone probably has their own unique way of making chili for their family.  This is mine. Its pretty classic I think. 
It uses simple ingredients I always have in my store cupboard . . . tinned beans, tomatoes, passata . . .  fresh onions and peppers . . . and some extra lean ground beef.  
This recipe is sized perfectly for two people but can easily be multiplied to feed more.  You can stretch it even further if you serve it over pasta or rice. Don't forget the cornbread!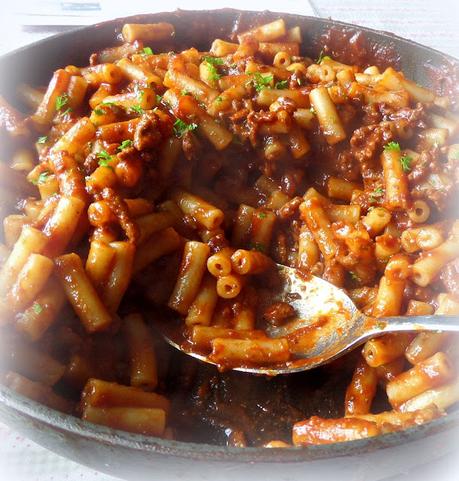 BEEFARONI FROM SCRATCH- Why settle for something that comes from a tin when you can make something tastier from scratch!!  I used to have a craving every now and then for the little pots of Beefaroni that you could buy in the shops as a quick lunch. When I moved to the UK,, this was no longer an option, as there was no such thing.
I decided to try making my own for when the craving hit, with fabulously tasty results.  This is simply delicious!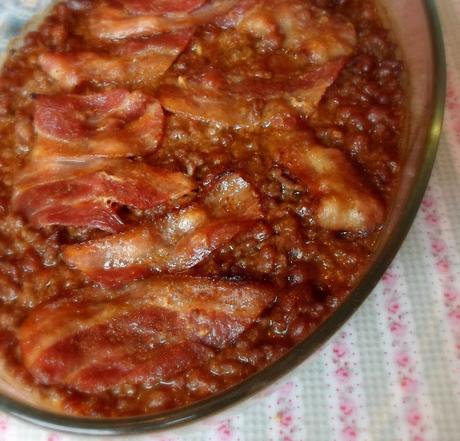 BEEF AND BEANS
- A
ll you need for this tasty bake is an onion, a tin of baked beans, a pound of steak mince, a few odds and sodds and a couple slices of streaky bacon . . . seriously.  It's amazing what you can do with just a few bits!
This is delicious and I know you probably get tired of hearing me say that, but I like to call a spade a spade and when it comes to food, if I think something is delicious I'm going to tell you!!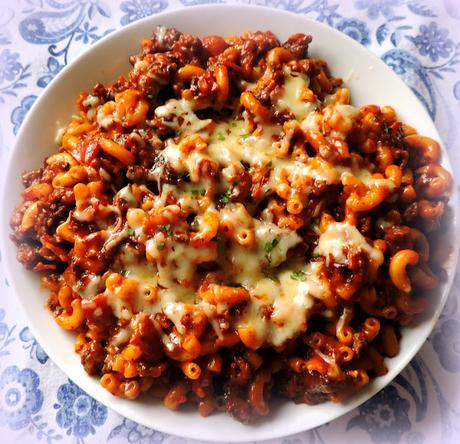 BBQ BACON CHEESEBURGER SKILLET MACARONI - 

I have been making Bacon Cheeseburger Pasta for years and years. It has always been a favorite of the missionaries when they come over for supper.

One night I decided to add some BBQ sauce that needed using up and the rest is history. It became a new favorite.  Bacon.  Lean Ground Beef. Onions, Macaroni. Cheese. A tasty sauce which is filled with lovely tomato and BBQ flavors. 

I never have any leftovers when I make this!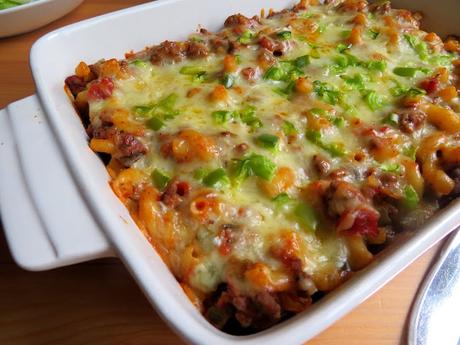 AMERICAN CHOP SUEY - I am not sure why this is called chop suey because there is nothing at all Chinese about it! American Chop Suey is a term used to describe a popular American comfort dish. Generally speaking it is composed of ground beef, sauce, vegetables and pasta. It goes by many terms actually.  Texas Hash are just a few names. 
The name doesn't matter half as much as the fact that this is a delicious, quick, economical and comfort food family favorite for many generations of North Americans!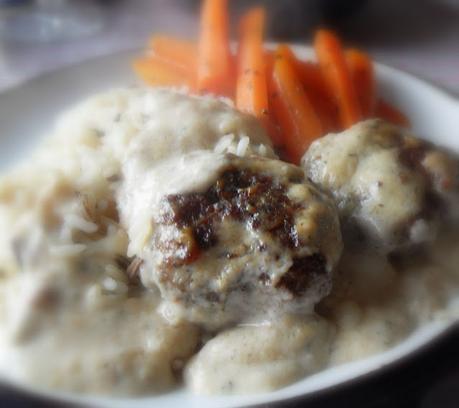 FLAT MEATBALLS AND GRAVY - This is a personal favorite and I could not let a round up of Ground Beef recipes go by without sharing it with you. This winner comes from the pages of my Big Blue Binder and has been pleasing my family for years and years.
Simple ingredients, easy to make, fabulous flavors!
This content (written and photography) is the sole property of The English Kitchen. Any reposting or misuse is not permitted. If you are reading this elsewhere, please know that it is stolen content and you may report it to me at: mariealicejoan at aol dot com 
 Thanks so much for visiting! Do come again! 
 Follow my blog with Bloglovin