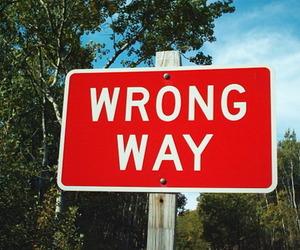 Sometimes we think of ourselves as expert in something. While we are not. Sometimes there are things in our life that we think are going the right way. While they are not. It can happen in blogging too. Someone can think that he is just blogging the right way, but may possibly be making a lot of terrible mistakes. But how can you tell if someone is making certain mistakes? Or he is even making mistakes or not? I have some proved legitimate signs that show that blogging and blogger are going into the wrong direction.
Here you go.
1. Blogging Is Not Making You Happy:
Blogging is not some sort of dirty work like sweeping the roads in public or going underground to work in dirty tunnels that just cannot make you happy. Blogging is a fun business that should give you pleasure and enjoyment and not stress and mental agony. If it is happening to you from quite some time and doesn't really seem to go away, things don't look really good for you because this is the indication that something is wrong with either you or the way you work.
2. You Are Always Thinking to Quit:
When someone comes down to the point where he is always thinking about nothing else, but shutting down his blog, it's too hard to get up and get to work again. Being always in such dark condition simply means one thing. Track and kill your bad habits or bad tricks before they kill your blogging career.
3. No One Cares About You:
You work hard for the people. You get up every single morning early so you can feed people with latest happening and tips and tricks, etc to help them not only make their day better. But improve their lifestyle. You sacrifice your time with family, time for study, time for friends, time for sports and games and time for everything else, but still no one at all is willing to care about you. Can't you figure out what this means?
4. Your Traffic Is Dead:
If you are not a little kid under age 10 and you know how to read and write, but still your traffic is not going up or even coming to a steady point after you have been updating your blog for good enough time, you better sit down alone somewhere and try to figure out what's wrong or everything will be messed up.
5. Money Is Basic Thing You Work For:
There is nothing bad in wanting money as reward for your hard work and sacrifices. But blogging only for money is not good from any point of view. The reason why I said it is because blogging is not all about money. It is a lot more than just money making machine. Hence, you need to grow up and try to realize why what happens happens.
Don't get me wrong. I'm not trying to discourage you at all. I'm actually try to kick you in the butt so you can get up and take control of things, take control of blogging, take control of your future and most importantly take control of your life.
Hello, I'm Thomas Richardo. Young Passionate Blogger and Online Marketer, working with a famous
Free Movies Online
 website named as (ScreenJacker.Com). Website contains a lot of 
Free Online Movies
.