Yesterday I attended the annual romantic novel of the year award ceremony. This glitzy event was held in The Reading and Writing room at The Gladstone Library in Whitehall. This event celebrates the best in romantic writing and prizes this year were presented by Darcey Bussell CBE.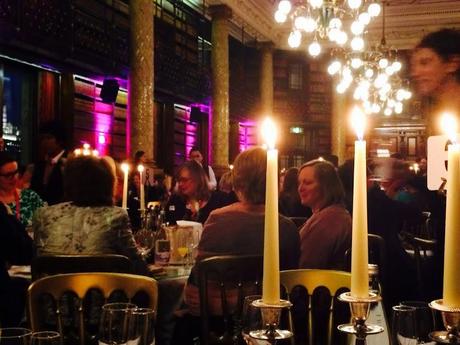 The Reading and Writing room at The Gladstone Library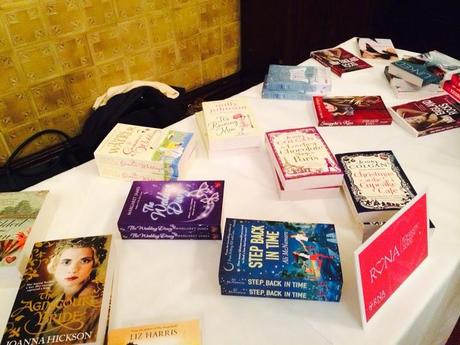 Scattered Books – Who will win?
5 Romantic Novels to Read Today 
Here are the different categories of romantic novel with the winner highlighted in  blue!
One: The Contemporary Romantic Novel category is for mainstream romantic novels set post-1960 and includes genres such as chick lit, paranormal and romantic suspense.
Helen Chandler, Two for Joy, Hodder & Stoughton
Susan Elliot Wright, The Things We Never Said, Simon & Schuster
Lisa J Hobman, Bridge Over The Atlantic, 5 Prince Publishing
Lisa Jewell, Before I Met You, Arrow
Pippa Wright, The Foster Husband, Pan
Two: The Epic Romantic Novel category contains serious issues or themes, including gritty, multi-generational stories.
Jessica Blair, The Road Beneath Me, Piatkus
Mary Fitzgerald, The Love Of A Lifetime, Arrow
Emma Fraser, When Dawn Breaks, Sphere
Kate Lord Brown, The Perfume Garden, Atlantic (Corvus)
Lucinda Riley, The Midnight Rose, Pan
Three: The Historical Romantic Novel category is for novels set in a period before 1960.
Charlotte Betts, The Painter's Apprentice, Piatkus
Christina Courtenay, The Gilded Fan, Choc Lit
Liz Harris, A Bargain Struck, Choc Lit
Joanna Hickson, The Agincourt Bride, Harper Collins
Carol McGrath, The Handfasted Wife, Accent Press
Annie Murray, The Women Of Lilac Street, Pan
Four: The Romantic Comedy Novel is for consistently humorous or amusing novels.
Jenny Colgan, Christmas At The Cupcake Café, Sphere
Jenny Colgan, The Loveliest Chocolate Shop in Paris, Sphere
Margaret James, The Wedding Diary, Choc Lit
Milly Johnson, It's Raining Men, Simon and Schuster
Ali McNamara, Step Back In Time, Sphere
Fiona Walker, The Summer Wedding, Sphere
Five: The Young Adult Romantic Novel features protagonists who are teenagers or young adults.
Liz Bankes, Irresistible, Piccadilly Press
Christina Courtney, New England Rocks, Choc Lit
Alex Gutteridge, Last Chance Angel, Templar Publishing.
Imogen Howson, Linked, Quercus
Marie-Louise Jensen, Smuggler's Kiss, Oxford University Press
Beth Reekles, The Kissing Booth, Corgi
and one more………..
Six: RoNA Rose Award - the finalists do not contest the Romantic Novel of the Year Award - recognises the best in category/series and shorter romance that focus on developing a love affair between the hero and heroine.
Louise Allen, Forbidden Jewel of India, Harlequin Mills & Boon
Caroline Anderson, Snowed in with the Billionaire, Harlequin Mills & Boon
Liz Fielding, Anything But Vanilla, Harlequin Mills & Boon
Joanna Fulford, His Lady of Castlemora, Harlequin Mills & Boon
Kate Hardy, Bound by a Baby, Harlequin Mills & Boon
Kate Hardy, Her Real Family Christmas, Harlequin Mills & Boon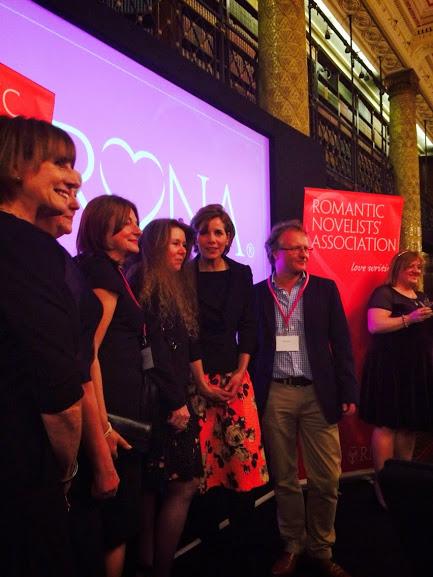 The award winners gather with Darcey Bussell
Thank you for reading.
David Ridings