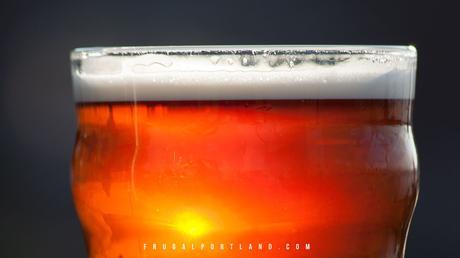 Meteorologists have been predicting an apocalyptically warm winter for Portland for months now to a great part due to the nature of this year's mammoth El Niño. Thus far I still don't trust my local weatherman… but who does? Cheers to that.
See here's the remarkable thing about Portland. Even when it's pouring rain, temperatures are hovering in the lower 40's, and sunshine isn't in the ten-day forecast, people in this city are still itching for something fun and affordable to do. So instead of hitting the night clubs and realizing that you've emptied your life savings into one night of overpriced cosmopolitans, Portland has a different drinking atmosphere you can enjoy, and that has turned into something of a community here in town.
Portland is included on the world's best craft brewing cities lists for some time and every year the city seems to support more and more small brewing operation start-ups.
So if you're looking for a way to beat the cold while still seeing Portland (and supporting small business) here are five of the best new craft breweries in Portland.
1. Baerlic Brewing Co.
2235 SE 11th Ave | Portland, Oregon 97214
Baerlic Brewing Co. is approaching their two year anniversary as an addition to the diverse Portland craft brewing scene, and so far they've impressed. The operation remains relatively small and to this point, Baerlic hasn't attempted to saturate any market other than Portland. But that's pretty impressive if you think about it. The owners of Baerlic have focused on their product quality rather than how fast they can brand themselves.
They currently have 13 different beers on tap with four of those being year-round taps (Eastside Oatmeal Pilsner, Primeval NW Brown Ale, Noble Oatmeal Stout, Invincible India Pale Ale, Cavalier Classic Cream Ale) and boy are they all good.
bottoms up #dayofthebaer pic.twitter.com/y8zAfVLkaz

— Baerlic Brewing Co (@BaerlicBrewing) June 28, 2015
2. Culmination Brewing
2117 NE Oregon St. | Portland, Oregon 97232
Sustainable manufacturing in Portland is a critical factor in getting a loyal following. For Culmination Brewing, they've embraced sustainable manufacturing of their beer as the image of their company. They have beers on tap most of which carry the Culmination label. Although they currently only distribute in the Portland area, they plan to branch out to Washington shortly.
The blueprint for the operation started being thought about in 2010 but finally culminated in 2015. They have live music, a variety of beer-related events and are committed to supporting Portland's exploding craft brew scene.
Happy New Year from all of us at @CulminationBrew! #HappyNewYear #2016 #Portland #Beer pic.twitter.com/8AmAkXxXZT

— Culmination Brewing (@CulminationBrew) January 1, 2016
3. Coalition Brewing Co.
2705 SE Ankeny | Portland, Oregon 97214
This small but robust brewery isn't known for having taken over the craft brewery scene like a few other Portland companies, but it sure does pack a punch. They usually have between seven and ten beers on tap that differ in style from stouts to pale ales.
The coolest part about Coalition Brewing is their pilot program, which allows homebrewers to create their own brews and then sell it at the pub. Pretty awesome…and so Portland.
4. Fat Head's Brewery
131 NW 13th Ave | Portland, Oregon 97209
I have to admit that I was quite resistive to trying Fat Head's Brewery when they first arrived on the scene. Their location (Portland's Pearl District), and image was a bit confusing. It seemed as if Fat Head's was trying to become something of a chain. (Editor's note: it looks like a chain because it is a chain. They have locations in Ohio and Pennsylvania.)
But one day after walking around downtown Portland I stumbled upon Fat Head's in a time of desperate need for a beer…so I tried it. And hot damn was it good.
Fat Head's is huge, has great bar food and delicious traditional beer. It's worth the try even though it doesn't scream "craft."
Our Tap House Draft List. T.G.I.F Thank Goodness It's Fresh! pic.twitter.com/Ami10R1nLz

— Fat Head's Brewery (@FatHeadsBeer) January 15, 2016
5. Columbia River Brewing Co.
1728 NE 40th Ave | Portland, Oregon
In 2010, Columbia River Brewing Co. opened their humble doors to a small operation built on passion. Since their inception, the brewery has slowly built itself a committed following in Portland. Their beer has won numerous awards on different occasions, and the reason is that they focus on a small number of types. With just six beers currently on tap, you can be sure that each keg has been handled with the utmost respect for the process.
Plus… they have a solid happy hour….just can't beat one of those.
Light weight stainless steel growlers are great for hikes! #craftbeer #pdxbeer #Portland #hiking pic.twitter.com/aZz0oy4nYf

— ColumbiaRiverBrewing (@CRBrewCo) March 25, 2014
Portland is packed full of fairly new, small craft brewing operations. It seems like every year, at least, a few new ones pop up. When you leave Portland proper and begin to venture into the outer limits of the metro area, the craft beer scene doesn't thin. So the point is that whether you find any of these options attractive or not, there is a beer out there for you.