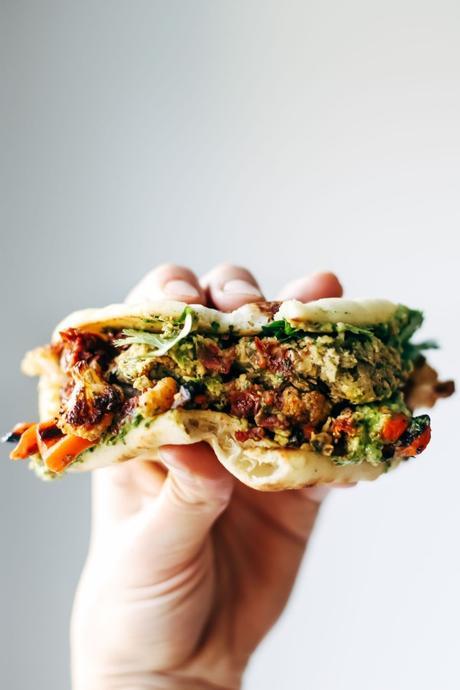 My T O P 5 go-to online recipes.
You know your blog has grown-up when you're sharing more of your favorite recipes(!) instead of constantly sharing things you want from Topshop and ASOS.
Although of course I can cook to some degree, having been raised by chef parents and come out from the other side of a three-year Uni degree alive and relatively well-fed, it's only been in recent months that I've taken a real interest in looking for new recipes to shake up my at-home eating. It's pretty easy to fall into the trap of constantly eating out when you've lived in bustling foodie cities like Hong Kong and being just a 20-minute trip from London but I've honestly felt entire worlds better since reining in my dinner-out habits and cooking fresh more nights than not.
Find the first installment of my go-to recipes here.
Spicy Falafel and Roasted Veggie Naan-Wich
(click
here
for the original post)
Um, yes, this is a thing. And it's so simple! It's 'naughty' comfort food at its best and, actually, not too unhealthy either if you're preparing it from scratch. Every component is customisable to your own tastes (I sometimes add a dollop of tzatziki if I have some in the fridge) and it's a really filling, moreish dish for work week nights. I actually use lots of recipes from Lindsay's blog – all simple to follow and easy to adjust.
Roasted Butternut Squash and Garlic Soup
(click
here
for the original post)
I've recently got back into soups. We were obsessed with them back when I was freelancing at Arcadia and it's only lately that I've remembered how good a hearty soup can be when it's utterly freezing outdoors. This recipe on Gem's food blog is a delight to rustle up in batches and carefully transport to work for a lunchtime pick-me-up.
Homemade Pizza Recipe
(click here for the original post)
Well I couldn't share a recipes collection without including one from the ever-lovely Rosie's blog, could I?! Always beautifully shot, Rosie's recipes are some of my favorite and this homemade pizza one is a real winner. It's certainly worth the extra effort and elbow grease. I like to slice up mozzarella, red onions, parma ham and sundried tomatoes for my pizza topping.
Potato Cake Benedict
(click
here
for the original post)
This is an elevated brunch idea that
can
take a smidgen more time to prepare but will satiate your morning hungriness. You can't go wrong with a classic Eggs Benedict and this one just ups the ante with a hash brown-esque base. All. The. Best. Brunch. Things.
Peanut and Coconut Chicken Curry
(click
here
for the original post)
Tread with caution (actually, wait, don't even bother) if you suffer with a nut allergy but this recipe by my girl Sarah is a real people-pleaser. Light, fragrant and moreish, I like to serve this with fluffy coconut rice and a sneaky naan for a fusion twist. I also like to make extra sauce for dipping because it's just that good.
What are some of your favorite recipes? Do share because a girl's gotta eat!