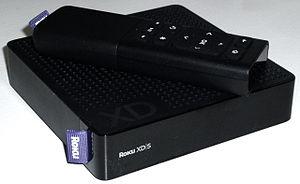 Photograph of Roku XDS player with remote. (Photo credit: Wikipedia)
There are literally hundreds of ways to stream content via myriads of devices.  So why is the Roku Player still one of the most popular choices for consumers?
Incredible entertainment choice & flexibility – Roku has over 300 channels to select from, which means you are far more likely to pay for content you are actually interested it.  Besides the big names like Netflix, Hulu Plus, and Amazon Instant Video, there are many targeted choices, including in genres like sports, news, education, lifestyle, fitness and much more.
Works with virtually any television set – whether you have a HDTV set, or an old analog set with A/V composite connections, you will be able to set up your streaming player quickly and easily without a lot of fuss.
Built in WiFi – makes connecting a snap with or without an Ethernet cable.
Four models at various price points – starting at $49.99.  Standard and high definition options.  High-end Roku 2 XS has an enhanced remote with motion control for games along with a free copy of Angry Birds.  The box also has an Ethernet port for a wired connection (best for streaming), as well as a USB port for photos, video and music.   However, the Roku LT is still a quality standard-definition streaming media player that delivers content seamlessly.
Software updates automatically pushed to your Roku player within 48 hours of release.  No need to deal with the technical aspects once your player is up and running.
With so many outlets for online movie distribution, Roku easily aggregates the best of the best on it's Channel Store.  What's conspicuously missing, however, is a VUDU app.  It seems that in order to stream VUDU content to your television set, you must have a D-Link MovieNite or Boxee Box player.
If you have an MHL-compatible HDTV, you might opt for the Roku streaming stick, which plugs into the HDMI port.  This device is wireless-enabled, ad can even be controlled by the TV's remote control.