Hello, Inspire To Thrive readers!
I am deeply grateful to Lisa for the privilege of discussing one of my favorite topics with you today: ebooks and their potential.
I've been a writer since I could form words into sentences. All through school, I read incessantly (books that would have made my mother's hair go gray even sooner than it did), and fashioned my own stories and poems. After assisting another author to publish her debut novel, I finally published my first book – a young adult fiction novel, in ebook form – back in late December. I'm thisclose to completing my second book, a romantic comedy, which will be published very soon.
I am smitten with the ability to publish my own works with a good degree of ease, and also with the related possibilities.
Would you indulge me by answering a few questions?
Yes or No
You've worked hard to develop a niche blog. Yes or no?
You write about a subject for which you have a lot of passion and knowledge. Yes or no?
You have posts rich with evergreen material hidden deep in your archives. Yes or no?
If you're a subscriber – or you clicked through a link on Facebook, LinkedIn or Twitter – to Inspire To Thrive, chances are you answered "yes" to at least two, if not all three, of those questions. And if I was to hazard a guess, I suspect that if there was a "no" among your answers, it was for the third statement. Am I right? Well, forgive me, please, but I suspect you're wrong. I suspect you're three for three, and that's a very good thing.
Ebooks Are Big Business, and Getting Bigger
Contrary to what traditionalists prefer to think, ebooks are here to stay.
At this moment (12:38pm on Tuesday, March 5, 2013), there are 1,909,868 ebooks available for sale on Amazon.com.
That's just on Amazon. I didn't even look at Kobo, Smashwords, iTunes, Google Play Books, or Barnes & Noble.
It's predicted that 65% of all children in the United States will have access to a digital reading device by the end of 2013. It's also predicted that ebook sales will reach at least 45% of the U.S. trade book market.
Readers don't need to own a Kindle or a Nook to read an ebook. Just as is the case with email and blogs, ebooks can be read on iPods, smartphones, tablets, and computers. In some cases, devices will sync, so if you happened to start reading an ebook on your Kindle, you can continue reading it on your smartphone, and finish reading it on your laptop, if you want.
Ebooks are convenient. You can carry a library of books with you, everywhere you go, if you own a digital device.
Ebooks are affordable, too. They're way more affordable than print books. Prices for ebooks start at free, and go up from there. $2.99 to $3.99 is considered the "sweet spot" when it comes to ebook pricing for a novella (25,000/30,000+ words) to a full-length novel (60,000+ words). Shorter works – novelettes, short stories, and even essays – in the 5,000- to 20,000-word range are being sold at the $.99 and $1.99 price points, or given away.
What This Means For You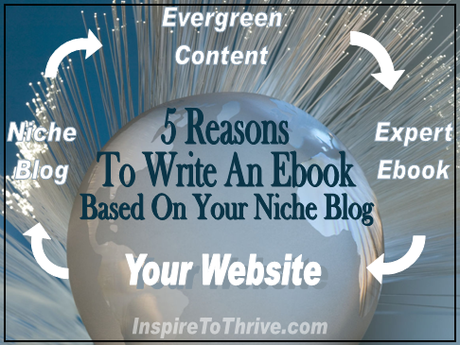 You, on your niche blog, have established yourself as an expert. People read your posts because they trust you to impart accurate and helpful information about your niche.
Imagine how much more of an expert you would be considered if you were to author a book based on that information. You would compile a number of your evergreen posts, or type up a new work based on your hard-earned knowledge, and use that material to create a professional, easy-to-digest, go-anywhere ebook. The back matter of the ebook, and perhaps even the cover, would tie into the brand you've built.
You would post a linked image of it in the sidebar of your blog, which would take your readers either to a PayPal checkout screen, or to Amazon or Smashwords. Or, perhaps you would link to a PDF that can be read online or downloaded, as the reader prefers. You would add it to the publications section of your LinkedIn profile. You might mention it on Facebook and Twitter now and again (you don't want to be a human spambot), with a link, of course, which renders it easily shareable. Your regular readers will be excited, and will share, too. The likelihood that more traffic will be driven to your niche site – to you – is, well, very likely.
5 (or 6) Reasons To Write An Ebook Based On Your Niche Blog
To establish yourself as even more of an expert in your niche.
To add another facet to your brand.
To dust off the valuable posts languishing in your archives, and share them with new readers.
To offer your readers a convenient way to digest the best information you have to offer.
To drive more traffic to your site.
To fund your Starbucks addiction habit.
It's a win-win situation. Your time and knowledge to compile and/or write new material, combined with a professional-looking cover that illustrates your topic, can yield an inestimable ROI. What are you waiting for? The sky isn't even the limit anymore. Lisa did it. You can, too.
By the way, as of 1:28pm on Wednesday, March 6, 2013, there are 1,912,373 ebooks available on Amazon.com.
What do you think? Is this something you would consider? Do you feel it would be a boost for your site?
———————————————–
~Ellen M. Gregg, Writer, Reiki master/Teacher, Ebook Creator